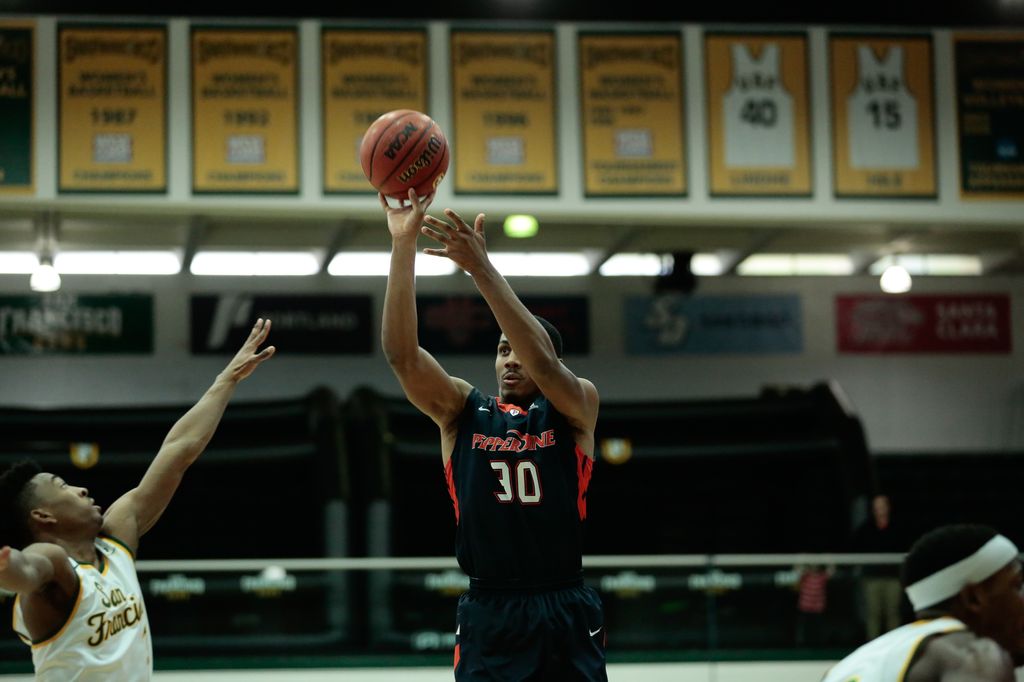 Photos by David Bush, University of San Francisco Athletics
Last week, the Waves traveled to the San Francisco Bay area and split the series against Santa Clara and the University of San Francisco. The trip started on a bad note with a two-point loss to the Santa Clara Broncos on Thursday Jan. 14. However, the Waves recovered from the loss by winning 98-84 over USF — their first win against the Dons in four seasons.
For those without access to last week's games, here are some basic questions and answers about Pepperdine's conference road trip.
I saw the men's basketball team went 1-1 last week. How did that happen?
On Thursday Jan. 14, Pepperdine lost to Santa Clara 61-60. Two days later, the Waves blew out University of San Francisco in a 98-84 shootout. Both games weren't as close as their boxscores indicate.
What does that mean?
Although Pepperdine won by 14 against University of San Francisco, the game was essentially over in the middle of the first half. Pepperdine seemingly couldn't miss. The Waves led by 23 at halftime thanks to a trio of juniors. Guards Jeremy Major, A.J. Lapray and forward Lamond Murray Jr. shot 8-11 from 3-point range, collectively. Pepperdine isn't known for its outside shooting: Going into the USF game, Pepperdine was 313th nationally in made three-pointers, according to ESPN's national rankings.
Senior guard Tim Derksen and sophomore guard Devin Watson — the Dons' leading scorers — started slow in the first half and never fully recovered, thanks to the re-emergence of Pepperdine's great team defense. The Waves threw the Dons' leading scorers out-of-sync, and their team followed suit — save for junior guard Ronnie Boyce III who led the Dons with 25 points.
To be fair, USF did mount something resembling a comeback attempt in the second half, but their performance as a whole was lethargic at best. The Dons managed to cut a 31-point lead down to 14 by the end of the contest. Clearly, their efforts were too little, too late.
As for the Santa Clara game, the game was not the close, gritty battle the score might suggest. The boxscore doesn't mention that the Waves lost their lead with 9:34 left in the first half and didn't come back for 25 minutes (not a misprint). Nor does it mention how Santa Clara fell asleep at the wheel on defense, nearly dropped a guaranteed home win and allowed Pepperdine to piece together a 10-0 run late in the second half in order to make the game appear competitive.
Sadly, Pepperdine's furious rally dissolved into a heartbreaking loss.
What "heartbreaking loss"? Did I miss something?
By "something" did you mean: "junior guard Jared Brownridge nailing this off-balance, corner three with 1.3 seconds left?"
Yes. You absolutely missed something. Retweet if you cry every time.
I won't downplay the skill required to make this difficult, contested 3-pointer. In the words of Drake, the newest and most famous Pepperdine fan: "We just want the credit where it's due."
To credit Brownridge, he definitely rose to the occasion. He skirted a very fine line between hero ball and carelessness on this play, but turned a down day (by his standards) into a moment for Santa Clara's season highlight reels. The boxscore says Brownridge scored 12 points on a 4-of-13 shooting performance, but this game-winner meant so much more for this middling Santa Clara squad.
Is Jared Brownridge any good, or was this a fluke shot?
Brownridge has been one of the West Coast Conference's most volatile offensive players. He is — no exaggeration — the only player on Santa Clara's roster that can reliably create his own shot. And, to the delight of the Broncos, he has assumed his playmaker role with poise and maturity. According to www.sports-reference.com, Brownridge is the nation's 12th highest scorer this season, and is already 14th on Santa Clara's all-time scoring list with 1,443 points.
So we lost to a one-man team? That can't be good…
Not exactly. In Santa Clara's defense, the Broncos have gradually accumulated a decent supporting cast for Brownridge over the past three seasons and they're finally starting to see the fruits of their labor.
For the first half of the season, the Broncos' offensive sets looked like Jared Brownridge plus four tall dudes they found on campus who could rebound all his missed shots — after all, Brownridge is also one of the nation's leaders in shot attempts, also per sports-reference.com.
Santa Clara Coach Kerry Keating was completely aware of this ineffective and predictable approach; since the start of conference play, he's shaped the Broncos into a more effective, less one-dimensional unit.
What does all of this mean for Pepperdine?
For starters, Pepperdine's 4-3 conference record is not as mediocre as it looks. Right now, Pepperdine's record is good for 4th in the WCC, and the leaders aren't out of reach. Gonzaga and Saint Mary's sit atop the standings with one loss apiece. BYU sits in third with a 4-2 record.
However, Gonzaga hasn't played Saint Mary's and BYU hasn't played Pepperdine. Suffice to say, the outcomes from both match-ups will probably finalize the conference standings.
Of course, predictions are never that simple. Judging by the first third of conference results, the WCC is in for an unpredictable year. No team in the conference looks unstoppable, including Gonzaga. For the second year in a row, the conference's perennial powerhouse suffered a close loss at home against BYU.
To further add to the WCC's chaos, consider this: BYU beat Gonzaga; Gonzaga beat Portland; Portland beat Pepperdine; Pepperdine beat Saint Mary's; Saint Mary's beat BYU; BYU beat — oh great, now my head hurts.
If everyone's beatable, then every game is pretty important from here on out, right?
Exactly. That's music to my — and every college basketball fan's — ears. At this rate, nearly anything is possible in the West Coast Conference.
When is the next home game? I haven't been to a men's basketball game this season.
The Waves will play a pair of games at Firestone Fieldhouse this week: first against the University of San Diego Toreros on Thursday Jan. 21, and then against the BYU Cougars on Saturday Jan. 23.
––––––––––––––––––––
Follow Kyle Cajero on Twitter: @kahairoh