Photos by Ali Levens
Utilizing their home-court advantage, the Pepperdine Waves secured a solid 3-1 victory over the Santa Clara Broncos on Saturday, advancing to a 2-0 record in conference play.
Not only did Pepperdine come into the match with a recent win streak against the University of San Francisco, but the visiting Broncos were shut out, 3-0, by Loyola Marymount University in their previous match.
"Today we just tried to focus and start off strong, especially in the beginning of the set," sophomore libero Madison Shields said. "[We thought about] just being focused and disciplined."
After accumulating an initial lead in the first set, the Waves set out to establish their quick-hitting and digging game against the Broncos.
The first set was in favor of the Waves when senior middle blocker Tarah Wylie went behind the serving line and showed no mercy. Her five consecutive serves got the ball rolling with a 9-3 lead. Wylie finished the match with three aces.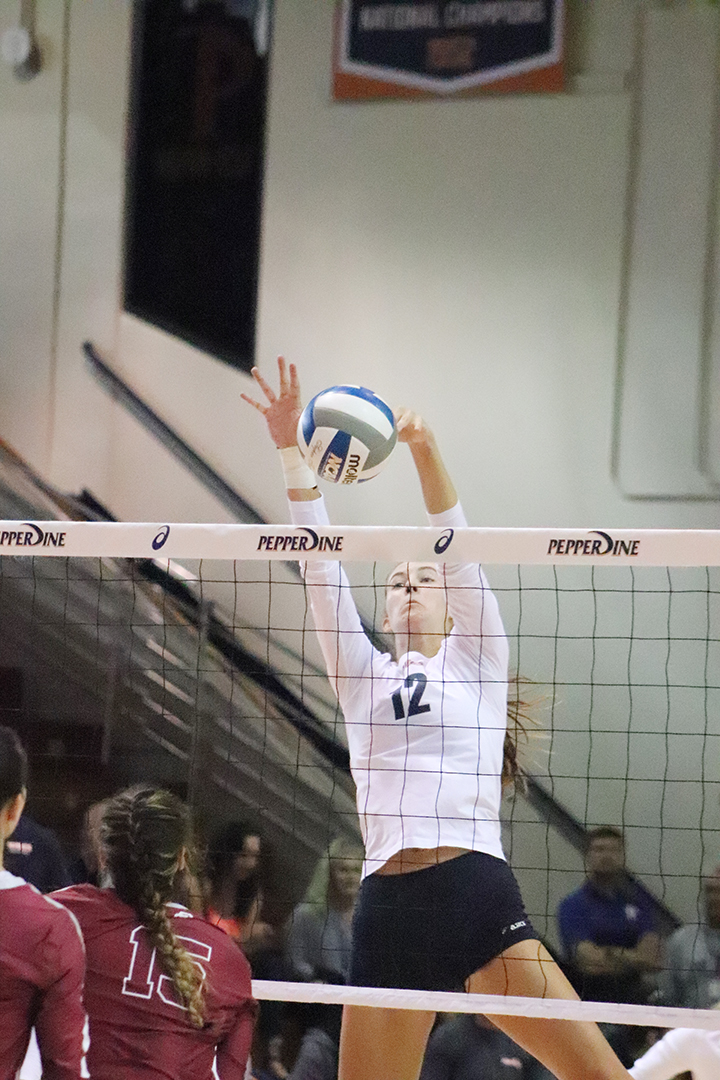 Middle blocker Tarah Wylie deflects an oncoming Bronco tip.
"I thought we've been making plays over the last two matches, but I thought it helped us to have a good start in the first set against Santa Clara today," Head Coach Scott Wong said.
The Waves quickly finished the starting set with 15 kills, winning 25-20.
Pepperdine hit the ground running in the second set with a 7-2 run, forcing Santa Clara to call an early timeout. The Broncos came back swinging, though, and would not let the Waves get away this time.
With quick tips and fire behind their hits, Santa Clara swayed Wong into swapping who was on the floor, subbing in sophomore middle blocker Rosie Ballo and freshman outside hitter Kayleigh Hames.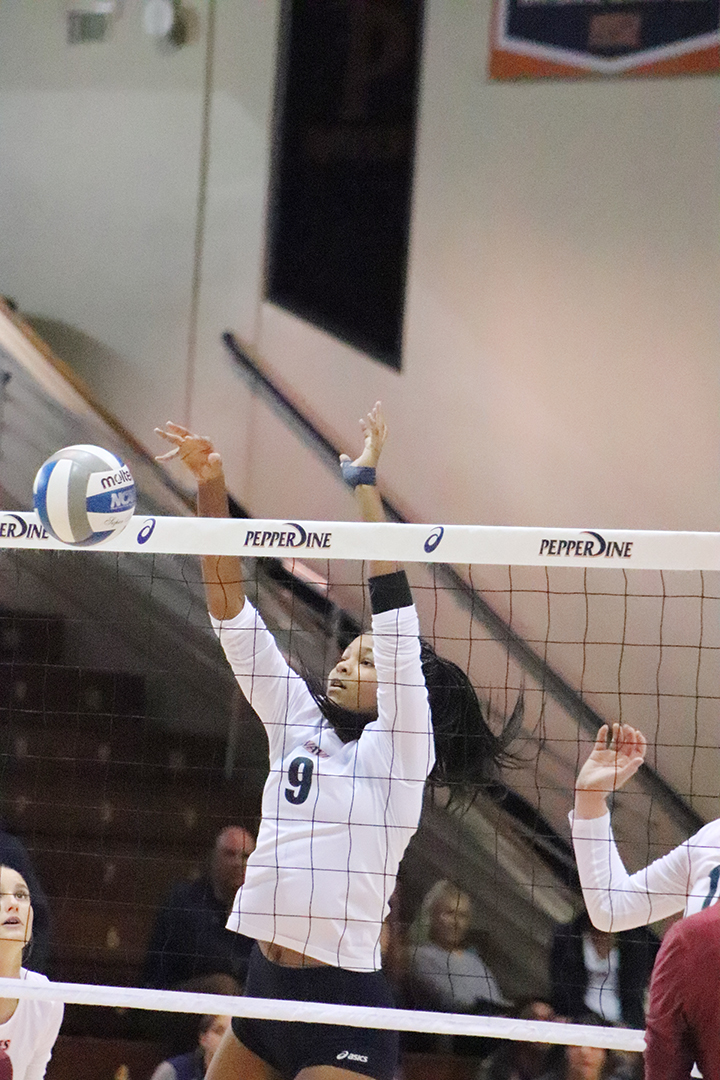 Middle blocker Rosie Ballo extends her hand over the net for a tip in the second set Saturday.
"I think the players that came in … did a real nice job for us," Wong said. "Maybe it helped Santa Clara think a little bit more of what's going on on our side of the net, maybe not, but I saw a little momentum change, and I think it helped us in the third set."
Despite tying the score seven times and changing the lead five, the Waves came up short 20-25.
"We've been talking a lot about being good during crunch time and to make plays," Wong said. "Santa Clara played some great volleyball in the second set. They served really tough and put us in some uncomfortable situations."
The ending of the second set bled into the third. The Broncos fought tooth and nail, continuing to tie up the score six times.
A switch clicked when senior outside hitter Hannah Frohling pounded it into the floor, tying the set 14-all. Capitalizing on two hitting errors made by the Broncos, the Waves got their spark back.
"I think we picked up our communication and talked about even the littlest things," sophomore opposite hitter Rachel Ahrens said. "When you do that as a team, it works well. You work well together, and you're all on the same page, so it looks awesome."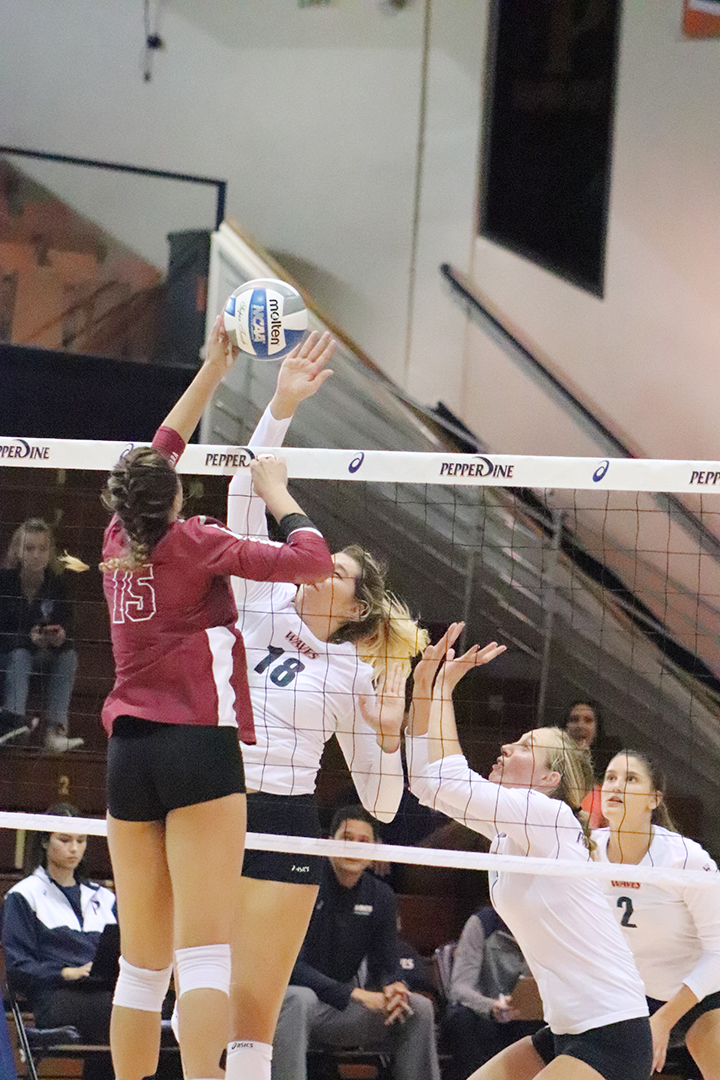 Opposite hitter Rachel Ahrens extends her arm for a powerful attack while aiming around a Bronco blocker.
Seven kills and two aces later, Pepperdine defeated Santa Clara 25-21 and was ready to stomp the Broncos out in four.
"It's not so much the beginning of matches, but it's a middle and end of matches," Wong said. "I thought we did a nice job against San Francisco, game three, and [made] some great plays — and then the same thing today, in Santa Clara game three, we made some really crucial plays to break open the middle of the match. It was all those plays that really set up kind of the ease of the rest of the match."
The final set began with kills by Frohling and technical errors on the other side of the court, leading to an almost identical start as set one.
The Broncos managed to get within two points early on, but that was as close as they got. The seven serves administered by junior outside hitter Shannon Scully assisted in establishing a whopping 10-point lead over the Broncos.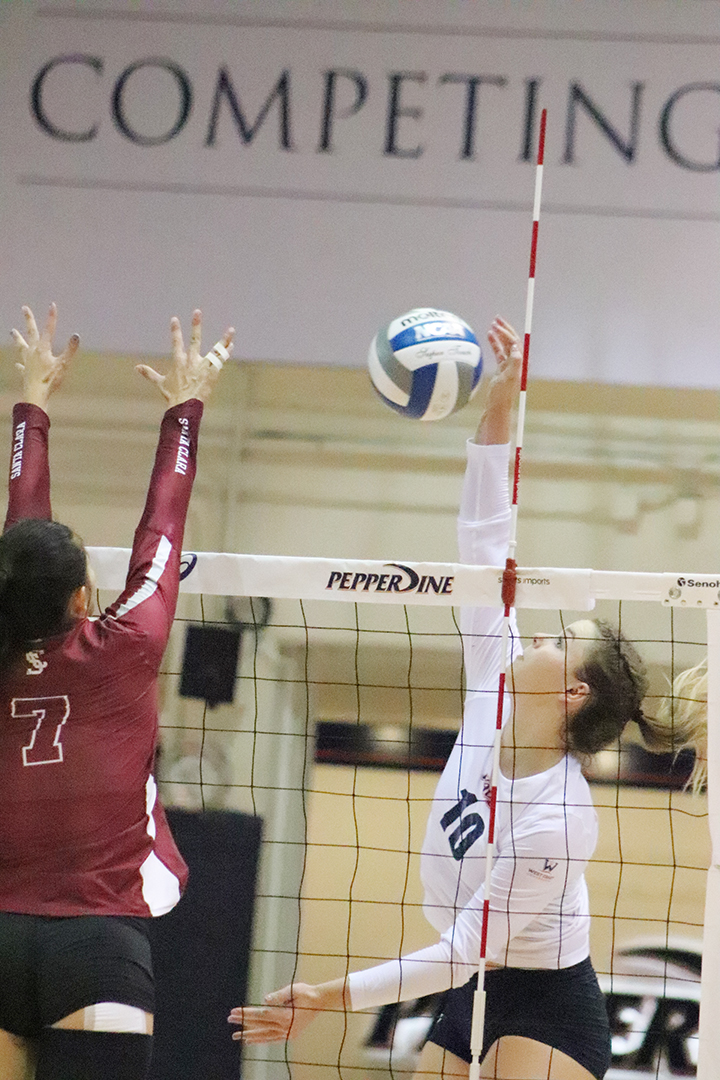 Outside hitter Shannon Scully slams down one of her eight kills against a Santa Clara blocker Saturday.
"I think we were serving really well today," Frohling said, "and [Santa Clara is] a really good serving team." Frohling ushered 19 kills this match.
Five of Ahren's 14 kills also contributed to the team's 25-19 victory.
"I think [freshman setter Isabel Zelaya] did have some trouble finding my right side and connecting, but today worked so good," Ahrens said.
As the Waves prepare for their first road conference match against San Diego on Oct. 3, Wong said the team needs to get better over time to have success.
"We have to get better in a lot of things," Wong said, "[like the] efficiency in our offense [and] defense [and] just not giving up easy plays [or] easy points. The one thing we have focused a lot on is being great in critical times, and I [think] we've done that."
__________________________________________________
Follow The Graphic on Twitter @PeppGraphic
Contact Ali Levens: ali.levens@pepperdine.edu