Photos by Ali Levens
The Waves wasted no time with their home court advantage to quash the University of San Diego Toreros in three. Wailing kills from redshirt senior middle Tarah Wylie and sophomore opposite hitter Rachel Ahrens' aces allowed Pepperdine to demolish their competition.
After being absent from Firestone Fieldhouse for three matches, two of those being wins over Loyola Marymount University and Pacific University, the Waves set out to repeat the outcome of their last home match, which resulted in a 3-0 victory over the Gonzaga University Bulldogs.
This match marked the halfway point of West Coast Conference play and the second time the Waves faced the Toreros –– the first ending in a tough 2-3 loss.
"The slow start is something we've been talking about," Head Coach Scott Wong said. "We've been starting slow against some teams, and we tried to come out with a little more, you know, pep in our step."
The team was focused on taking care of their side, Ahrens said.
"Sometimes we can get down and keep going down," Ahrens said. "We really focused on in those moments when we weren't doing our best to bring it back on playing our game again."
The first set was tight through the first 12 points, with no team leading by more than two at a time.
Wylie did not hold back. She slammed down four of her nine kills within the first 15 points of the match.
"[I was hitting well because of] all my teammates behind me," Wylie said. "It's amazing."

Redshirt senior Tarah Wylie spikes the ball onto a USD defender's head.
The Toreros failed to keep up with the Waves' tempo and started to lose traction.
Following a kill from Wylie, Ahrens stepped behind the serving line to serve four consecutive aces, bringing the Waves to a five-point lead and forcing USD to call their first time out.
"[It felt] really good overall," Ahrens said about her four aces. "The team … gave me a lot more confidence going back there and serving for the long run."
The Waves ran away with the game as they continued to build their minimum five-point lead. A kill by Ahrens wrapped up the first set, 25-19.
The energy seemed to falter a little on Pepperdine's side of the court while USD fed off the Waves' mediocre start to the second set.
Despite kills and tips from the home side, USD repeatedly slammed it down in their faces, making it difficult to build confidence.
Serving was in Pepperdine's favor, though. Senior outside hitter Hannah Frohling began serving when the Waves were down 19-20. By the time she was done, Pepperdine now had the one-point advantage.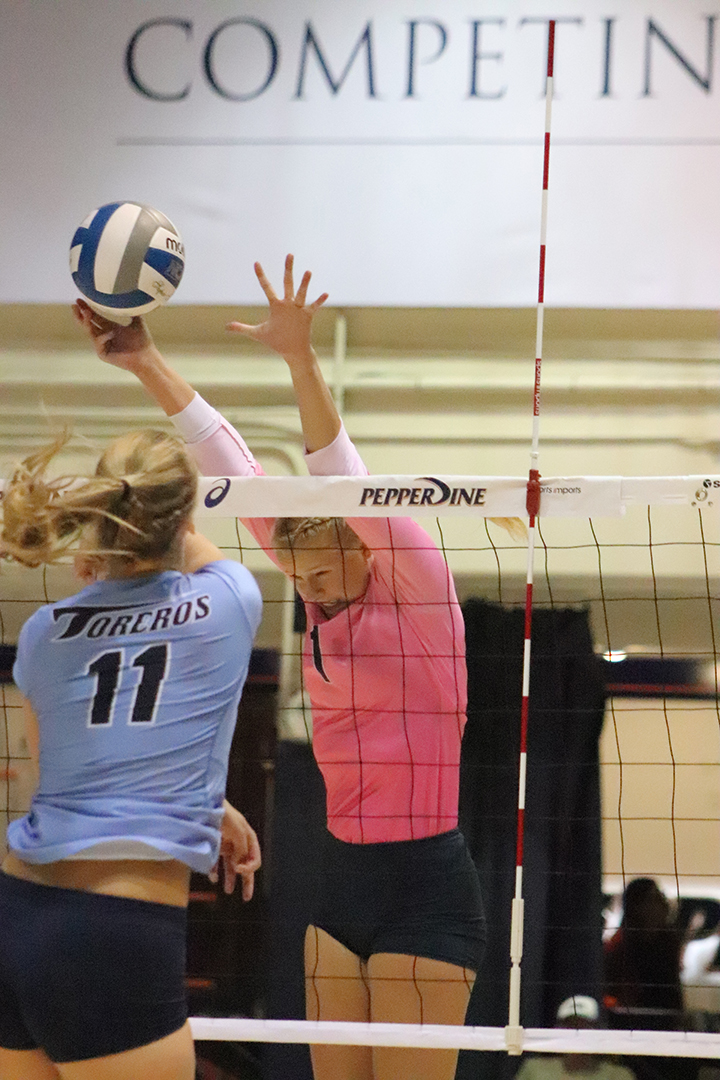 Senior Hannah Frohling pops her hands up for an oncoming block.
"I was just focusing on getting a good toss, that … helps me a lot," Frohling said. "I just kind of saw the need for that and some consistency, so I think I took a little bit off on how hard I was hitting it just to kind of keep it in and then find the rhythm a little bit more."
Freshman defensive specialist Aubrey Roberts replaced Wylie behind the serving line. Her two serves contributed to the 22-all score.
The set exceeded its 25-point minimum when neither the Waves nor Toreros could pull away by more than a point.
"[When the end of a set is close] we give them some things, reminders, on what we're blocking and how we're playing defense," Wong said. "It's really how do you keep them loose, how do you keep them to play free, serving, passing, defense and sometimes, just keeping it light."
Back-to-back outside blocks by Ahrens and junior middle Alli O'Hara boosted the team to a 27-25 victory.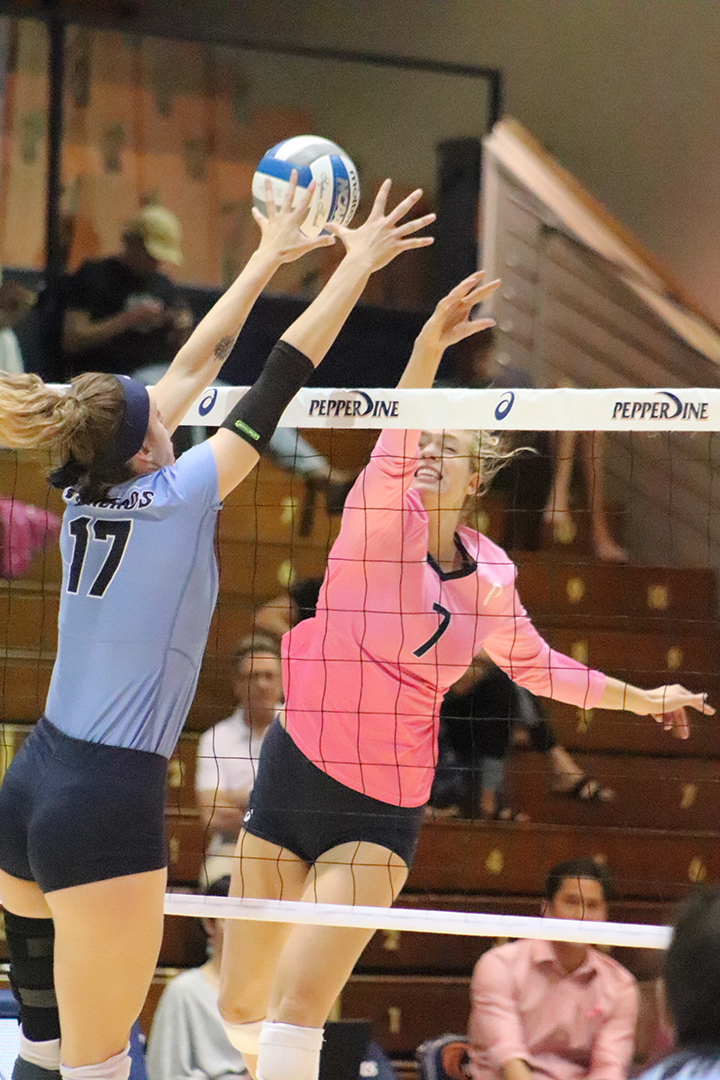 Junior Alli O'Hara swipes a tip over a Torero block Thursday.
"We were just super fired up," Frohling said about the close-call set. "I think the biggest thing we wanted to do is just do our jobs well and kind of trust each other to do their jobs. [We] didn't really let what's going on on their side of the net affect us."
With two sets under their belts, the Waves came out in the third set swinging and never looked back. From the first point, a block by O'Hara and Ahrens, Pepperdine led USD throughout the entire third set.
Junior outside hitter Shannon Scully's five kills assisted in elevating the Waves above the Toreros a third, and final, time.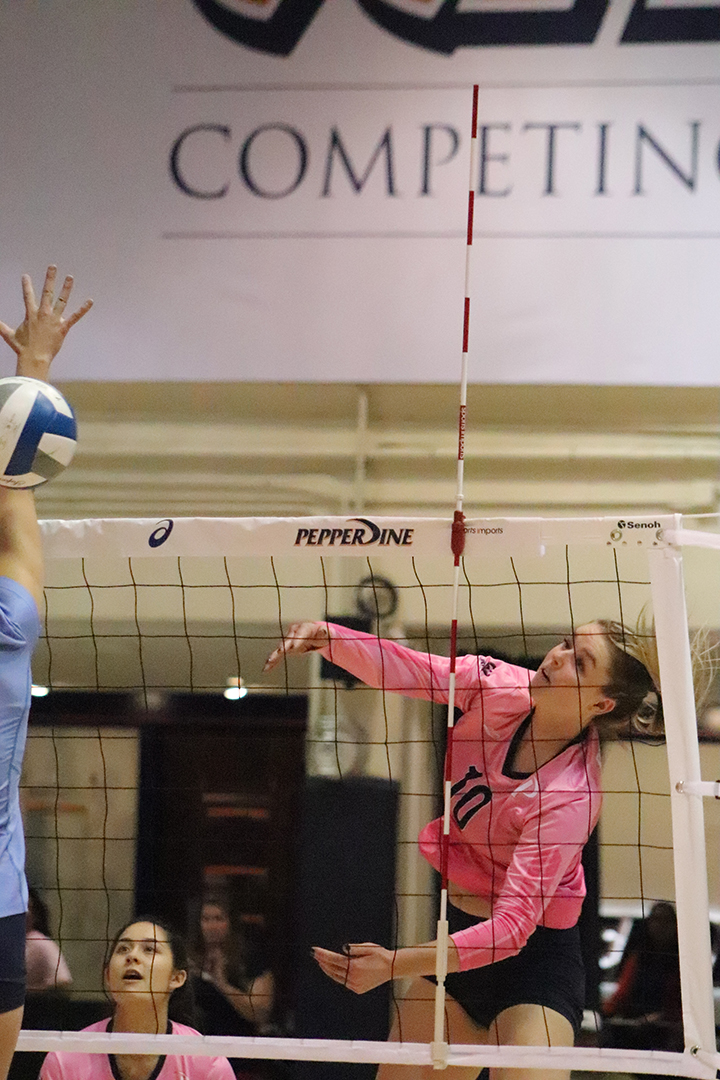 Junior Shannon Scully powers a kill past a USD blocker during the second set Thursday.
An ace by Ahrens ended the set and match, 25-22, and a complete 3-0 sweep of USD.
"[Winning] just proves all the hard work we've done since [the first USD] game," Wylie said.

The Waves celebrate their home victory.
Even though the Waves ended the match in three, the Toreros still put up a fight.
"I love that it wasn't it wasn't an easy match," Wong said. "They played well. They fought back, they did things to challenge us and our team kept responding, so it feels great to win."
The Waves had a quick turn-around in competition, facing nationally-ranked No. 12 Brigham Young University on Oct. 26.
"We're wanting to play some good, efficient volleyball from start to finish," Wong said. "[We want] to be aggressive, specifically for BYU; they've got some really physical players."
_________________
Follow The Graphic on Twitter @PeppGraphic
Contact Ali Levens: ali.levens@pepperdine.edu