Photo by Sacha Irick
Thousands of Japanese animation fans gathered in Downtown Los Angeles over the July 4th weekend for the 23rd annual Anime Expo. The 4-day long convention, commonly called "AX", is boasted by the Society for the Promotion of Japanese Animation as the largest anime and Japanese culture convention in North America. Anime fans traveled far and wide July 3 – 6 for the convention, which saw one of its most diverse schedules.
The list of guests included favorites such as the English cast of the popular 90's show Sailor Moon and the creative team behind the new popular anime Sword Art Online. Industry giants Aniplex and Funimation were present alongside less conventional AX guests from the video game industry, such as League of Legends and Oculus VR. Oculus VR provided a special area in which AX attendees could try out the popular virtual reality headset Oculus Rift.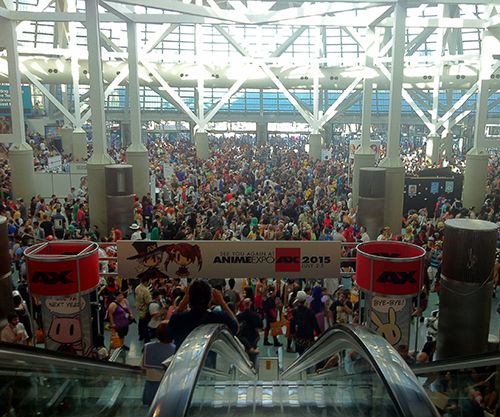 Anime Expo hosted premiere animation events, such as the North American premiere of the new Sailor Moon Crystal series. Activities for attendees to enjoy throughout the weekend included live concerts, dances, gaming tournaments, a full arcade and fashion shows. The range of guests and activities attracted the largest crowd yet to Anime Expo, but the surge in attendance didn't stop fans from dressing up as their favorite characters and waiting in the summer heat to get their badge.
AX 2014 opened to long lines and technical difficulties on its July 2 "Day Zero," a day before the official opening on July 3. Day Zero is intended to alleviate the lines by allowing pre-registered attendees to pick up their badge a day early. Lines extended beyond the convention center parking garage property, stretching across LA streets and crowding sidewalks.
"I waited approximately two and a half hours to pick up my badge in 100 degree weather, and I was tempted to just leave after a while because of how disorganized it was," said attendee and Seaver senior Annie Jeong.
"The inside was more crowded than past years … I felt like a sardine."
The crowd continued to grow over the course of the weekend, until Anime Expo was forced to close ticket sales on July 5th as the convention capped attendance at 85,000 ticket sales, according to Anime Expo's social media accounts.
Registration for next year's Anime Expo is already open on the convention website.
__________________________________________________________________________
Follow Sacha Irick on Twitter: @GraphicSacha