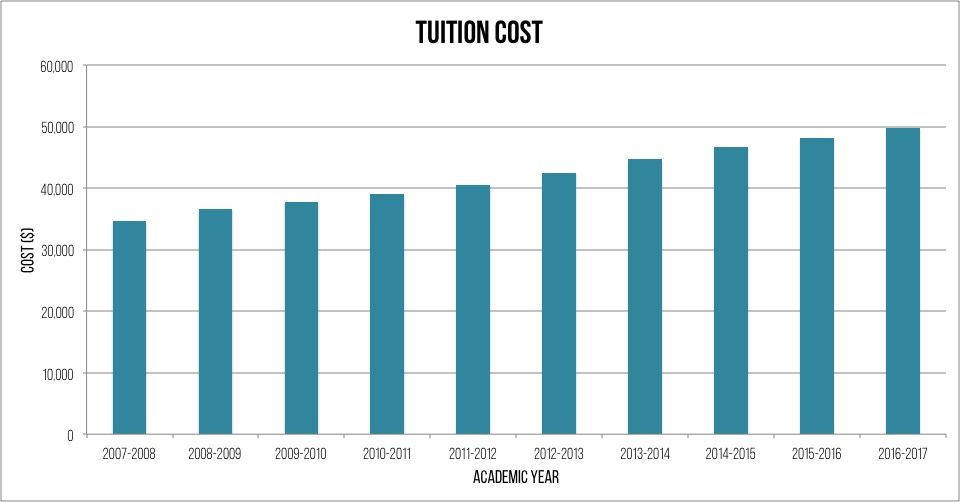 Infograph by Monica Avila
Tuition will be raised by 3.50 percent for the 2016-2017 school year, Dean of Seaver College Michael Feltner announced in an email sent to undergraduate students March 15. The cost of tuition next year will be $49,770, or $24,045 per semester. This is $1,680 more than this year's tuition.
While the cost of tuition has gone up every year, this is the third consecutive year that the rate of the tuition increase has declined, Feltner noted.
This is the third time current juniors have seen the price of tuition go up. They have seen tuition rise by 11.06 percent since their freshman year.
Junior Michael Doces said he expected the increase to happen.
"I was really surprised my freshman year by the tuition increase and kind of upset," Doces said. "Now I just feel like that is how things are going to be every year."
Junior Jenny Stephens said she wonders why with all the money Pepperdine has raised, tuition is still being increased.
"I kind of expected it since it has happened the past couple of years, but after seeing the story about how Pepperdine has raised a lot of money, it makes me wonder what that is going toward," she said.
At last year's Pepperdine University Associates Dinner it was announced the university raised over $470 million toward general student support.
Stephens said she thinks the cost of tuition should not go up for students once they begin studying at Pepperdine.
"I think we should be locked in at the [tuition cost] we come in at, and if they increase it then [the next year's] class is locked into that rate, because what happens if they raise it and you can't afford that rate?" Stephens said.
Feltner explained why the university must increase the cost of tuition.
"The tuition increase will enable the University to continue to provide an outstanding educational experience, while enhancing our academic programs and maintaining our exceptional facilities in Malibu and throughout the world," Feltner wrote in the announcement.
__________________
Follow Bryce Hanamoto on Twitter: @bryce_moto