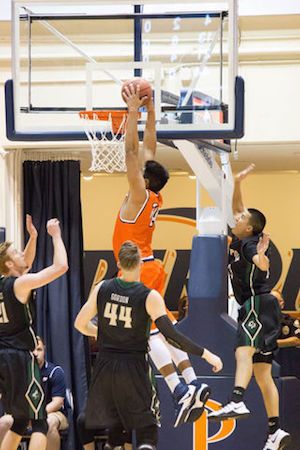 Photos by Milan Loiacono
Sometimes, you've gotta pass the rock. In the Pepperdine Graphic's "Three Man Weave" series, writers Kyle Cajero, Jackson Hogan and Arthur Puu share their highlights, lowlights and spare thoughts about Pepperdine's men's basketball team. This week's edition covers Pepperdine's early-season victories over Cal Poly and Weber State.
Numbers Never Lie — Arthur Puu
Close scores and career highs.
Winning two straight into the nigh'.
Whelp, that was a close call.
Pepperdine defeated Weber State 69-68 behind a career-high for senior guard Lamond Murray Jr. who had 33 points on the night.
"My teammates kept me going and coach gave me confidence to keep shooting the ball and they started to fall," Murray said. "Felt good at the end to get the win!"
It was a tough night for the Waves from the start, as they trailed by as much as nine in the first half and eight in the second half, but gritty defense and key baskets down the stretch jump started the rally and gave Pepperdine a four-point lead down the stretch to secure victory number two.
Takeaways:
1. Senior forward Chris Reyes is a beast: The first-year Wave continued his impressive start to the season with 17 points, nine rebounds and four assists
2. Waves don't die: Despite being outshot by Weber State 53.8% to 44.6%, Pepperdine was able to make baskets when it mattered most.
3. More free-throws = more wins: The Waves were able to get to the line 15 times, making 10 while limiting the Wildcats to just five makes in 10 attempts.
Pepperdine looks to sweep the homestand on Thursday night as they host Life Pacific on Nov. 17 at 7 p.m.
Chris Reyes Can Have My Firstborn — Kyle Cajero
Yes, it's November. Rarely anything in college basketball is a "sure thing" this early in the season. But one week into Pepperdine's 2016-17 season, I can say this: I trust Chris Reyes so much. I could leave my unborn, firstborn son with Reyes and I'd say, "Well, at least little Chris Reyes Cajero will learn how to rebound while I'm gone."
The fifth-year transfer forward from University of Utah has scored 37 points after two games, which is second highest amongst the Waves. He scored 20 points — on 10 for 11 shooting, nonetheless — against Cal Poly, which was a career high, according to sports-reference.com.
Then Reyes proved it wasn't a fluke against Weber State on Tuesday night: He chipped in 17 points, nine rebounds and — most importanly — provided clutch post defense in the closing moments of Pepperdine's 69-68 win. He neutralized Weber State bigs Zach Braxton and Kyndahl Hill, who were dominant for most of the night. But arguably his most important contribution was a momentum-shifting block with 2:05 left that sparked a patented Lamond Murray Jr. fast-break dunk and brought the crowd back into the game.
What's most impressive about Reyes' game, however, is his court vision. Usually that's a term used for point guards, but Reyes embodies it as a forward. Reyes has 10 assists over the past two games thanks to his superb passing down low. He has a knack for seaming passes through traffic, which will be bound to create highlight-reel plays once sophomore forward Kameron Edwards heals his broken jaw (!!!).
Although Reyes will only have this season in a Pepperdine uniform, I'll still enjoy every minute he's on the court.
Lamond Murray Jr. Is Officially the Terminator — Jackson Hogan
Murray Jr. had a slow first half, only shooting 36 percent from the field and earning eight points. This was Murray Jr. as Arnold Swarzenegger from Junior: meek, mild and generally forgettable. The only difference was that Murray Jr. didn't give birth on the court through artificial insemination. Junior was a weird movie.
In the second half: Murray Jr. was a well-oiled machine disguised as a human. He had only one mission: exterminate the enemy. In the second half, his shooting percentage jumped up to 56%, he scored 25 points (leading to a career-high 33 points for the night), and he muscled his way for four tough rebounds. You could literally see the Weber State players begin to melt into puddles of fear whenever Murray Jr. grabbed the rock. In one particularly spectaular play, Amadi Udenyi flipped a pass underhanded to Murray Jr. for a dunk which nearly burned Firestone Fieldhouse to the ground. This was Murray Jr. as Arnold Swarzenegger from The Terminator.
Not T2. That Arnold was also awesome, but he was a good guy. This Murray Jr. was a cold-hearted, dream-crushing, violently-impaling villain.
And bad news for the rest of the WCC: he'll be back.
Anyone? Anyone? Bueller? — Kyle Cajero
Head Coach Marty Wilson is a man on a mission. He has played at least 10 players from Pepperdine's 17-man roster in both games this season, throwing different lineup combinations against the wall and seeing what sticks. Specifically, who will be the player (or combinations of players) tha will earn key roles in the rotation?
Watching Wilson's experimentation has been nothing short of entertaining. Ever wanted to see the Waves play smallball? He's done it. During the waning minutes of the Weber State game, which wasn't garbage time by any means, Wilson sent freshman guard Elijah Lee on the floor alongside senior guards Amadi Udenyi and Jeremy Major — all of whom are six feet tall in shoes. The aforementioned half-man, half-cyborg Murray Jr. was at the four spot, and Reyes filled out the lineup at the five spot.
For the most part, it was effective. Udenyi and Major harassed Weber State's backcourt while Lee gained valuable experience in a close, Division I game. Murray Jr. was able to use his length against smaller guards. While this lineup was fairly enjoyable to watch, imagining this lineup against some of the West Coast Conference's guard-heavy teams (hello, BYU and Gonzaga) was disconcerting.
On the other side of the spectrum, lineups featuring both sophomore center Ryan Keenan and freshman forward Craig LeCesne were not as effective. LeCesne was baited into fouls against Weber State — despite his occasional flashes of brilliance, LeCesne has averaged 4.5 fouls per game and he fouled out of the Weber State contest after logging 15 minutes on the court — and Keenan was outmuscled by Weber State's Kyndahl Hill. To be fair, Hill was the Big Sky's Top Reserve last season. But then again: Pepperdine's frontcourt will face tougher foes than Weber State this season.
Yes, two games is a small sample size, but expect this experimentation phase to continue at least until the Waves enter conference play. After all, this is what the nonconference games are supposed to be: times to establish the rotation and allow players to gel.
________________________________
Follow Kyle, Jackson and Arthur on Twitter: @kylecajero, @jacksonhogan and @arthurpuu