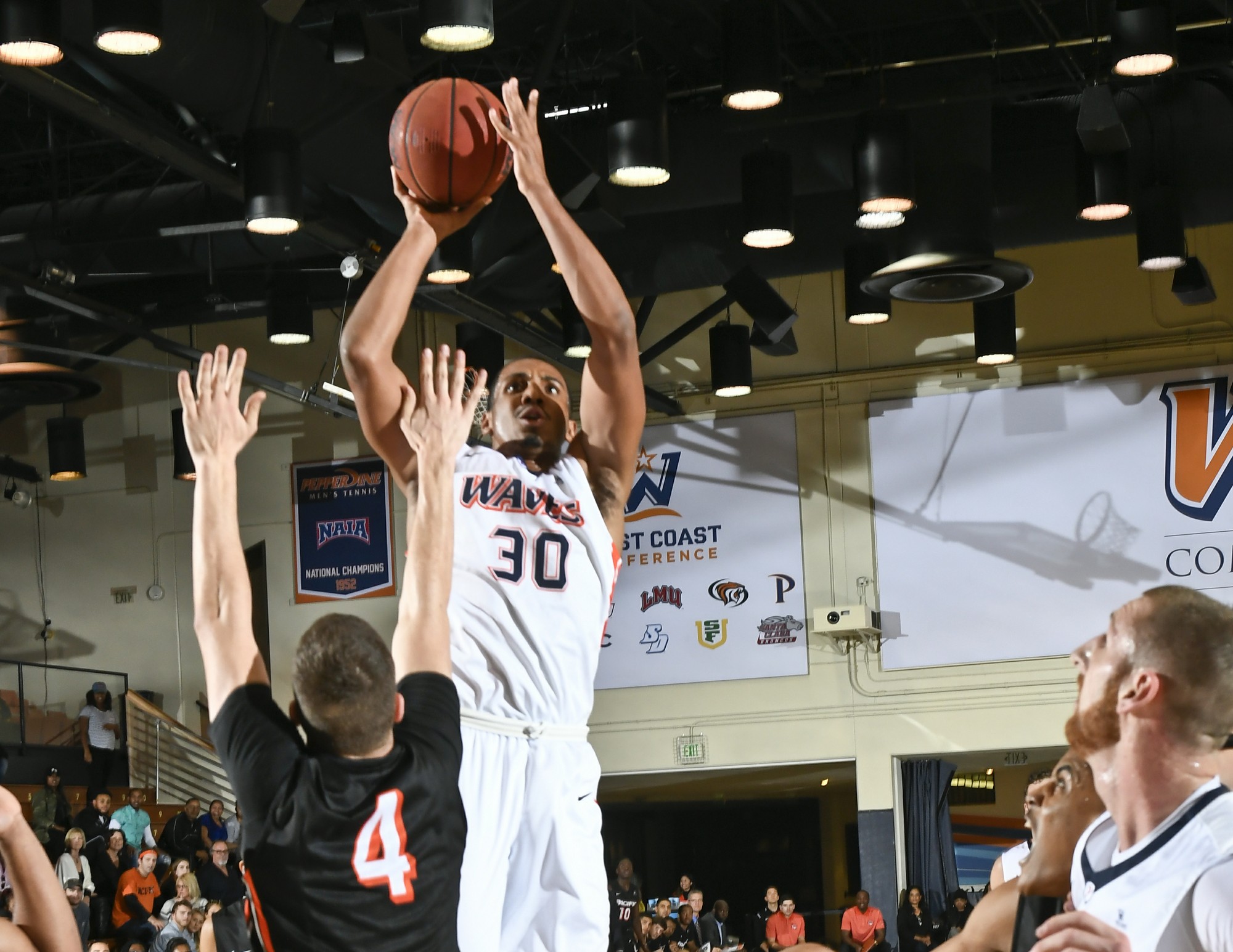 Photos Courtesy of Martin A. Folb
Sometimes, you've gotta pass the rock. In the Pepperdine Graphic's "Three Man Weave" series, writers Kyle Cajero, Jackson Hogan and Arthur Puu share their highlights, lowlights and spare thoughts about Pepperdine's Men's Basketball team. This week's edition covers Pepperdine's recent home win against the Pacific Tigers on Feb. 4.
Give 'Em Hellums — Kyle Cajero
This one goes out to freshman shooting guard Knox Hellums, a.k.a. Knox 'em Dead Hellums, a.k.a. Knox 'ed Up Hellums, a.k.a. I am the one who Knox Hellums a.k.a. the freshman who dropped 15 points (on 5-for-9 shooting) coming off the bench against Pacific.
Correction: Hellums hit most of his threes directly in front of Pacific's bench, which is probably my favorite shot in basketball. It's so fearless and petty and wonderful all at the same time.
I'd do some very illegal things just to hit a 3 in front of an opponent's bench like Knox Hellums just did.

— Pepperdine Graphic (@PeppGraphic) February 5, 2017
So how did this happen? How could a freshman who logged only three minutes against the lowly Portland Pilots make such an impact on the game?
Short answer: He shot the lights out. Long answer: After hitting his first three of the night to give Pepperdine a 22-9 lead, Hellums went cold. This looked like an average game until Hellums knocked down two straight threes in the closing moments of the first half — both in front of Pacific Head Coach Damon Stoudamire. It finally looked like the Waves had found the spark plug off the bench they've always needed.
Hellums ended the half as the leading scorer with nine points. Not too shabby for being on the same team as Lamond Murray Jr: the second-highest scorer in the conference at 20.4 points per game, according to sports-reference.com.
Even though his second-half provided only two made threes, they both came at pivotal times for the Waves' offense. The Tigers tried making the game interesting by outscoring Pepperdine 14-12 in the first ten minutes; however, Hellums' two second-half buckets prevented the Tigers from threatening Pepperdine's lead.
By the time Hellums attempted his first field goal from inside the arc, his work was done. Watching him bounce off screens on the perimeter — even if the wasn't going to — made the game between two of KenPom's lowest-ranked offensive teams more interesting. Hellums was clearly feeling it. And it was fun to watch.
In a season marred with uncertainty and disappointment, it's evident that Pepperdine has a gifted shooter on its roster. If Hellums can make that rite of passage and buy into Wilson's defense-first program, he'll definitely find more minutes (or at the very least, more consistent minutes). The freshman from Tomball, Texas has taken an interesting path this season — he went from a rarely-seen reserve in November, to a capable starter in non conference play (including a career-high 19 point outburst against Portland State), to collecting dust on the bench in conference play — but hopefully he'll close out the season on a good note.
Size Doesn't Matter — Jackson Hogan
For most of this season, since Amadi Udenyi's injury, the Waves have been starting freshman guard and part-time Rami Malek impersonator Elijah Lee. So far, he's been performing how you'd expect for a freshman thrust into the spotlight: nervous, but with definite flashes of promise. However, at 5-foot-10-inches, he's a bit on the short end of things, so against taller Pacific squad, Coach Wilson decided to start 6-foot-4-inches senior Jonathan Allen instead. Did the height difference help?

Nope. Despite playing four more minutes than Lee, Allen scored zero points, only took one shot the whole game, and the only stats he recorded otherwise were five turnovers (leading the Waves) and the honorable achievement known as fouling out.
Meanwhile, Lee decided to prove Coach Wilson wrong, having one of his better games of the year: ten points, two rebounds, and some very clutch free throw shooting near the end when Pacific was threatening a comeback.
So let this be a lesson to the Waves going forward: You can succeed with little guys. I might be biased on this, being a short person myself (I'm still taller than Aziz Ansari…it's the little victories that count), but is there anything more fun than some guy under six feet tall sneaking under defenders several inches taller to make some Cirque Du Soleil moves?
If any of you have been paying attention to the NBA this year, you'd know that arguably the league's best non-LeBron player is only 5'9″. Lee's not there yet, but his ceiling is still high. Give the little men some props.
MAJOR KEY — Arthur Puu
17, 20, 13, 16, 15.
Senior guard Jeremy Major has been on a tear over the past 5 games, averaging 16.2 points per game within that span.
And with that, I guess Head Coach Marty Wilson has been listening to DJ Khaled's advice.
In the two wins against Portland and Pacific in these past two weeks, Major has assisted the offense, shooting near 45% to go along with four rebounds and nearly three assists.
Of course, Major has also been red-hot from downtown, as he has knocked down three triples in four of the last five games, including a season-high five three-pointers at home against Portland.
Let's hope Major continues to keep it rolling for the Waves, especially as the end of the season is just around the corner.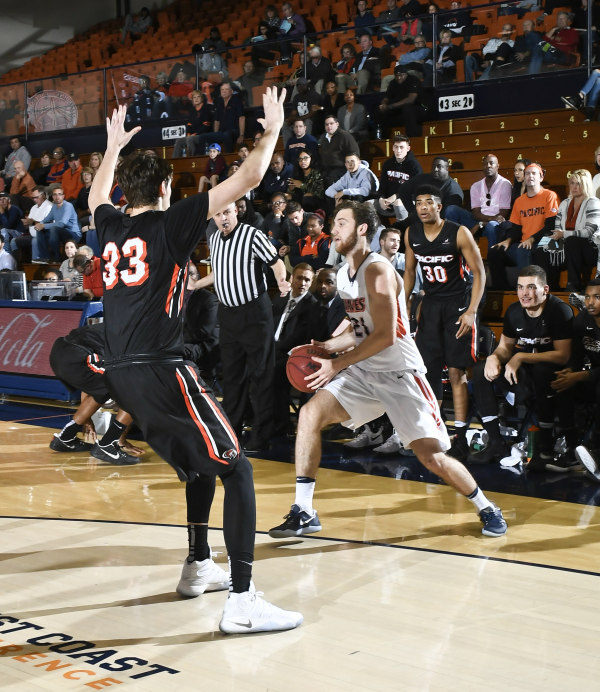 So Now What? — Kyle Cajero
Life is full of uncertainties. An exception to this, however, is the fact that Pepperdine will not earn an at-large bid to the NCAA Tournament (LOL), NIT, CBI or even the janky used car dealership of a postseason tournament called the Vegas 16. A 7-17 record all but guarantees Pepperdine's final game of the season will be in the West Coast Conference Tournament in three weeks.
So do these next six games serve a purpose? Absolutely.
Believe it or not, Pepperdine has a chance to move up in the WCC standings between now and the Tournament. The Waves are currently 8th out of ten teams thanks to the win against Pacific. It's not anything to write home about, but 8th feels so much better than being in dead last.
Judging by the WCC Tournament's bracket, the top six teams have a first-round bye, whereas the bottom four teams in the conference have to play into the bracket. If the standings hold, Pepperdine will have to duke it out between one of the conference's bottom feeder teams (Pacific, Portland and San Diego) for a chance to get blown out by Gonzaga or Saint Mary's. "The Hunger Games" were pretty dope, I guess.
In order to avoid an embarrassing first-round exit at the hands of Portland, Pacific, USD and the like, the Waves will need to play spoiler over the next month. This will be easier said than done. The most winnable game is the season finale against USF on Feb. 25. This is more winnable than the road trips to LMU and USD because one: It's at home. Two: It's on Senior Night.
Although the Waves beat LMU earlier this year and USD has the least intimidating road venue in the conference, according to C.L. Brown's ESPN article "Which West Coast Conference venue is the toughest place to win?" published on Aug. 16 , the Waves have yet to win on the road this year (!!!).
Best case scenario: Pepperdine closes the season on a 7-0 run and upset—just kidding. That's reaching a little too high.
Realistically, Pepperdine's best shot is to nab three of its final six games and rise to sixth in the standings, while LMU and USD flounder out of a first-round bye.
The worst case scenario would be something along the lines of, say: Pepperdine stays in the bottom four and gets bounced by a USD team that only scored 27 points against Saint Mary's.
I can't believe I have to talk myself into this. But hey, life comes at you fast.
_____________________________
Follow Kyle, Jackson and Arthur on Twitter: @kylecajero, @jacksonhogan and @arthurpuu