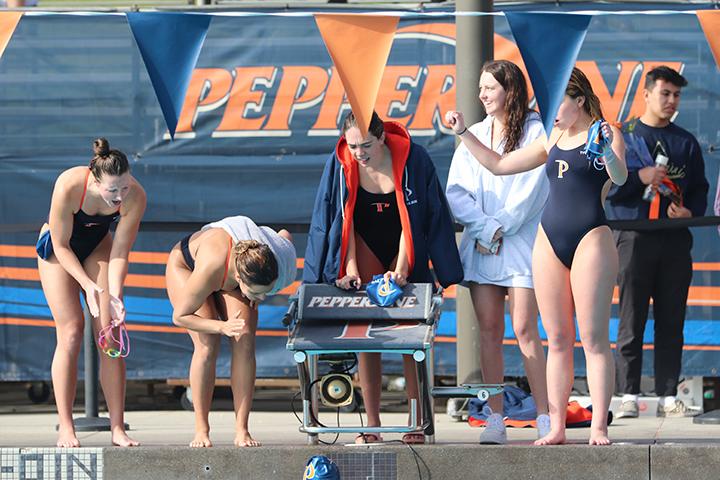 Five swimmers encourage a teammate after she completed a race at their home invitational against Azusa Pacific University. Photo by Ali Levens
After a dramatic season for the Pepperdine Swim and Dive team, the Waves competed at the PCSC Championships and placed second with 1,311.5 points behind Cal State East Bay.
The team broke five school records: freshman Emily Morton in the 200-yard backstroke (2:02.01) and the 400-yard individual medley (4:27.11); the 400-yard freestyle relay (3:28.32); the 800-yard freestyle relay (7:33.84); and the 200-yard freestyle relay teams (1:34.43).
Interim Head Coach Jana Vincent was also named the PCSC Women's Coach of the Year.
The qualifiers compete in the CSCAA National Collegiate Invitational on March 12–14 at Cleveland State University. To qualify, the following swimmers won their event: the 800-yard freestyle relay team (junior Sammie Slater, freshman Nohea Lileikis, junior Paige Brackett and Morton), the 400-yard freestyle relay team (freshmen Jasmine Williams, Julianna Birlin, Jenna Sanchez and junior Amy Griffin), and Slater in the 200-yard freestyle.
"I am so proud of our swim and dive team on their second-place finish in the PCSC Championship," Athletic Director Steve Potts wrote in an email. "The team persevered in an amazing way through a season of adversity, and I am excited about the future of our Swim and Dive program."
The team underwent a coaching change halfway through the season after Head Coach Joe Spahn departed from the university following a university-led investigation. Assistant Coach Jessica Mosbaugh also departed in the fall. Vincent, who was a volunteer coach, became the team's interim for the remainder of the season.
Athletics released a Swim and Dive coaching update Feb. 24 stating Spahn and Pepperdine Athletics have "mutually agreed to part ways."
A leaked document detailed four accusations brought against Spahn: abusive behavior, sexual assault, inability to control emotions and allowing a swimmer to practice without clearance.
The university found no evidence that Spahn had abusive behavior or engaged in sexual assault, but the other two were proven true.
Junior and third-year swimmer Trinity Ishikawa experienced Spahn's temper in front of supporters and a visiting team after the Waves lost to a rival.
"[Spahn] ended up throwing a couple of items and using profane language, which on deck is not appropriate," Ishikawa said. "It was in front of everyone, which was quite embarrassing. It's hard to be supportive of a coach who doesn't take losing very well."
While the report found no evidence Spahn sexually assaulted swimmers, Ishikawa said he did make comments toward swimmers that were considered inappropriate for the pool deck, Ishikawa said.
"Just kind of remarks — as if the girls were hitting on him or saying odd things about his wife to the girls," Ishikawa said.
The document also stated the team was not unified and that Spahn had favorites.
Comparative remarks from Spahn contributed to the team divide between the upper- and underclass, Ishikawa said. For example, Spahn would tell the upper-level swimmers that they do not put in enough effort and not to worry about placing because another swimmer will do that for them.
"It kind of takes away from having a place on the team," Ishikawa said.
Ishikawa said she thinks the team's divide in opinions mostly came as a result of the first Swim and Dive recruitment class, since Spahn and the university actively brought these athletes as opposed to the previous walk-on process.
"The way he started treating the swimmers changed," Ishikawa said. "I felt as though he did have a little bit of bias. They didn't really see what had happened in the year prior. They only just saw us at swim meets, like, super happy and cheering on each other, but there's an underlying thing that just wasn't going well for us, and we were all suffering from it."
According to Ishikawa, Spahn's unfair treatment did not start this season. When Spahn first arrived as the head coach in the fall of 2018, the team "embraced him." Then the team-coach relationship started to head south in spring 2019.
"We overlooked a lot of red flags," Ishikawa said. "Eventually, we started seeing more in spring semester and eventually this past fall semester that weren't necessarily OK, especially with NCAA because Athletics is supposed to protect our athletes, and we didn't feel as though we were being heard."
Ishikawa said she believes the accusations started going to Potts at the end of the spring 2019 semester or the beginning of fall 2019. Then the team had meetings with Potts around October and November about the Athletic Department's attempts to advise Spahn on how to unify and be positive with the team.
Spahn's behavior did not change, so the accusations were sent to administration. The team continued to have meetings with Potts but grew increasingly frustrated.
"When we were discussing it [with] Potts, it really felt like he wasn't listening," Ishikawa said. "I felt like that meeting [the first meeting about the swimmers' issues with Spahn] was really when it started to spiral and everyone was just all over the place."
Ishikawa said the team was not told what to do when contacted by the media, but they considered how it would reflect on the team before Conference. They also chose to remain silent until now as to keep peace within the team.
"Our policy is to not restrict or prevent our student-athletes from speaking with any members of the media," Potts wrote. "They can choose to speak with members of the media or they can choose to not speak with members of the media. It is entirely up to them. I am not aware of any information that was conveyed to members of our Swim and Dive team that was inconsistent with our policy."
Although the team struggled for outside support, the team met multiple times to focus on unifying. The future of the Swim and Dive team is unclear at this point since personnel or teammate changes have not been disclosed at this time, according to Ishikawa.
Not only did the Swim and Dive team have a tumultuous tenure with Spahn as a coach, but the swimmers also do not get scholarship funding from the university.
"There've been times where I've not felt motivated to go to practice just because we're not getting scholarship," Ishikawa said, "and there's really no end result for our team. It's kind of sad to see every — or 90% — of our teams on campus get scholarship and representation within the program, but we're just kind of left behind."
The 40-person Swim and Dive team has an operating budget of $104,340, the smallest of any Pepperdine team (ope.ed.gov).
In 2013, the Malibu Times published a story about an anonymous $1.6 million donation made to the Swim and Dive team to keep it afloat for the 2013–2014 season. Potts confirmed there was "an investment" but could not comment on its source.
Athletics is unable to fund every sport to the maximum scholarship amount that the NCAA allows, according to Potts.
Title IX, a federal law that prohibits exclusion from a federally-funded educational program based on sex, restricts the amount of scholarship each team receives, depending on the equipment cost and participation, according to ncaa.org.
With this law, the athletic department decided to fund 12 or 13 of Pepperdine's 16 sports teams to the maximum set by the NCAA, Potts said.
The NCAA's maximum for Division One swim teams is 14 scholarships, according to ncsasports.org.
Along with Swim and Dive, both Women's Cross Country and Track as well as Men's Track receive little to no scholarship funding.
Three of the four teams that do not receive financial aid are women's teams, yet Athletics is out of compliance with Title IX for awarding too many women's scholarships, according to Potts.
Pepperdine's men receive $3.6 million in financial aid, while the women are allotted $4.9 million, for a 42–58 ratio, according to ope.ed.gov.
"It's created a Title IX issue there that we're working to resolve," Potts said. "I wish we could fund every single program. Every single sport. I wish we could fund it to the NCAA maximum in terms of scholarships. We just are not in a position to do so because of our budget."
Other swim teams in the area also do not have large budgets.
San Diego State University has a budget three-times the amount of the Waves' but has 10 less swimmers (ope.ed.gov) . Loyola Marymount University, a member of the West Coast Conference, has a budget of $120,000 with only 24 swimmers. Azusa Pacific University and the University of San Diego are on the opposite side of the spectrum, with budgets around $65,000 and 20-24 swimmers.
Correction: The Waves competed at the PCSC Championships. The competition was incorrectly identified in the original version of this article. The Championships where the most recent swim meet that qualified the swimmers for the national meet.
__________________
Follow the Graphic on Twitter: @PeppGraphic
Email Ali Levens: ali.levens@pepperdine.edu