Photo Courtesy of Jim Russi
Barefooted and surfboard in hand, California residents show state pride by riding the waves.
Gov. Jerry Brown signed Assembly Bill 1782 on Aug. 20, officially declaring surfing as California's state sport. The bill advocates for surfing culture to take a national and global leadership role in promoting sustainability, while also acknowledging surfing as iconic to California's culture.
Malibu District Representative and surfer Jeremy Wolf, who works for the bill's co-author, Senator Henry Stern, said bringing attention to surfing as the state sport will hopefully increase environmental awareness.
"When you're surfing, you're intimately in the ocean," Wolf said. "You're intimately in the environment. When you're out there and you see plastic, trash and cigarette butts, it's very disturbing, and it disrupts the surf environment."
Three-time national surf champion and Pepperdine senior Cayla Moore agreed that surfing coincides with environmental and ocean protection.
"I think from a political standpoint, there is more push for environmental change due to the fact there is the backing of our state sport behind it," Moore said. "Being that surfing represents our state sport, we need to protect the oceans and our beautiful coastline, or it would contradict."
Pepperdine surfing instructor and lifeguard Joe Rickabaugh said he was skeptical if the bill would make any significant change on how people treat the beaches.
"I've been working as a lifeguard for three years, and I have seen how people treat the beaches," Rickabaugh said. "Even at pristine beaches in Malibu, people will throw trash and plastic on the beach and not think twice about it. It's sad, but it's true."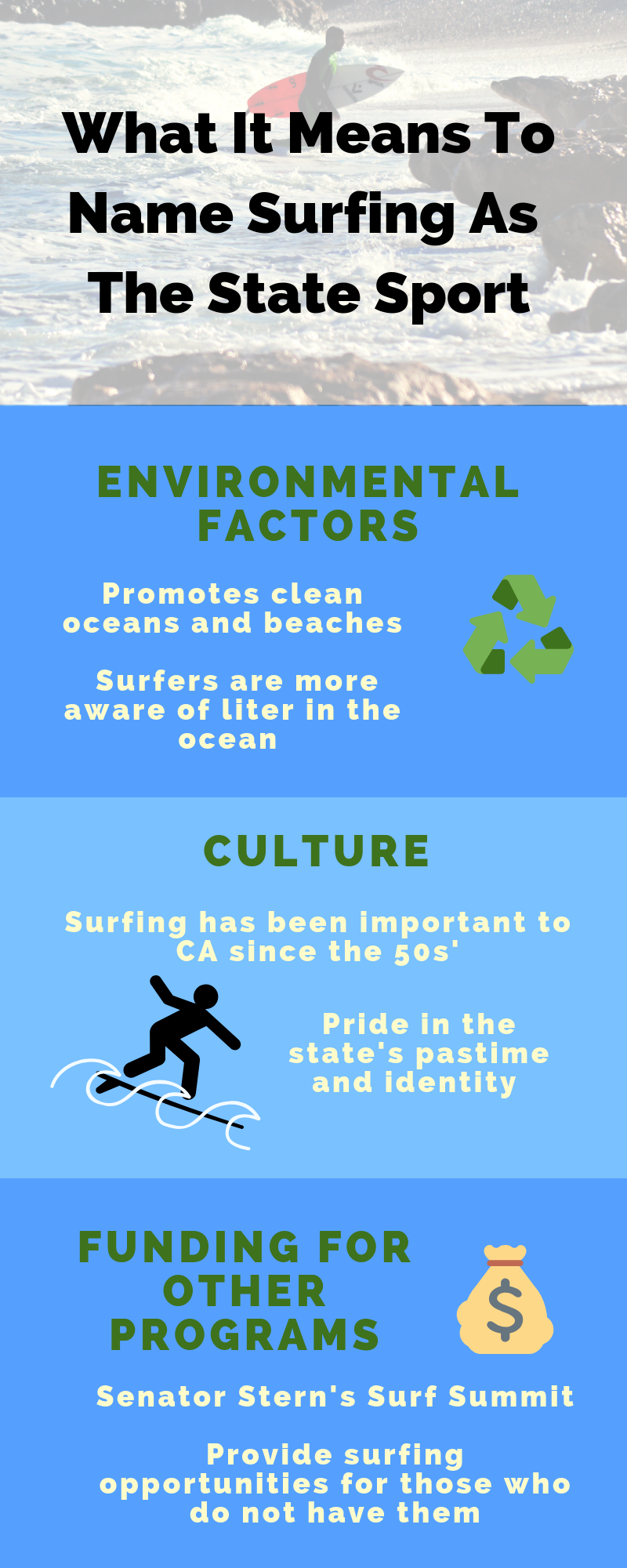 Graphic by Channa Steinmetz
Alongside promoting ocean preservation, the bill acknowledged surfing as "an iconic California sport" and mentioned Malibu as the home to a number of world-famous surf breaks.
Both the bill and Wolf accredited Hawaiians with creating surfing and bringing it to California, but Wolf said the sport became world famous through Hollywood.
"The surf culture is super famous, and California personifies that," Wolf said. "When people think of surfing, they think of California and specifically Malibu. It shows the world that California takes surfing very serious as both a past time and identity."
Photo courtesy of Jeremy Wolf
City of Malibu Councilman Skylar Peak also mentioned surfing's influence in Malibu's culture.
"Surfing and Malibu have gone hand in hand in popular culture since the 1950s," Peak wrote in an email statement. "While movies like 'Gidget' made surfing more popular than ever, the wave at Surfrider Beach, referred to by surfers as 'First Point,' 'Da Bu,' or simply 'Malibu,' is one of the best surfing waves on the California coastline. We are lucky to have this asset in our community."
Wolf said his office is using the momentum and excitement around surfing to get funding for programs that bring inner-city kids out to surf. As the unofficial "chief of surf," Wolf organizes surf programs such as Senator Stern's Surf Summit. The event brings kids from inner-city communities to Malibu, and instructors teach them how to surf.
"Surfing is primarily a white upper-class sport and we want to change that," Wolf said. "We have done the Surf Summit for the past two years, and it's been a great success. We feel that by bringing these kids to the ocean and giving them an opportunity to surf, it creates another generation of environmentalists who care about the ocean."
Photo Courtesy of Jeremy Wolf
Getting on a board at first can be nerve wracking, especially for those who have not grown up with the ocean in their backyard. Indiana-native and Pepperdine junior Megan Buckley was introduced to surfing this semester when she enrolled in the university's surfing course with Rickabaugh. Buckley said at the start, surfing was intimidating.
"They warn you about all the things that can go wrong, riptides and boards getting out of your control, and it made me a bit nervous," Buckley said. "But now that I am a few weeks in, it's a lot of fun and exciting to get into the water."
Moore, who has been riding the waves since she was two, encouraged all those who have not yet experienced surfing to push worries aside and give the sport a chance.
"Never let fear stop you from trying something new," Moore said. "It may be scary at first but the feeling you get being on a wave is worth it all. From my experience, I have always been happy when trying out something new and pushing myself out of my comfort zone."
__________
Follow Channa Steinmetz on Twitter: @ChannaSteinmetz