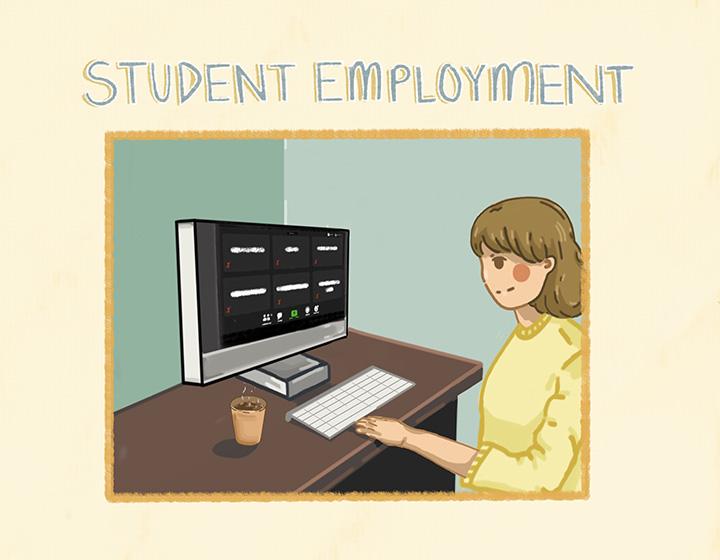 Art by Leah Bae
The virtual world doesn't just stop after online classes for student workers; it continues in the form of remote employment.
Student employees continue to serve in their jobs online but face challenges when working remotely, which takes a toll on both student-employment opportunities and job engagement. Available remote jobs for students vary in time commitment, remote duties and challenges.
"There are definitely moments where it doesn't feel the same," said junior Lanie Jones, a student intern for the Office of Admissions. "We're at five to six hours a week, where normally we'd be 10 to 12."
Each fall, Pepperdine hires roughly 1,700 student workers in over 200 departments across all five schools. As of Aug. 27, the University projected a 10% decrease in the number of student workers due to the remote nature of the fall semester, Shelby Bowman, director of Student Employment, wrote in an email.
When polled, 87% of student employees viewed their position as an opportunity to learn and grow, according to the Student Employment website. Student employees are the largest employee base at Pepperdine — more than faculty and staff combined.
Some departments declined to hire student employees for the remote semester because they are not operating at full capacity or the work simply cannot be done remotely. These departments include Athletics, libraries and the Center for the Arts, Bowman wrote.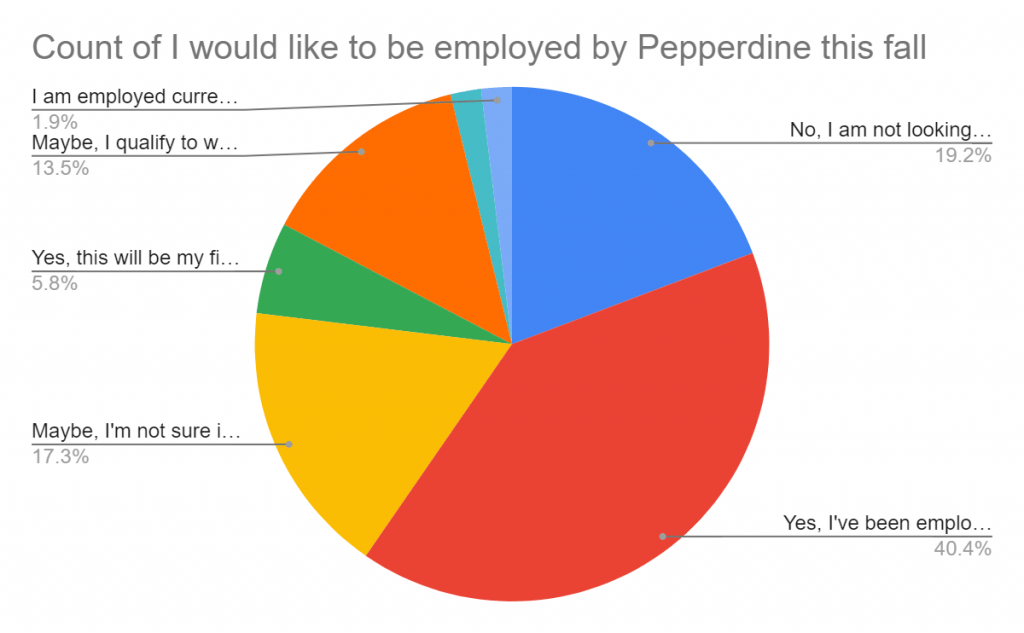 The Office of Admissions withheld applications from students for the 2020–2021 school year due to a lack of necessity for remote workers, Jones said. The office normally hires seven to nine students each school year.
Another major cut within the department is the number of campus tours for prospective students. Typically, the office gives 15 campus tours per week, which student employees lead, but the Office of Admissions has scaled back to seven virtual tours per week, Jones said.
Students like Jones also hope to gain professional experience as Office of Admission interns, and while remote work is a new normal, students still lack the mentorship aspects of an in-person job, Jones said.
"In terms of professional development, we're all just figuring it out," Jones said. "Just changing our expectations has been the hardest thing."
Students employed as teaching assistants and tutors must also adapt to academically assisting students virtually.
Taylor McSpadden, a senior Anatomy TA and tutor for the Student Success Center, said she finds her job to be more difficult online and had questioned whether there would be TA or tutoring positions available due to the nature of the fall semester.
"The professor wasn't even sure if she was going to be able to have TAs," McSpadden said. "I think because of remote [instruction], no one really knew what was going to happen."
Regardless of the online setting of her tutoring services, McSpadden said she eagerly seeks out ways to help students academically.
"I think a lot of people don't know about the resources still being offered, or they don't want to make time for them," McSpadden said. "If they were in the library, they'd walk by the Student Success Center and be like, 'Oh, maybe I should stop in and get tutoring.'"
In some student employee roles, student workers find themselves in a work environment similar to an on-campus job despite having to work remotely. Student workers for Waves on Call reach out to potential donors over the phone to raise funds to support student scholarships, campus resources and international programs — a task that can be done from anywhere.
"It was really easy to come back this year even though it was a remote setup," said Kaleo Nelson, a sophomore in his second year working for Waves on Call. "All we had to do was just confirm with our manager and download the software on our computers."
Nelson said working at home actually provided an easier, more laid-back environment because he's able to concentrate on his calls to donors without other workers around him.
"The job is convenient," Nelson said. "That's kind of why I'm still doing it now, so it's nice that we were able to transition."
The Office of Student Employment encourages students interested in employment through Pepperdine to apply to open positions on Handshake.
____________________
Follow the Graphic on Twitter: @PeppGraphic
Contact Miles Campbell via Twitter: @mi1esc or by email: miles.campbell@pepperdine.edu