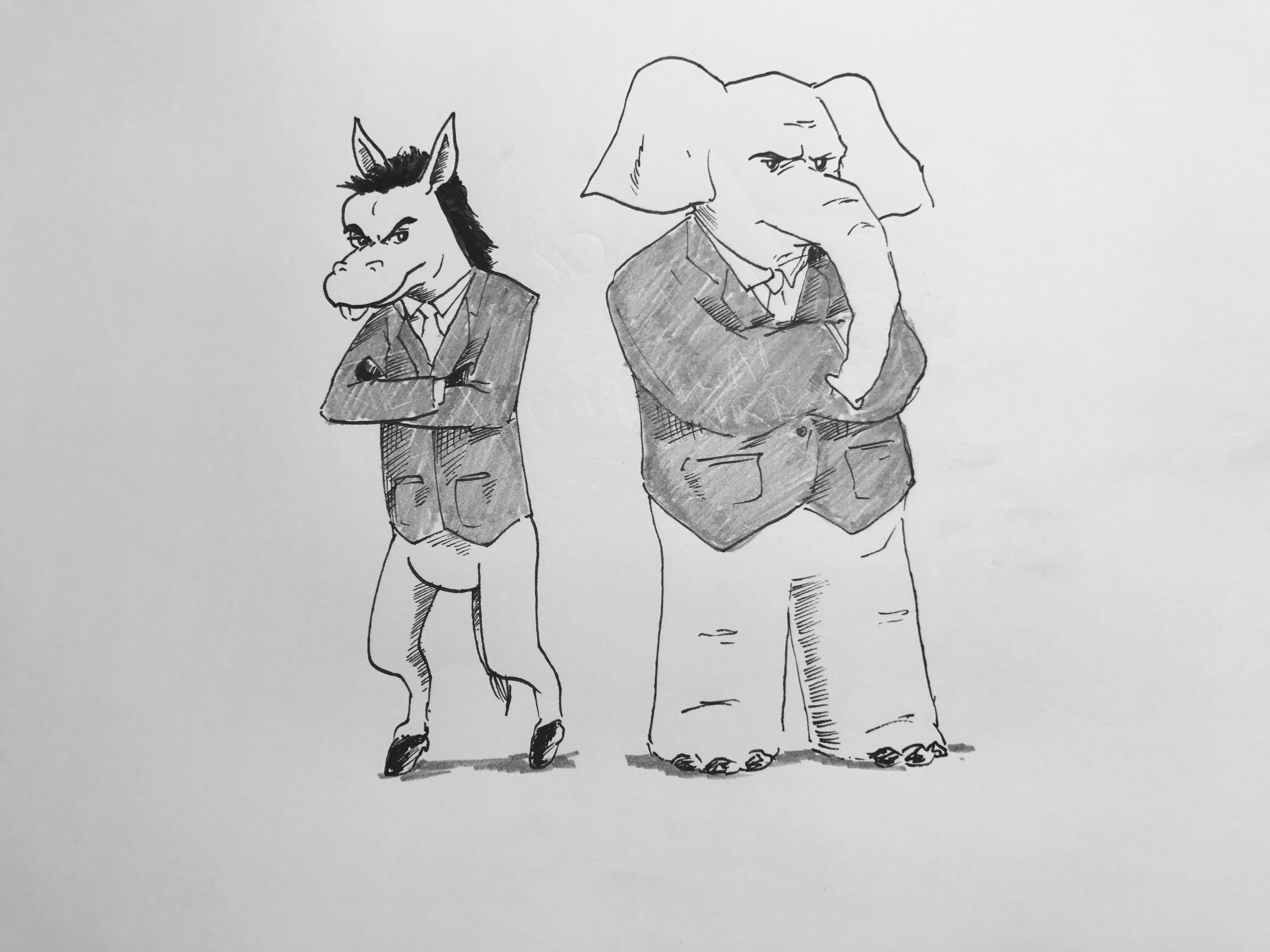 Art by Peau Porotesano
"Republicans only want money."
"Liberals love communism!"
Many of us have heard this. Get someone talking politics long enough, and some are bound to hear one of these, or other, stereotypes. But a one-sided, polarized view of the opposing political party is not only detrimental to someone's ability to speak calmly about current events but potentially drives American politics deeper into the ground.
Americans need to stop pointing the blame at other political parties and categorizing all Democrats and Republicans under one negative banner. Our generation needs to begin having an open mind about what the other side really wants. People may just find that the sides aren't so different after all.
My co-worker and I once discovered exactly this. One shift, we ended up chatting about our different views on legalizing abortion. As two college-age women, pursuing similar degrees and working the same, minimum-wage job, one might think we'd hold the same views. However, despite being identical on paper, we had nearly opposite opinions.
What resulted was a very calm and intelligent conversation, tossing questions back and forth, without raised voices, finger-pointing or personal insults. I would ask her for her perspective, and she would give it. Then I'd explain why I felt differently, or if I agreed. In the end, we arrived at the same conclusion—neither of us necessarily liked the idea of abortion, and we wanted to promote policy that better educates kids about sex and systems that help men and women choose and properly utilize contraceptives that best fit their lifestyles. What began as a moment of opposition ended in a sense of understanding and compromise, while experiencing the other's point of view.
Today, it seems that there is no end to the name-calling, finger-pointing and blame-gaming. Facebook or Twitter feeds can seldom go two days without some sort of politically-charged article or caricature calling attention to the "dangerous" other side, the "anti-American" leftists or the "selfish, unfeeling" right-wings.
According to a Pew Research Center poll on partisan stereotypes, published June 2016, "Many Republicans and Democrats associate negative characteristics with members of the other party — and positive traits with their own…[Democrats] say Republicans are a lot (35 percent) ) or somewhat (35 percent) more closed-minded compared with other Americans…[Republicans], roughly half (52 percent) think of Democrats as more closed-minded than other Americans, and about as many say Democrats are more immoral (47 percent)." Clearly, both sides are guilty of demoralizing the other.
These views can also hurt negotiation and compromise between the two parties. Another Pew Research poll, published August 2016, found that "Republicans and Democrats see the opposite party as more ideologically extreme than their own, which they tend to consider more moderate."
What does that mean for the average American? It means people aren't hearing one another. It means as policies and ideologies no longer mirror each other, people are jumping ship to a more extreme version of their beliefs, refusing to hear each other out and driving the divide further and further apart.
This needs to stop. As the upcoming generation who will one day fill seats on Capitol Hill, work as CEO's or preach ministry to children, people need to start hearing each other out and stop seeing the opposing political parties as miscreants determined to ruin America. Get in the habit of finding a moment to pause, ask questions and listen, without jumping up and slamming opposing thoughts and preferences down one another's throats, or shutting the door completely. Otherwise, the divide between parties will only grow, and our country will only suffer and weaken as a result.
___________
Follow Nenah Mikuska on Twitter: @nenah_mikuska