Photos by Allison Hubbard
More than 1,000 students woke up early to serve in the 26th annual Step Forward Day last Saturday.
Student groups, dorms, sororities, fraternities and more volunteered with numerous organizations in the Los Angeles and Ventura Counties as part of Pepperdine's charitable event.
"Single days like this accomplish a lot of tasks," Assistant Director of the Pepperdine Volunteer Center Justin Schneider said. "But real change happens through a sustained commitment to improving our communities. We hope that Pepperdine Waves begin that lifelong movement toward justice in our communities."
This year's event generated a lot of buzz all around the Pepperdine community, including  all over the world, Special Events Coordinator for the Pepperdine Volunteer Center Miyelle Aiken said.
This year, there were approximately 1,375 student volunteers that participated in Step Forward Day, and they went to 59 different volunteer sites across the Ventura and Los Angeles Counties, according to Schneider.
The Pepperdine Volunteer Center had expected fewer volunteers since this year's freshman class is smaller than previous years; however, they always hope for more, and they certainly got it.
"As students were coming back, I heard a lot of positive remarks about their work in LA and Ventura," Aiken said. "It really made my day to hear such positivity and happiness coming from the students."
The purpose of Step Forward Day is to begin what the Pepperdine Volunteer Center hopes to be a full year's worth of commitment to service and leadership throughout communities in the local areas and on campus, according to Aiken.
"Step Forward Day is so important because it kicks off a year of service for the whole community," Aiken said. "Here in the PVC we want people to feel excited about service and want to continue it all year round after SFD."
Volunteers worked with new and old organizations that have strong partnerships with Pepperdine. Many of these organizations value Step Forward Day and the relationships they have built with the Pepperdine students, according to Aiken.
Freshman Paulina Martinez served at the Al Wooten Jr. Heritage Center, an afterschool program for children from low-income families. Her job was to paint a wall to make it more visually appealing.
Freshman Peyton Buck served alongside Professor of History and Latin American Studies Darlene Rivas at the Will Rogers Learning Community, an elementary school located in Santa Monica.
Buck said that she was told about Step Forward Day by her first-year seminar professor Rivas and had she not come with her seminar, she would have gone with Darnell, her freshman dorm. She had also heard from upperclassmen about Step Forward Day, and they urged her to take part in it as well.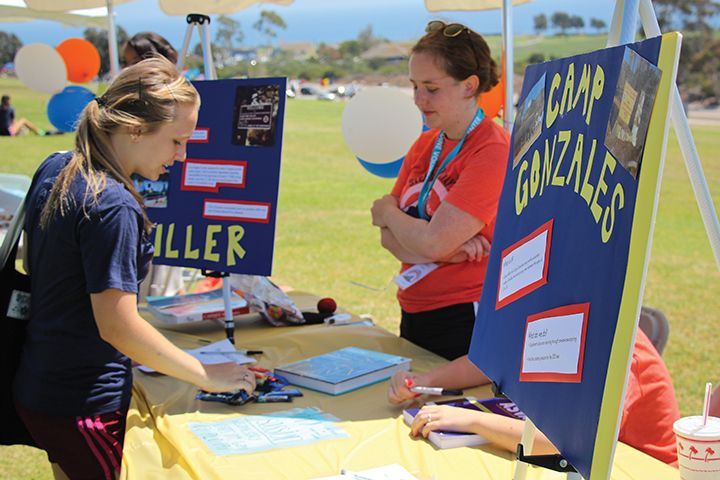 Rivas said she attends Step Forward Day in order to give back to the Southern California community.
"I've done this before and it's just a great community builder for us [professors] and students but also to connect with the community," Rivas said. "Every year I've gone I've done something different. I've never done the same thing twice, so I've learned a lot about what people need and what they're doing, the kinds of things that are happening in the area."
Step Forward Day is also an opportunity for local organizations to receive much-needed assistance for their particular causes. "The Pepperdine students are amazing," Vice President of Volunteer for the Beautification Day at Will Rogers Learning Community Cary Prince said. "They have not stopped working since they've gotten here. They're always jumping in saying, 'What more needs to be done?' It's been amazing having the extra help."
These organizations are still in need of further help in their communities and continue to reach out to Pepperdine students. "There are so many ways for parents to volunteer and help out, as well as the Pepperdine students: You are welcome back any time because we have lots of volunteer opportunities," Prince said.
Chair of Beautification Day at Will Rogers Learning Community Shoshannah Strauss said she has been working on the Beautification Day Board for seven years.
"We've always been so appreciative of the Pepperdine volunteers because they show up on time, and they're ready to help," Strauss said.
Beautification Day is a day of cleaning the landscape of the Will Rogers Learning Center and making it more visually stimulating, according to Prince and Strauss.
Professors continue to embrace Pepperdine's traditions of giving back to the community through service and leadership. Professor Rivas said as volunteers, we are not starting a new project — we are jumping in to help accomplish it.
"It's pretty amazing just to see how much various communities are already working on," Rivas said. "There is already stuff happening, and we're just chipping in, and I like that."
Students and faculty enjoy the Step Forward Day experience. They appreciate the volunteer work they are doing and how it will affect others.
"I like helping people, making other's jobs easier and places prettier," Buck said.
Aiken said every Step Forward Day is different. Each is unique and special in its own way. Every year the goal is to create meaningful service relationships between organizations and students. "I feel that we accomplished this mission," Aiken said.
Correction: September 22, 2014
The version of this article that ran in the Sept. 11, 2014, issue of the Graphic incorrectly spelled Miyelle Aiken's name. The online version has been updated with the correct spelling. 
__________
Follow the Graphic on Twitter: @PeppGraphic