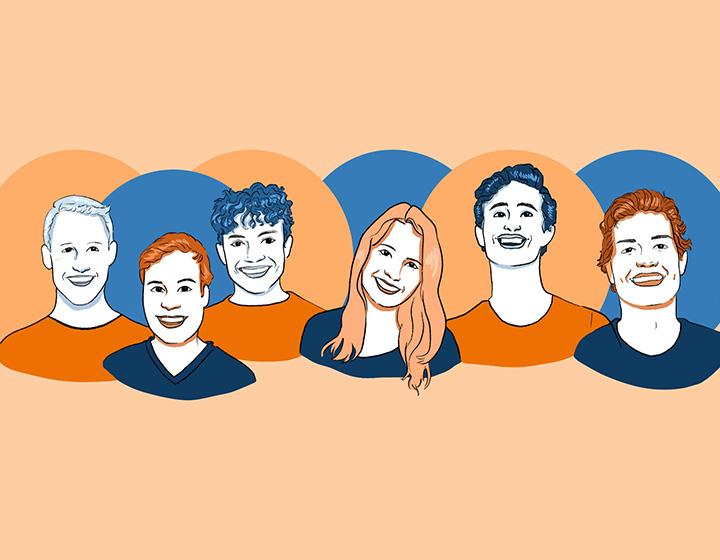 From left: Sports Editor Karl Winter, Assistant Sports Editor Paxton Ritchey, Staff Writer Kyle McCabe, Photo Editor Ali Levens, Sports Assistant Justin Touhey and Staff Writer Austin Hall. This group of six made its picks for the fifth week of the NFL season after a week plagued by COVID-19 outbreaks. Art by Madeline Duvall
The fourth week of the NFL schedule, marking a quarter of the way through the season, brought unforeseen developments.
The league introduced new COVID-19 regulations in response to its first outbreak of the season. It postponed a game until Week 7 because 20 members of the Tennessee Titans tested positive within a week. Since then, players from the Falcons, Patriots and Raiders have also tested positive for the virus.
The Texans fired their head coach after winning their division in the previous two seasons.
The Browns shockingly look like legitimate playoff contenders.
We nearly even had a Tuesday night football game.
Our PGM picks had some changes, with Assistant Sports Editor Justin Touhey moving from fourth into a tie for second after another 11–4 week.
A few weekly traditions remained the same: The Bills, Chiefs, Seahawks and Packers are still undefeated. The Titans and Steelers technically remain in this group as well, with their impromptu bye week.
The Texans, Falcons, Jets and Giants are still winless.
The NFC East is still terrible — its current division leader, Philadelphia, has a single win.
Dan Quinn, Adam Gase and Matt Patricia still have jobs as NFL head coaches.
Sports Editor Karl Winter continues to lead the picks race after also posting an 11–4 week.
Week 5 may not bring as much change, considering we all picked the same winner in nine of the 15 games. Two undefeated teams will square off in Nashville, veterans Joe Flacco and Alex Smith jumped higher on depth charts than second-year quarterback Dwayne Haskins, and Thursday Night Football actually features a decent game — so that's new.
Without further ado, allow Staff Writers Kyle McCabe and Austin Hall, Touhey, Winter, Photo Editor Ali Levens and Assistant Sports Editor Paxton Ritchey to make their selections, starting with tonight's matchup of 3–1 squads.
Tampa Bay Buccaneers (3–1) at Chicago Bears (3–1) (Thursday, Oct. 8 at 5:20 p.m., PDT)
Justin: Buccaneers
Paxton: Bears
Austin: Buccaneers
Ali: Buccaneers
Kyle: Buccaneers
Karl: Bears
"The [Bears'] performance offensively against the Colts was atrocious, so I lost a lot of faith in that, but not enough to pick against them this week. I think that we're better than we played against the Colts. The defense is still really solid, statistically still one of the best defenses in the NFL in terms of, like, QBR against us. The Bucs are on a good run right now, but I don't think they played anybody good in that run, so I like the Bears at home on a short week." — Karl
"It took probably the game of his life for [Bears quarterback] Nick Foles to beat [Buccaneers quarterback] Tom Brady in the [2018] Super Bowl. I don't think he's going to do it again." — Kyle
Los Angeles Rams (3–1) at Washington Football Team (1–3) (Sunday, Oct. 11 at 10 a.m., PDT)
Justin: Rams
Paxton: Rams
Austin: Rams
Ali: Rams
Kyle: Rams
Karl: Rams
"[The Rams'] schedule is so easy. You get most of the NFC East, you're already set to the playoffs — so I'll go with the Rams." — Ali
Buffalo Bills (4–0) at Tennessee Titans (3–0) (Sunday, Oct. 11 at 10 a.m., PDT)
Justin: Bills
Paxton: Bills
Austin: Bills
Ali: Bills
Kyle: Bills
Karl: Bills
"The Titans aren't the team to slow the Bills right now. While [Titans running back] Derrick Henry is quietly putting up good numbers, he has yet to take over a game. I can't remember the last time a player acquisition did more for an offense than [Bills wide receiver] Stefon Diggs has. Bills will cruise." — Austin
Philadelphia Eagles (1–2–1) at Pittsburgh Steelers (3–0) (Sunday, Oct. 11 at 10 a.m., PDT)
Justin: Steelers
Paxton: Steelers
Austin: Steelers
Ali: Steelers
Kyle: Steelers
Karl: Steelers
"The Eagles are officially not tanking, but they're still bad. Expect a defensive slugfest with a lot of three-and-outs with some of the lowest scores of the day. Steel team six will outlast them." — Austin
Arizona Cardinals (2–2) at New York Jets (0–4) (Sunday, Oct. 11 at 10 a.m., PDT)
Justin: Cardinals
Paxton: Cardinals
Austin: Cardinals
Ali: Cardinals
Kyle: Cardinals
Karl: Cardinals
"Are people done with [Cardinals quarterback] Kyler Murray MVP talks yet? Hope they had a good time in those two weeks. Cardinals will look average against the team whose best chance of winning a game slipped past their fingertips due to a quarterback who made it to the NFL by being a Super Bowl-winning QB's nephew." — Austin
Las Vegas Raiders (2–2) at Kansas City Chiefs (4–0) (Sunday, Oct. 11 at 10 a.m., PDT)
Justin: Chiefs
Paxton: Chiefs
Austin: Chiefs
Ali: Chiefs
Kyle: Chiefs
Karl: Chiefs
"[Chiefs quarterback] Patrick Mahomes 'only' had a passer rating of 113 against the New England Patriots. […] He's thrown no interceptions this season, also — not going to help [the Raiders'] cause." — Justin
Jacksonville Jaguars (1–3) at Houston Texans (0–4) (Sunday, Oct. 11 at 10 a.m., PDT)
Justin: Texans
Paxton: Texans
Austin: Texans
Ali: Texans
Kyle: Jaguars
Karl: Jaguars
"It's mania in both cities: one team has [Jaguars quarterback Gardner] Minshew, the other has an interim head coach. The Texans are most definitely more talented, but I don't know if firing your head coach is the spark that gets you to turn it around in the very next week. I think the Jaguars can pull out a win in this game." — Kyle
"The Texans are 0–4 — they did exactly the right thing [in firing Bill O'Brien]. This is going to be the jumpstart they need to actually beat the Jags. [Quarterback] Deshaun Watson is going to put up such good numbers. [Wide receiver] Randall Cobb is going to feel like he can catch a football again; there's no pressure on him. […] More seriously, it's the fact that they're not playing like a top-five team in the NFL. I mean, the Vikings weren't, but aside from them, the Jaguars just don't have the sheer talent that the Texans do." — Paxton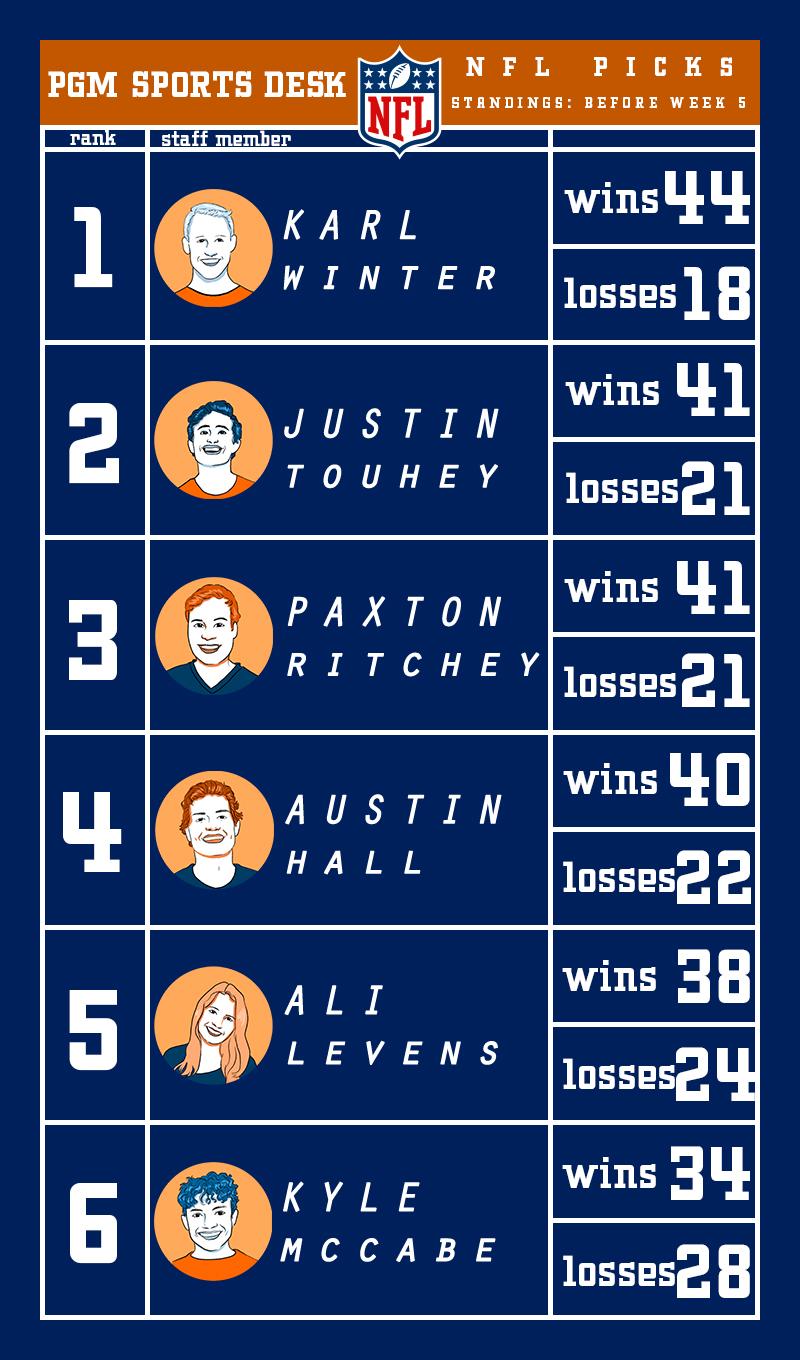 Cincinnati Bengals (1–2–1) at Baltimore Ravens (3–1) (Sunday, Oct. 11 at 10 a.m., PDT)
Justin: Ravens
Paxton: Ravens
Austin: Ravens
Ali: Ravens
Kyle: Ravens
Karl: Ravens
"[Bengals quarterback] Joe Burrow — who smokes a cigar better than almost anybody I know, except maybe like Rick Ross or something — tweeted that 'winning is fun' after his first NFL victory. He got used to winning a lot at LSU. You better remember how it feels, Joe Burrow, because it's going to be awhile before you get win number two." — Paxton
Carolina Panthers (2–2) at Atlanta Falcons (0–4) (Sunday, Oct. 11 at 10 a.m., PDT)
Justin: Falcons
Paxton: Panthers
Austin: Falcons
Ali: Panthers
Kyle: Panthers
Karl: Falcons
"So the team without [running back Christian McCaffrey] and Robby Anderson as their [top wide receiver] has more wins than the team full of first-round picks. I'm gonna go with the patented Atlanta artificial crowd noise to get into [Panthers quarterback] Teddy Bridgewater's pebble head and rattle him a bit. Another week for [Falcons head coach] Dan Quinn [where he isn't fired]." — Austin
"[The Falcons are] completely demoralized. They don't know how to win anymore. The Panthers just added another dimension to their offense — before, you knew Teddy Bridgewater was going to check it down to Christian McCaffrey, but now that McCaffrey's hurt, you don't know which of the four receivers Teddy Bridgewater is going to check it down to." — Paxton
Miami Dolphins (1–3) at San Francisco 49ers (2–2) (Sunday, Oct. 11 at 1:05 p.m., PDT)
Justin: Dolphins
Paxton: 49ers
Austin: Dolphins
Ali: 49ers
Kyle: 49ers
Karl: 49ers
"[Dolphins quarterback] Ryan Fitzpatrick, baby — it's time. He's going to upset the 49ers in Santa Clara. Ryan Fitzmagic, baby. The beard, the chest hair, the Hawaiian shirts, the swagger — it's all going to come back. As long as [49ers quarterback] Jimmy [Garoppolo] doesn't come back, the Dolphins will win this game." — Justin
"Picking the Dolphins to win against an NFC West team on the road does not seem like the right way to be doing your picks. The Niners didn't look great against the Eagles, but they have [tight end George] Kittle back now, and they might have Garoppolo back. We've seen that they can play really, really well shorthanded against bad teams." — Karl
New York Giants (0–4) at Dallas Cowboys (1–3) (Sunday, Oct. 11 at 1:25 p.m., PDT)
Justin: Cowboys
Paxton: Cowboys
Austin: Cowboys
Ali: Cowboys
Kyle: Cowboys
Karl: Cowboys
"The leader of the NFC East would be literally, like, last place in any other NFC [division], which I love. […] The Giants can lose five in a row — they have and they will. I just hope they can score a touchdown, since they've only scored three all season." — Ali
Indianapolis Colts (3–1) at Cleveland Browns (3–1) (Sunday, Oct. 11 at 1:25 p.m., PDT)
Justin: Colts
Paxton: Colts
Austin: Browns
Ali: Colts
Kyle: Browns
Karl: Browns
"Paxton's comment last week about the Colts defense kind of persuaded me to pick them, especially against the Browns team that is now without [running back] Nick Chubb. Although [Browns quarterback] Baker [Mayfield] and [wide receiver] Odell [Beckham] seem to have finally clicked after a year, Baker Mayfield is not particularly good when he has to throw the ball a lot. Without their number-one threat in running, I think it's going to be hard to have Baker Mayfield play well when he has to throw the ball, which I hope they don't ask a lot of him to do. Maybe [wide receiver] Jarvis Landry will throw a touchdown pass here and there, but I'm going to take the Colts to win." — Justin
"[Running back] Kareem Hunt is also on that [Browns] team. Though Nick Chubb is on IR, the Browns still had, like, 300 yards rushing against the Cowboys. That is the Cowboys, but that's the biggest number in the NFL in the last few years. The Browns have put it all together the last few weeks. […] The Colts are solid on defense, but with the amount of weapons the Browns have […] The Colts still haven't looked very good on offense; they haven't really put anybody away." — Karl
Denver Broncos (1–3) at New England Patriots (2–2) (Sunday, Oct. 11 at 1:25 p.m., PDT)
Justin: Patriots
Paxton: Patriots
Austin: Patriots
Ali: Patriots
Kyle: Broncos
Karl: Patriots
"[The Broncos] got in a fairly good rhythm against the Jets. The number of points the Jets put up on us was almost entirely our own mistakes. […] I'm not expecting us to play mistake-free football with a bunch of backups. The entire team is injured, but I'm hoping that, getting a taste of winning, they'll actually hang on to it. If [quarterback] Drew Lock comes back, that'll be a big help." — Kyle
"I don't think it matters if [Patriots quarterback] Cam Newton is healthy. The Patriots are on a skid right now, and they're by far superior. Playing at home — short week or not, Cam or not — I like New England." — Karl
Minnesota Vikings (1–3) at Seattle Seahawks (4–0) (Sunday, Oct. 11 at 5:20 p.m., PDT)
Justin: Seahawks
Paxton: Seahawks
Austin: Seahawks
Ali: Seahawks
Kyle: Seahawks
Karl: Seahawks
"All the Vikings' biggest weaknesses are our biggest strengths. Their biggest weakness is pass defense, and I don't know who is going to cover [wide receivers] DK [Metcalf] and Tyler [Lockette]. […] They don't have the prime time record, they don't have the road record — Seattle does. I don't think this is going to be a terribly troubling night for the Seahawks, and I'm also hoping they bust out those action green jerseys for prime time, because the last time we wore those, we picked off [Vikings quarterback] Kirk Cousins four times." — Paxton
Los Angeles Chargers (1–3) at New Orleans Saints (2–2) (Monday, Oct. 12 at 5:15 p.m., PDT)
Justin: Saints
Paxton: Saints
Austin: Saints
Ali: Saints
Kyle: Saints
Karl: Saints
"I have more faith in [Saints quarterback] Drew Brees than I do in the entirety of the Chargers." — Ali
____________________
Follow the Graphic on Twitter: @PeppGraphic
Contact Karl Winter via Twitter: @karlwinter23 or by email: karl.winter@pepperdine.edu