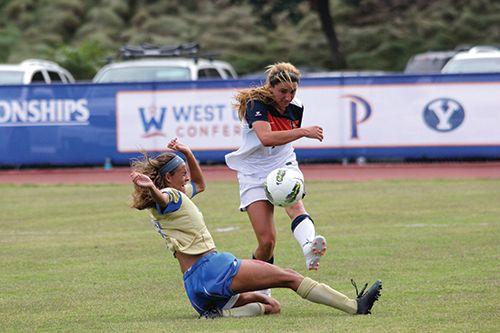 Photo by Marisa Padilla
Women's soccer played both No. 4 UCLA and Fresno State at home in a split weekend series. On Friday, the Waves first faced the Bruins and lost 2-0.
Entering the game knowing UCLA was highly ranked, midfielder freshman Rachael Collins said that the team was, "nervous but confident with good training and preparation."
Entering the half at 1-0, Head Coach Tim Ward revitalized the girls and reminded them that they were still in the game. In the second half, UCLA gained another point by a fluke own goal. Freshman goalie Hannah Seabert had five saves.
The No. 35 Waves totaled six shots taken on goal. Forward junior Lynn Williams attempted three shots on goal, and midfielder freshman Colby Carlson, forward senior Michelle Pao and midfielder senior Katie Gallanes each had one shot on goal.
Although the Waves lost to No. 4 UCLA 2-0, they maintained a strong defense, and Collins had a positive reflection of the outcome.
"I felt it was a step in the right direction for [the team] and a growing process as we started playing as a team and getting a flow," Collins said.
Coming out of Friday's loss, the Waves took on Fresno State on Sunday and defeated them 3-1. Junior Ally Holtz led the Waves with two goals on two shots. Following her in points, Williams scored one goal on seven shots. Others who had one shot on goal include Collins, Pao, Gallanes, freshman Rylee Baisden, freshman Taylor Alvarado and junior Jackie Pedrazza.
"There was some discouragement, but there was more encouragement about the [team] starting to grow," Collins said.
The Waves face Cal State Fullerton tomorrow at 3 p.m. at home.
"We are excited for another home game and ready to own our field," Collins said.
_____________________________________________________________________________
Follow the Graphic on Twitter: @PeppGraphic
As published in the Sept. 26 issue of the Pepperdine Graphic.