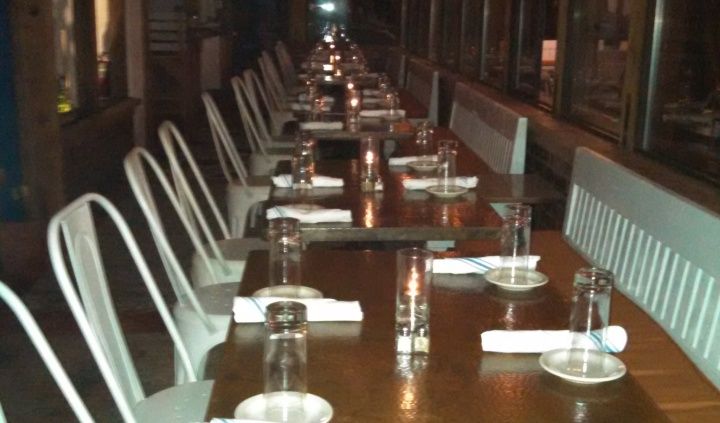 If you need a break from Nature's Edge or the Caf, venture off campus to The Ranch at Solstice Canyon — just a seven-minute drive west on Pacific Coast Highway. On this idyllic five-acre property lies Malibu Roadhouse restaurant, Driftwood Bar, Tasting Room and retail shop. The Gerson Family, owners of Malibu Cafe at the Calamigos Ranch, bought the property two years ago, just days before a devastating fire consumed the previously standing restaurant, BeauRivage. Although renovations exceeded $400,000, the Gerson Family was determined to build a restaurant that added a unique flair to Southern California cuisine.
The restaurant itself has a casual yet intimate vibe: tile floors, wooden beams, plush chairs and a fireplace make guests feel at home. Seating ranges from lofty picnic tables to low tables adjacent to windows overlooking the Pacific Ocean to an outdoor patio festive with hanging lanterns.
This past weekend, a friend and I dined at Malibu Roadhouse, the main restaurant on The Ranch that opened this past August. Although crowded for a Sunday evening, the hostess was able to seat us right away at a table overlooking the ocean. The view was picturesque, though the loud music made it a bit difficult to hold a conversation. The wait staff was prompt, greeting us with warm smiles and two menus.
Appetizers ranged from $10 to $35 with entrees from $14 to $30. The Grilled Salmon Taco appetizer caught my eye, but we settled on splitting the steak sandwich and Roadhouse burger. It was a good decision; the portions were more than enough. Both the burger and sandwich came on delicious brioche bread with a hefty portion of thinly cut french fries.
The Angus burger, accompanied with caramelized onions, avocado, cheddar, lettuce and tomato, was delicious and cooked perfectly. The steak sandwich was good as well, although the thick brioche overwhelmed the portion of marinated steak, making it a bit bland. That said, we still managed to finish every bite. We were stuffed by the end of our meal but could not leave without at least taking a look at the dessert menu. Of course, we had to get the warm chocolate chip cookie and brownie topped with salted caramel ice cream. It was heavenly — the cookie and brownie oozed with pure love. It was definitely a highlight of the night.
With a few improvements, Malibu Roadhouse has the potential to become one of Malibu's cuisine treasures. The wait staff was friendly, but the service became slow as the night went on. Our waiter forgot to bring my drink and had to void it off the bill, but the overall experience was great. If you are looking for a nice place for date night or to take your parents on Waves Weekend, take a ride down PCH and check out Malibu Roadhouse.
Valet parking is available at the entrance of the restaurant, free for three hours with validation and $5 for each hour thereafter.
The Ranch at Solstice Canyon 26063 Pacific Coast Highway, Malibu, CA 90265
__________
Follow the Graphic on Twitter: @PeppGraphic