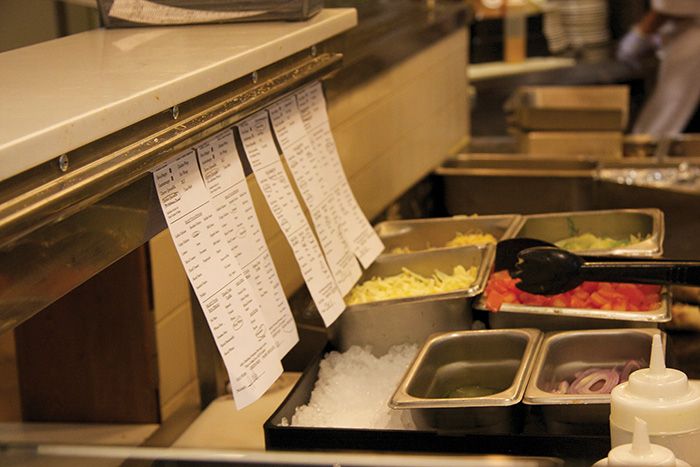 Photo by Sylvia Hartley
The Student Government Association has allocated $13,000 to fund a new touch screen ordering system in the Caf. Sodexo estimated the total cost for the touch screens is $30,000. Sodexo told SGA that they plan to donate $15,000 to the initiative, making the current funds raised $28,000.
"SGA's senate for 2013-2014 believed that one of the major issues currently facing the Waves Cafe is the long wait lines for food items from the Grill," SGA President Rafaello Sampang said.
According to Sampang, SGA has been working with Sodexo and Dining Servings on the touch-screen initiative since early last semester after the Senate defined it as an urgent issue.
The Grill currently uses a paper system in which students circle the food items they want and place the paper order in a basket on the counter for the cooks to process.
"I never order from the Grill during lunchtime because it's too slow," sophomore Brooke Zielinski said. "By the time I get my food, all of my friends who didn't get the Grill would be done eating and ready to leave."
The paper ordering system at the Grill has proven ineffective, especially during busy times, as some students have had to wait more than 30 minutes, according to Sampang.
"There's always a large group of people standing and waiting for their food at the Grill. It makes it discouraging to even want to order something," junior Lauren Ducey said.
The new touch screen ordering system will be placed in the Caf near the Grill. There is no definite date for when the touch screen system will be available, as Dining Services and Sodexo are looking for a system that will work efficiently between the kitchen and students' meal points.
"The touch system is a big project and the university is making sure to do this right," Sampang said.
__________

Follow Kara Danner on Twitter: @karadiise