Graphic Courtesy of Rachel Ettlinger
"I've been programming since I was 13, so in high school I knew that I wanted to major in computer science," junior Computer Science/Mathematics major Micah Benn said.
Benn said he chose to study at Pepperdine, a university without a dedicated Computer Science major, because, "Pepperdine was pretty much the only prestigious school that I got into, so I just naturally went for that."
Pepperdine University does not offer a Computer Science major at Seaver College, but over the past two years there has been demand from students on campus. As of now, the Computer Science majors at Seaver College are joint majors with Mathematics and Philosophy, according to the Seaver College Curriculum Guide. The joint major with Philosophy premiered in the 2016-17 academic year.
Computer Science at Pepperdine is independently nonexistent, but is an up-and-coming joint program with other divisions of Seaver College, according to Professor of Computer Science J. Stanley Warford.
"Our program is small but strong. In other words, the students who graduate do very well," Warford said. "We have students who have gotten their PhDs in Computer Science who have graduated from our program. Most of them go to work in the industry. So it's small, but it's very strong."
Warford, a Pepperdine professor in the Natural Science Division for 41 years, is one of two Seaver College Computer Science faculty, alongside visiting professor Bradley Cupp, a Pepperdine Computer Science/Mathematics alumnus, class of 1992.
Computer Science Major, Rejected
Last April, Warford and Cupp submitted "Computer Science at Seaver College: A Proposal" to the Seaver Academic Council (SAC) in hopes of getting a full Computer Science major approved to replace the existing Computer Science/Mathematics joint major. The program as it stands is unsustainable because Warford is past retirement age, according to the proposal.
The proposal requests hiring two additional tenure-track Computer Science faculty in the Natural Science Division of Seaver College, in addition to hiring a replacement for Warford upon his retirement.
The request was denied by the Seaver Academic Council.
"They say that there's no demand," Warford said.
Associate Dean of Seaver College April Marshall said the proposal was rejected because Warford and Cupp submitted a proposal that did not explicitly spell out a curriculum plan with specific courses listed for the new major.
"What he has is a curriculum plan, where he talks about things and it says 'The proposal does not have a list of courses for the new major,'" Marshall said. "That's required. Because what that body does is approve curriculum that goes into the catalog. A major can't go into a catalog without the classes that correspond to that major."
The "Curriculum Plan" section of Warford and Cupp's Computer Science major proposal that Marshall is referring to says, "The proposal does not have a list of courses for the new major because it would be the job of the primary candidate to lead the curriculum design and establish the major."
Senior Josh Haug came to Pepperdine as an Engineering student but decided to switch to the Computer Science/Math joint degree program after taking a programming class that he enjoyed.
"I considered transferring at one point, just because the Computer Science program here is very small. But it's very good, particularly for its size. But it's small," Haug said.
For his undergraduate degree, Haug chose between Pepperdine, UC Berkeley and Johns Hopkins. After choosing Pepperdine, he said decided not to transfer, even with his change in major.
"Ultimately, I decided to stay here because it made more sense. At a small program, there's a lot more opportunities that you would have than if you go to a huge school. At a huge school you kind of get lost and in these smaller programs, and at a smaller school just generally there's a lot more opportunities that are presented to you," Haug said.
When Benn was looking for schools to apply to, he said his main source of research was his Common Application.
"When I was applying on the Common App, I saw the majors and [Pepperdine's] one major that said 'Computer Science/Math.' I thought that all schools had, or almost every school had a Computer Science program, so I thought that this program was an actual Computer Science program."
Benn said he is disappointed by the lack of a full Computer Science major at Seaver College, but it has not discouraged him from pursuing his joint-major degree here.
"It really has instilled a sense of discipline because your hobby actually becoming a lifestyle in college, it really teaches you to remain committed in order to get that degree," Benn said. "It hasn't really done anything on the technical side as much as it has done on the self-discipline side because as my hobby became a lifestyle, it became my major. It really taught myself some discipline that you really have to be committed to it in order to graduate and get your degree in what you really love to do."
Faculty Numbers Compared to Peer Institutions
In Appendix A of the Computer Science major proposal, Warford and Cupp researched Computer Science programs at other "peer institutions."
"Seaver College actually maintains a list of what they call our 'peer institutions,' so when people do comparisons, this is like, the official list of whom we want to be compared to," Warford said.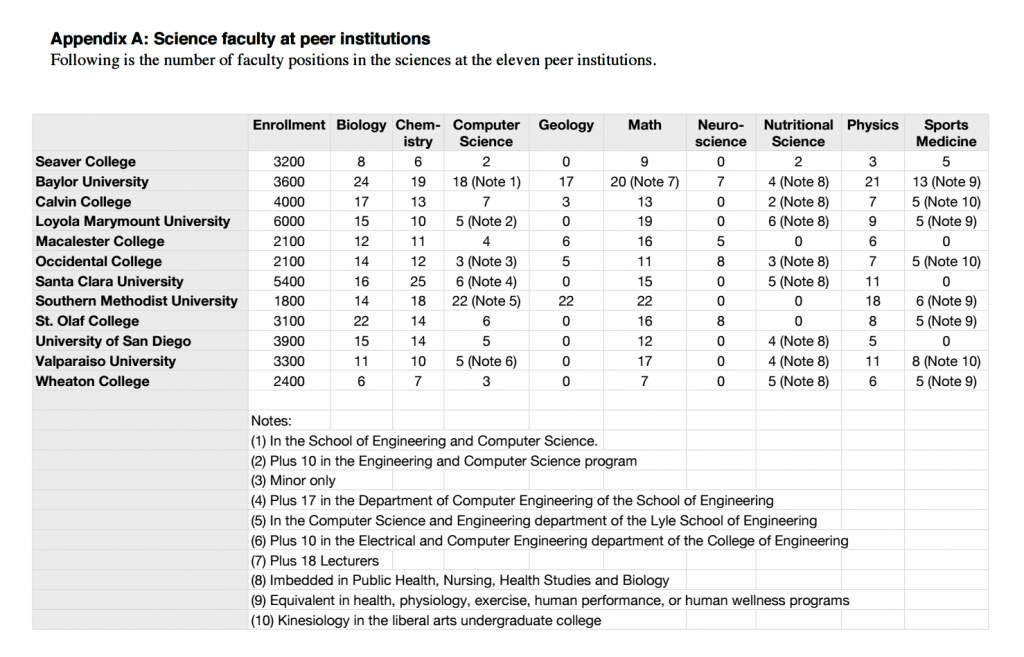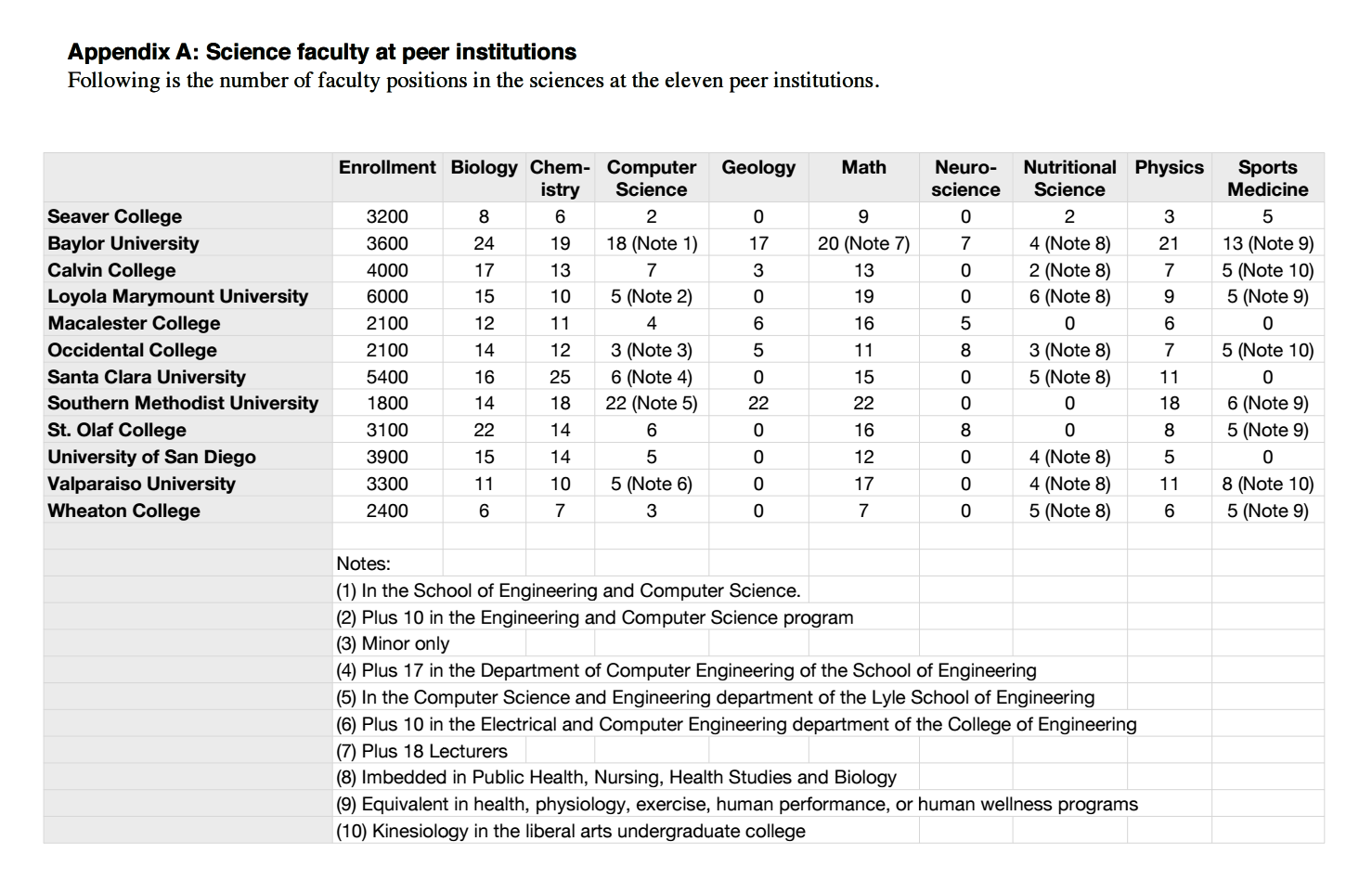 Compared to other schools listed under Seaver College's "Peer Institutions," which include Baylor University, Loyola Marymount University, Occidental College, Southern Methodist University and eight other institutions, Pepperdine has a significantly lower number of faculty for Computer Science courses than its competing schools, according to Appendix A.
But Marshall said that based on Warford's research, Pepperdine has lower faculty representation in other specialties as well, including Biology and Chemistry.
"If the data Dr. Warford has provided is correct, which I'm going to assume it is, we have less Computer Science faculty than other institutions," Marshall said. "But that said, we also have less Biology faculty, less Chemistry faculty, right? It's not unparallel with the other areas at the comparative colleges."
Marshall also said it's difficult to compare Pepperdine with its "Peer Institutions" based on this one piece of data.
"It's not apples to apples necessarily, our institution and other institutions," Marshall said.
Warford said adding more faculty would positively affect the amount and diversity of Computer Science courses offered in the Natural Science Division.
"We are weak in that we don't have the offerings that we could have if we had more faculty, and if we were able to offer more varied courses," Warford said. "Our courses are limited. But the courses that we do offer are strong. Like I said, students do succeed when they graduate, but they have to take courses that they were not able to take here to get caught up."
Warford said the problem is that with just two Computer Science faculty members, all they can do is maintain the courses offered.
"We don't have enough resources to do much research with undergraduates. We do some, but not very much," Warford said. "And our course offerings are not extensive enough."
Haug said that he would like Pepperdine to fund Computer Science advances at Seaver College because there is a demand from students for the program.
"Fund it more. Absolutely fund it more," Haug said. "That would mean just giving us more resources [and] more professors, because Dr. Warford and Professor Cupp are already overworked as it is. There's a huge demand."
Haug said the Programming Principles I with Java Script class, referred to as COSC 101 on WaveNet, has an usually high enrollment this semester. As of Dec. 8 at 1 p.m., the course taught by Cupp has an enrollment of 32 students with a class capacity of 10 students, according to WaveNet.
"There's just been this upward trend, so people are very interested in the major," Haug said. "So it makes a lot of sense to fund it as much as possible, to get more faculty and, generally, for it to be its own major, I think, for the administration to kind of recognize the program. It's been able to accomplish a lot for it being so under-resourced."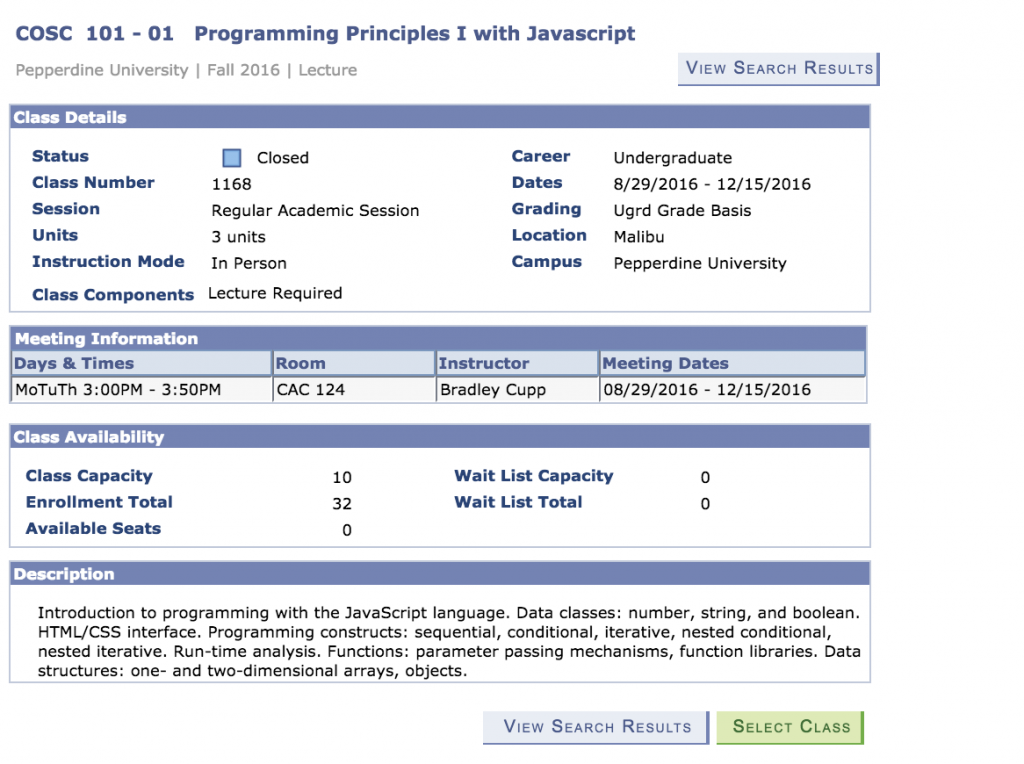 Computer Science Major Proposal for Sustainability
The proposal contains six "justifications" for establishing the Computer Science major at Seaver College, which includes: non-sustainability of the current program, limited science at Seaver College compared to peer institutions, Computer Science and the Seaver College mission, success of the current program, student demand and Natural Science Division support.
Warford teaches seven of the courses in the major, three of which he offers per semester with no duplicate sections, equating to six different class preparations per year, according to the proposal. He must write, research, advise and perform program coordinator duties in addition to his teaching load.
"The program as it currently stands is not sustainable. Warford is past retirement age," according to the proposal. "We can predict that it will be difficult, if not impossible, to hire a professor of Computer Science to teach six different preparations per year, do academic research, and manage a program that does not offer a major undergraduate degree in Computer Science. The only two options appear to be, (a) phase out the joint major, or (b) commit to a full major in Computer Science."
Cupp, the other Computer Science Seaver College faculty, teaches five major courses and two service courses, one for the Natural Science Division and one for the Business Division, according to the report.
As a visiting professor, Cupp currently teaches five courses per semester with one duplicate session, which means he has several different class preparations per year, alongside his duties as the computer lab manager, where he maintains software and hardware.
Haug said that having a small program can be seen as a blessing in disguise, although he does wish the Computer Science program had more funding to hire more faculty.
"There's a big emphasis on learning by doing, which I think is really important," Haug said. "It's a fantastic program, especially for its size. The program is criminally small. The thing that's kind of a blessing in disguise about that is that it forces the program to have an emphasis on cross-disciplinary research."
How a New Major is Submitted and Approved
A proposal is submitted containing curriculum that lists what the form refers to as "Catalog Content," according to the Seaver Academic Council Proposal Form.
"The proposal has to come to the Seaver Academic Council (SAC), but it has to come as more than just an idea," Marshall said. "So the proposal has to come with the curriculum in it, with the classes and how it would work, and all those pieces."
Marshall said this catalog content-building process begins at the academic division level, where division approval and support is necessary for the proposal to move forward. In the case of Computer Science, this would begin in the Natural Science Division of Seaver College.
If the division and divisional dean is supportive, then the proposal goes to the SAC, which is made up of representatives of every academic division in Seaver College, Marshall said.
If the proposal is approved there, then it goes on to the corresponding university body called the University Academic Council (UAC).
The final step is dean and provost approval, Marshall said.
"Approval even at one level doesn't guarantee it moves through the rest of the levels," Marshall said.
Beginnings of the Computer Science/Math Joint Major
Warford has worked in the Seaver College Natural Science Division for 41 years and he received his advanced degree in physics, he said. He was hired to teach physics at the university before he was encouraged by then-Academic Dean of Seaver College from 1972 to 1981, Norman Hughes, to develop a Computer Science program in 1978.
"[Hughes] was instrumental in having us, so he asked me to assess it, and I saw that we could not have it with the limited staffing," Warford said. "I saw that we could not have a full computer science major, we would have to combine it with math, and it's been that way ever since."
Before working at Pepperdine, Warford worked in the industry as an aerospace engineer.
"That has had a really big impact on how I teach," Warford said.
A large part of computer science as a subject of study doesn't change, because no matter the technological advances that are made today, the more mathematical, technical and algorithmic concepts and fundamentals that every computer scientists uses is vital to an in-depth understanding of the subject, Warford said. That's why he chooses to focus the courses that he can offer on those fundamentals, specifically.
"That's where we excel. We excel in the fundamentals, that part of computer science that does not change," Warford said.
There are advantages and disadvantages to having a small Computer Science program, Warford said. "Our program here is quite unique. Our curriculum is a little off the beaten path."
Warford also said that because he and professor Cupp work well together, coordinating the program is much more efficient because of their faculty size.
"Because professor Cupp and I are the only two ones who are responsible for the curriculum and we design it ourselves, we can do it kind of like the way we want to do it without much resistance from more traditional-minded people," Warford said.
Computer Science/Digital Arts Joint Major: Rejected
Warford said he and Cupp also submitted a proposal for another Computer Science joint degree program with Digital Arts last year that was also denied.
"Digital arts is a really big area, it's comparable in art to what is happening in humanities, digital humanities," Warford said. "We've done [contract majors] a lot in the past. In fact, the Computer Science/Digital Arts major is motivated by the fact that we've had successful students do contract majors combining computer science and art."
The Fine Arts Division has been working with Warford to get that proposal re-submitted after Marshall advised the proposal not to go to the SAC.
"[The administration] turned us down this last year so we are going to propose it again this year," Warford said. "They did not want the proposal to go to the Seaver Academic Council this year."
Marshall said she asked those who proposed the new Computer Science/Digital Arts joint major to hold off because the Computer Science/Philosophy joint major was just approved, making this second venture seem premature.
"I asked them to hold, if they would, because I thought it was a little premature because we had just gotten the Computer Science and Philosophy and we needed some data back from how that functioned and how that went before we added another dual major," Marshall said.
The Computer Science/Philosophy major just premiered in the catalog because there's a year-long delay between the year the major is approved and the year the catalog comes out, Marshall said.
"I asked if they'd hold that and get some feedback and have some more robustness to the proposal and be able to give more details and information in the proposal before it came to the SAC," Marshall said.
Seaver College only considers approving contract major applications for students whose academic goals aren't met by existing majors of study because they are so specialized, according to the contract majors instructions for students form from the Office of Student Information and Services.
"Although research has shown that most graduate programs favor the pursuit and completion of an existing major rather than creation and completion of a contract major, some students wish to pursue the latter as an option," according to the contract major instructions for students.
Warford said the Seaver Academic Council's denial of his and Cupp's proposals stems from fear of change and risk of a lack of success with the program if it were to be approved.
"I think it's change, and there's a little bit of risk. You hire somebody and then what if the program doesn't pan out," Warford said. "But I think it's pretty clear that computing is the wave of the future."
More Faculty for Computer Science
The hiring process goes through the dean, Marshall said, but it also happens at the divisional level. "Those divisions have to request what are called faculty lines and they get approved by the dean and there's a whole process there."
Marshall said a replacement for Warford's role would be looked into upon his retirement.
"It then depends a lot on the new faculty member that would come to fill that line, to take his position," Marshall said. "I think the notion we have is that those programs exist. We need a tenure-track person. I don't know that anybody can fill Dr. Warford's role, as long as he's been here, as much as he's given. So it would really depend on that person's concentrations, on what they feel the strengths and weaknesses are, and moving forward."
Warford discussed the issue of how Pepperdine would go about getting more faculty.
"That's the problem," Warford said. "You would have to go about getting the administration to give us resources. But, we don't really have an advocate."
Student Contributions to Computer Science
Computer Science students have the opportunity to work with professors to create apps as part of their course work.
Haug said he wrote an app called "Slopes" with Dr. Timothy Lucas, assistant professor of Mathematics. The app is "a super 'niche' app" that is targeted at differential equations students for use in differential equation classrooms.
"That's one of the things that's actually kind of — I don't want to say nice about having a criminally-underfunded program — but it kind of forces the Computer Science students to get creative about taking advantage of all the resources that are available to us," Haug said.
Benn, one of Warford's students, developed an app called "Rho," over the summer while he was interning at an app development studio in Singapore.
"Rho" uses the shuttle-tracking technology Pepperdine already provides with their app in a more simplistic design that also features iOS 10's new "Widget" feature, allowing users to view shuttle times without unlocking their phones, Benn said. Issues with the app Pepperdine currently provides inspired Benn to create his own independent version.
"I think seeing problems in the Pepperdine community and wanting to fix it, say like with the shuttle. I knew I was living up in George Page this semester and I didn't want to deal with a really bad shuttle app," Benn said.
His biggest challenge with creating the app, Benn said, was that there was a 15-hour time difference that would force him to work between the hours of 11 p.m. and 8 a.m. when the Pepperdine shuttles were in operation on Singapore time.
When discussing his motivation to pursue Computer Science at Pepperdine, Benn said his motto is, "Probably, just doing my part to help advance humanity toward a goal that's out there."
Haug said one of the benefits of attending a medium-sized school is getting to, as a sophomore, work on an app with a professor.
"You don't see one-on-one research happening at the sophomore, junior or even senior levels, in most cases, at those schools just because it's so competitive," Haug said. "The emphasis is maybe on graduate work or graduate students. Here, the emphasis is maybe only on the undergraduate experience. In the Computer Science field, that's pretty unique, that's pretty beneficial."
Haug said there have been several pushes over the years to get Pepperdine on board with the Computer Science trend, like with the full major proposal, but he hopes to see more changes soon.
"It's kind of sad because computers are increasingly becoming a part of our lives," Haug said. "When we were born, computers were these biggest things that sat on our parents' desks and now they're everywhere, we use them for everything. The field is becoming increasingly important and the fact that that's not been more met by an increase in resources from the university is tragic."
__________
Follow Rachel Ettlinger on Twitter: @RachelEttlinger