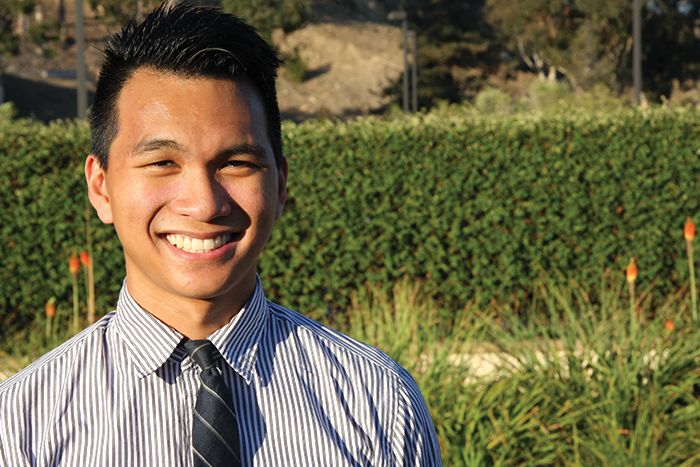 Photo by Sylvia Hartley
Senior Rafaello Sampang has become the new Student Government Association president for the 2014-2015 academic year, replacing former President Angel To, who stepped down June 27. Sampang assumed the duties as a result of a vote by the SGA Executive Board on Aug. 27.
To resigned from her presidency role after being questioned about inaccurate documents she submitted as a Club Convocation leader in the 2013-2014 academic year.
SGA is comprised of an elected executive board, class presidents, senators and appointed directors. It provides advocacy programs for student needs and concerns. The association is funded by the student body, specifically the Student Government and Activities Fee. The budget is determined by how many students are enrolled each semester, according to SGA Adviser Brittany Chin-Lee.
Sampang is a philosophy major from the Philippines who has been involved in student activities services for four years. He began his work as a freshman in the Inter-Club Council office and has worked with SGA for two years. Last year, he served as vice president of finance of SGA and worked closely with the administration for the completion of the Pepperdine mobile application and its GPS shuttle-tracking feature.
Last year, SGA pledged to create a tracking system for the shuttle for at least two years if they could receive the funding, according to Sampang.
"We're paying for the app for two years, but after that contract is up we are hoping to quantify some data for Pepperdine's administration so they can continue to pay for it for the rest of the contract of the tracking system company," he said.
One of the main SGA objectives this year is to build a better awareness of community, according to Sampang. "Last year we had an agenda to tackle the issue of loneliness. This year we should bring the conversation around community and what it means for Pepperdine," Sampang said. "We want to build a forum for awareness by starting a conversation among the other leadership groups and communities."
"Our job as SGA is to represent students' problems to the administration and shed light on the issue. That's my hope for this year," Sampang said.
Sampang said he is confident that this year is going to be even better than last year. He said he felt like there was a common misconception about the issue of loneliness and about Pepperdine students feeling more lonely than they actually were.
"This year my hope is that we can mend that conversation and talk about it in more of a positive manner," he said.
Sampang is persistent in cautioning others to stop assuming that every student is having a terrible time and is lonely, but instead they should assume they are having a wonderful time at Pepperdine.
Executive Vice President junior Paula Ong said she looks forward to working closely with Sampang this year.
Ong said she is also looking forward to being a bridge between students and the administration as well as a voice for students in the most effective ways possible.
"We are hoping for our initiative and policies this year to support community building and the long-term enhancement of student life for Seaver College, especially with traditions," she said.
Ong said she is also very confident about Sampang's experience as an E-Board member last year and said she believes "Sampang will bring a great perspective, especially since he's seen how Seaver [has] changed throughout his time here."
__________
Follow Veronica Felicity Johnson on Twitter: @Veronajohn36