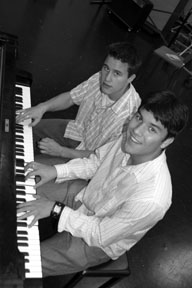 Old friends John Paul Lam and Ken Primeau please Pepperdine students, Duke's customers and God with their harmonies.
By Peter Celauro
A&E Editor
When John Paul Lam met Ken Primeau at church one day during his freshman year of high school, he never imagined he'd be playing music with him seven years later. But today, those who know the two sophomores know they're all but joined at the hip. And anyone who's seen them perform their guitar/ukulele/vocal harmonies knows they're one of the best musical acts Pepperdine has ever seen.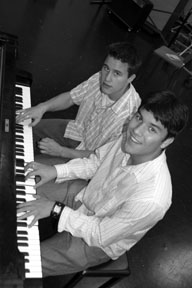 Lam and Primeau had a lot in common from the start. Lam's mother was a music major who forced him to take piano lessons; Primeau's mother was a music teacher, so he took piano lessons as well. They both went to the same San Jose high school for their freshman and sophomore years. Thus, a musical team-up was inevitable. The very first time they hung out, they realized they shared two important traits: a love of music and a love of the Lord.
For the first two years of high school, the pair led worship services together at their church and played music whenever they could. At the end of sophomore year, however, Lam's father took a job at a church in Honolulu, Hawaii. Before   Ken Primeau and John Paul Lam
Lam moved there to finish high school,   spend as much time playing music
he and Primeau made a decision that     together as possible.
would affect them both dramatically:
after high school, they'd both attend Pepperdine.
Two years later, they were making music in Malibu. While in Hawaii, Lam had learned to play the ukulele, a skill that would soon come in handy.
"When we came to school, we decided to get a job at Duke's," Lam said. "We went there three times to ask if they needed singers, to see if they'd let us try singing. Every time they said no. Finally, we just came back with our instruments in hand."
"They said we could play three songs," Primeau remembered. "We sat in the barefoot bar and played three songs, and when we were done, the manager said, 'can you be here Friday?' Ever since, we've played there every Friday and Sunday afternoon."
Duke's isn't the only place to see the pair. To date they've made appearances at two Coffeehouses, two Greek row barbecues and a junior class gathering at the Coffee Bean. Both have played at Convocations and celebration chapels.
For Lam and Premieau, music is more than just something to pass the time.
"I always think about Matthew chapter 22, where God gives us his two greatest commandments," Lam said. "First, to love Him, and second to love others. I really feel that music is a way that I can do that. Writing songs that express love toward God and then being able to share those songs, to encourage people … that's a way I can love them."
Primeau agreed.
"I think God has called us to use our talents, and both of us have music as a talent," he said. "To be faithful, we have to be using it."
For now, they're being faithful indeed. Both are music minors and sing in Pepperdine's choir. Lam is also in Pepperdine's opera, an endeavor he calls "a great learning experience." And in the rare time they have that isn't taken up by classes or working, they record music using Pro Tools, an advanced recording program.
"I'm working on a gospel album right now," Lam said. "Gospel with R&B mixed in. Hopefully, it will come out in May. I'm also working with a choir director in Chicago, who's offered to arrange some songs for me with his choir."
That album could be a great jump-start to the future for Lam, who, like Primeau, wants to pursue music after college.
"I feel like music is a huge part of my life, but it's not totally consuming of it," Primeau said. "I have a lot of things I want to do after school, and I want music to be a part of that. I can see myself being a worship leader and teaching private lessons at the same time … there will be teaching, worship leading and some type of pastoral job."
Whatever he ends up doing, Primeau said his faith will define his future more than his musical interests will. Like his best friend, when it comes to music or any other part of his life, God comes first.
November 13, 2003