A favorite since 1990, the Cafe and Cantina will be missed by Malibuites and Pepperdine students.
By Sarah Carrillo
Assistant News Editor
PierView Café and Cantina, a Malibu restaurant popular since 1990 for its extensive menu and special events like happy hour and an annual New Year's Eve party, closed Sunday. Its owner, Chuck Spencer, sold the restaurant to an unknown buyer.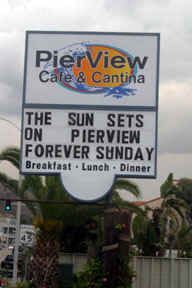 "There have been so many rumors," Spencer said in a Malibu Times article. "I don't even know who bought it. I was dealing with an attorney and a broker. They basically made me an offer I couldn't refuse."
The sale was announced Thursday and employees were given notice last week that they would be losing their jobs. Many said they were disappointed the restaurant was closing and they enjoyed working there. PierView employee Adam Jacobson said in a Malibu Times article that he and his co-workers gathered Sunday night one last time.
PierView employees are not the only people upset about the closing. Many     As the sign says, PierView Cafe
Pepperdine students and faculty had      and Cantina closed its doors
often visited the restaurant and were     Sunday.
upset they would no longer be able to
do so.
"I am sick about it," said Dr. Stan Moore, professor of political science. "I used to take students there once a week at my expense. I'm taking 19 people to see "Fiddler on the Roof" this weekend and I had planned on taking them to PierView afterwards, but now I guess we'll go to Paradise Cove. It was a unique place where you could sit and listen to the waves while you ate. It was my favorite restaurant, and I'm really going to miss it."
Many students used PierView as a meeting place with their friends and will now have to find a new place to gather.
"It was a place we used to hang out at least once a week," said Sotiris Kamperis, an MBA graduate student. "It's definitely a loss. I will probably go to the Malibu Inn now instead. It was definitely a really nice place. We don't have many alternatives (to PierView). It was a place where I could see familiar faces. No matter what the time, I could at least see some of my friends."
Senior Julie Yoneji works at Nobu in Malibu and said she and her co-workers would visit PierView after work and on special occasions.
"They (the PierView staff) were always really good to us," Yoneji said. "We would have company parties there whenever it was someone's last day (at Nobu) and they were always really friendly. So I guess it kind of does suck that they closed. There was always good food and good times"
Junior Bri Dellinger said she had never visited PierView and was disappointed she would never have the chance.
"I'm really sorry I missed it," Dellinger said. "I always wanted to go there, but I guess now I never will."
The future of PierView is uncertain. Spencer could not be reached for comment but said in a Malibu Times article he does not know what will become of the building and does not know the validity of any of the rumors about the restaurant.
November 13, 2003