SigEp at 2019 Pepperdine Greek Awards | Photo courtesy of Callum Cunningham
This past year has been a year of success for Pepperdine's Sigma Phi Epsilon (SigEp). They dominated the 2019 Pepperdine Greek Awards, taking home 10 of 13 possible categories. This sweeping victory encapsulated their achievements of the year, but it came as a result of years of high standards to which the fraternity has held itself.
"There's a stigma around Greek life — that it's all partying and things like that — when in reality, we're doing things that no other organization on campus is providing to their members," 2018–2019 SigEp President and senior Simon Pilato said.
Pilato said the members of SigEp care a lot, so it was easy to motivate them to work hard and accomplish the things that enabled them to win the awards.
Pilato conveyed how thrilled SigEp was to be honored.
"About 75% of our chapter was at our event and going crazy after every award," Pilato said. "We were so excited and really proud of what we were able to accomplish."
SigEp was not the only group who felt the energy. Gabby Veselik, a senior in Alpha Phi, also recognized SigEp's elevated spirit on campus.
"At the Greek Awards, SigEp had a huge presence and high energy," Veselik said. "Each time someone individually won an award or the chapter won an award, everyone would cheer super loud, and you can tell they were very proud of their achievements."
The awards won included Fraternity of the Year, Chapter President of the Year, Chapter Management Award, Scholar of the Year and the Academic Success Award. Pilato said the significance was less about the certificates themselves and more about what the awards represent. He said the programs SigEp set in place related to philanthropic efforts, academics and member developments were what propelled SigEp to receive their accomplishments.
Pilato accepted Chapter President of the Year, giving much of the credit to the eight other people supporting him on the executive board.
"In reality, they were the ones accomplishing so much, and I was just helping them do that," Pilato said. "They made me look a whole lot better."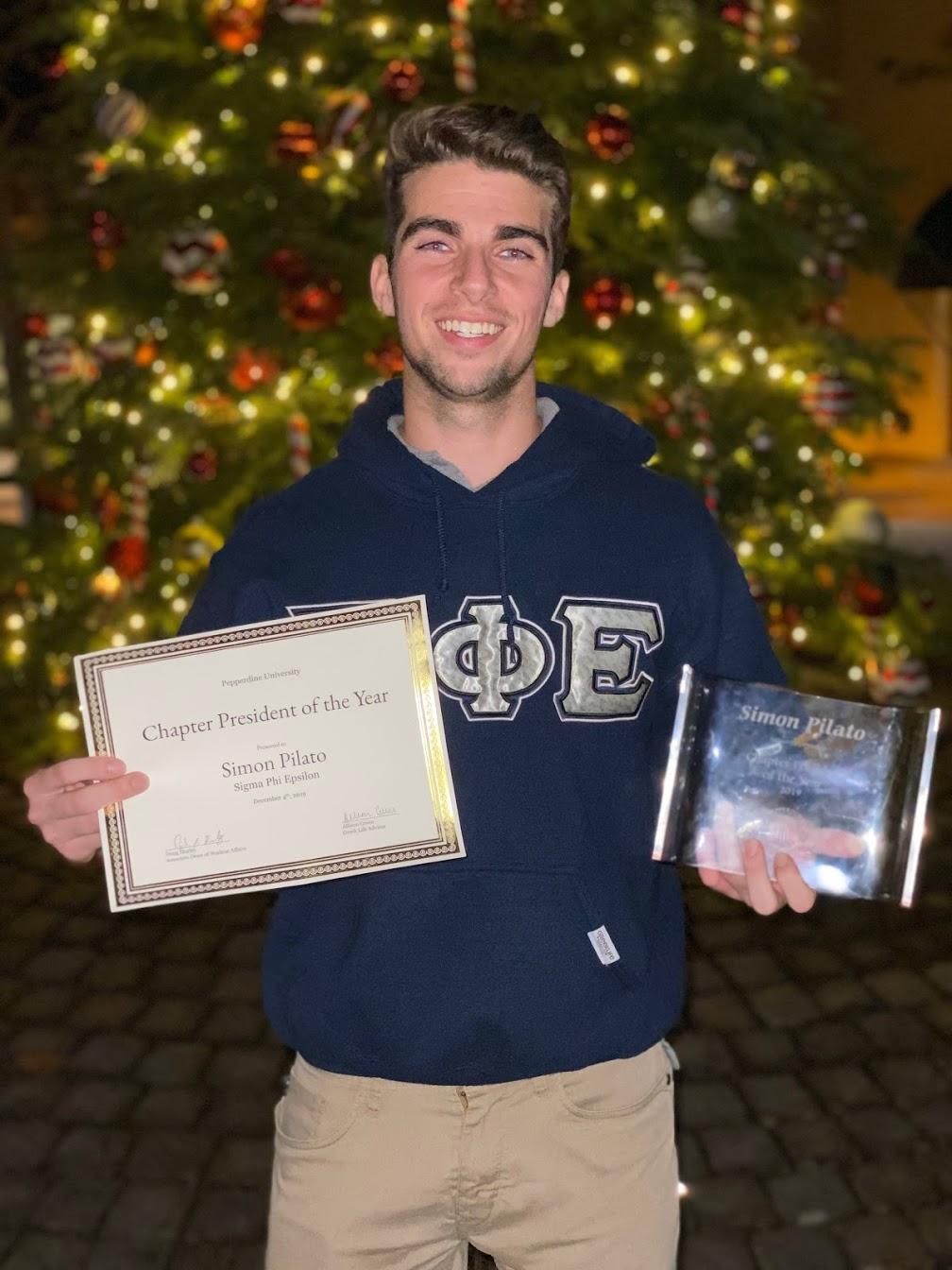 2018-2019 SigEp president Simon Pilato holding certificate for Chapter President of the Year | Photo courtesy of Callum Cunningham
The award is also a reflection of the fraternity's investment in its members, Pilato said.
"Everything we do that we were awarded for, I think, is something that everyone should be looking for when they're picking an organization to join," Pilato said when considering if success draws people to a fraternity.
To be considered for a Greek award, organizations fill out a form that ensures they have met certain guidelines, one of them being GPA average. Former Director of Philanthropic Affairs and senior Max Rickard said one reason they have had success in recent years is due to high GPA averages from their new members. He also expressed that the participation and planning of events have gone up among their members.
Expanding on how SigEp's are incentivized, Rickard explained that when a pledge joins SigEp, they start off as a 'Sigma,' then become a 'Phi,' and then an 'Epsilon.'
"There's that natural incentive of progressing further in the fraternity that other fraternities don't have," Rickard said.
2019 was also a successful year in terms of raising money and support for their philanthropy. SigEp's national philanthropy is the Big Brothers Big Sisters of America, a non-profit organization that helps mentor children to reach their full professional potential. Usually, they only donate to this organization, but this past year, they also partnered with The Boys and Girls Club of Malibu and End Allergies Together (E.A.T.).
New philanthropy events, like the Super Smash Bros. Tournament and the Mario Kart tournament, were created alongside their annual basketball tournament to support these other organizations. Rickard estimated that through these three events, SigEp raised around $11,000.
In addition to their philanthropy, SigEp annually attends the Malibu All Abilities Fair. Typically, at least 75% of the chapter volunteers to help children with special needs right down the road from Pepperdine, Rickard said.
Freshman Ryan Bresingham joined SigEp in the fall of 2019. Over the few months of being in the fraternity, he said he was able to build close connections to many people in his pledge class. He added the reason why he joined SigEp was because he felt comfortable with them during the rush process.
"You had to approach other frats, but at SigEp, they always approached me," Bresingham said.
Bresingham said through his initiation process, SigEp emphasized three main virtues: sound mind, sound body and sound spirit. He explained that SigEp hosted what they called "sound mind nights" every Monday for the newly initiated.
"On those nights, we all came together and did our homework," Bresingham said. "It was a night we dedicated to school work, so it was making sure that, even though we were newly adjusting to college and this whole new environment, we were still staying on top of our academics."
While the benefits of Greek Life can impact someone's college years, many challenge the notion that there are lasting impacts to being a part of a brotherhood.
For Pilato, there are several.
"Every organization I was connected to was because of SigEp," Pilato said. "It completely changed my college experience. It completely molded and shaped what I was able to do."
He said if it were not for SigEp, he would not have gotten the job he has after graduation.
"My favorite part of being in SigEp is the diversity," Justin Rorick, a junior in SigEp, said. "It has allowed me to surround myself with many people like myself and many others completely different, which has been my best learning experience at Pepperdine."
___________________________
Email Nicole Witt: nicole.witt@pepperdine.edu