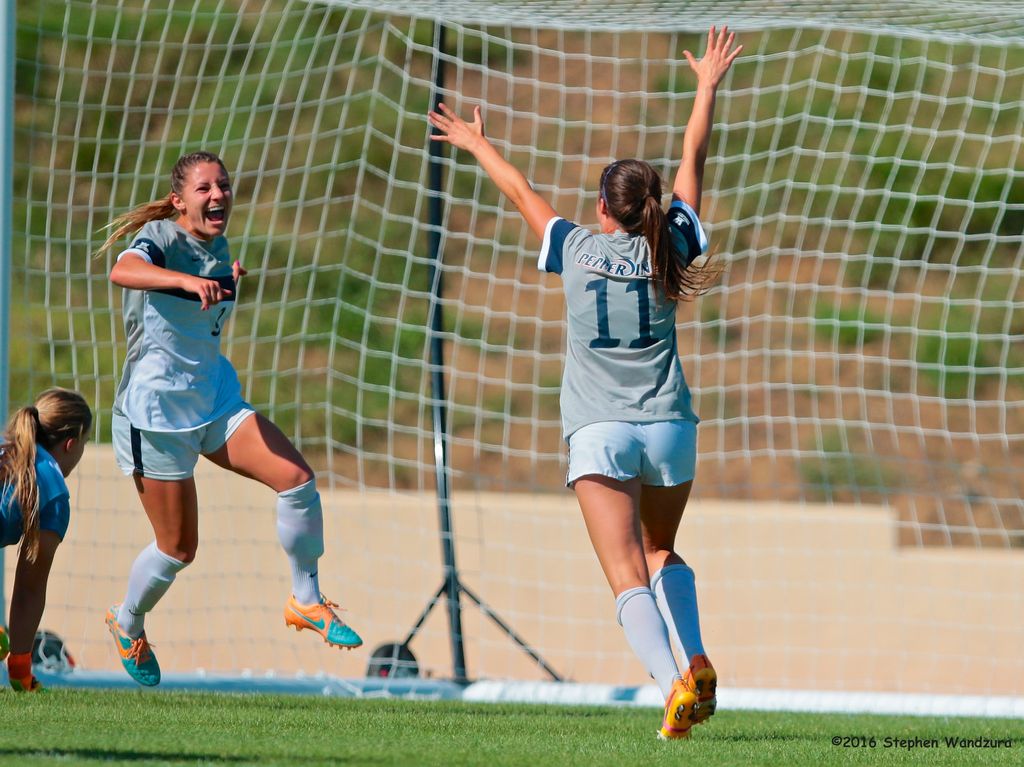 Photo Courtesy of Pepperdine Athletics
Waves soccer is off to a strong start after losing only one game in their first week of competition, leading to appearances in three national rankings and one WCC player of the week honor.
The team entered the season unranked, defeating then No. 20 University of Arizona 3-1 in their opening game. Freshman Nicole Leggio scored two goals in her debut and Rylee Baisden scored one.
They then went on to defeat Kentucky 3-0, with Baisden scoring two goals and sophomore Christina Settles scoring one. Through the first two games, senior goalkeeper Hannah Seabert had 11 saves.
Following the opening success, Baisden was named the first WCC player of the week. The Waves also entered the national rankings following their super start, sitting at No. 20 in the NSCAA (National Soccer Coaches Association of America) Coaches' Poll, No. 23 in Soccer America and No. 24 in Top Drawer Soccer.
The team then shut out Fresno State 3-0 on the road. Leggio, junior Bri Visalli and sophomore Katy Byrne all scored in the game. Following the win, the Waves had posted a 9-1 goal differential on the season, the best they had done over any three games since 2003.
Despite the convincing first week, the Waves dropped their first game of the season to USC just a few days later, falling 3-0. The Trojans were unranked at the time, but received votes in the NSCAA poll.
After finishing 8-9-2 last season and 3-6-0 in the WCC, the team is off to a strong start. Despite finishing sixth in the conference last year, they were picked third heading into the 2016 season by the WCC Coaches' Poll and have already dominated a few tough, out-of-conference opponents. Visalli, a midfielder, was also named to the All-Preseason team and has been a key contributor already, scoring a goal against Fresno State and providing an assist against Kentucky.
Members of every class have contributed goals this season so far. Baisden, Seabert, Visalli and Settles have been key players for the team in the past and this year should be no different. A solid combination of younger girls and seasoned veterans will help to keep the team rolling into conference play.
In a Q&A with Ricky Davis of Pepperdine Athletics Competing with Purpose blog, Baisden gave insight into the team's mindset this season, saying "there are three things that we as Waves soccer players are always faithful to: Our team, our mission and our program and University." She is hopeful that this backbone will lead to more success throughout the season.
Sitting at a 3-1 record on the season, the Waves head to the east coast to take on University of Maryland and No. 4 University of Virginia. They then return to California to maintain their rigorous non-conference schedule, taking on Cal State Northridge, UCLA, Kansas and Cal Poly before beginning WCC conference play Sept. 30 at Portland.
Catch the Waves back in Malibu on Sept. 16 against No. 15 UCLA at the Tari Frahm Rokus Field at 3 p.m.
__________________________
Follow Erin Himes on Twitter: @enhimes