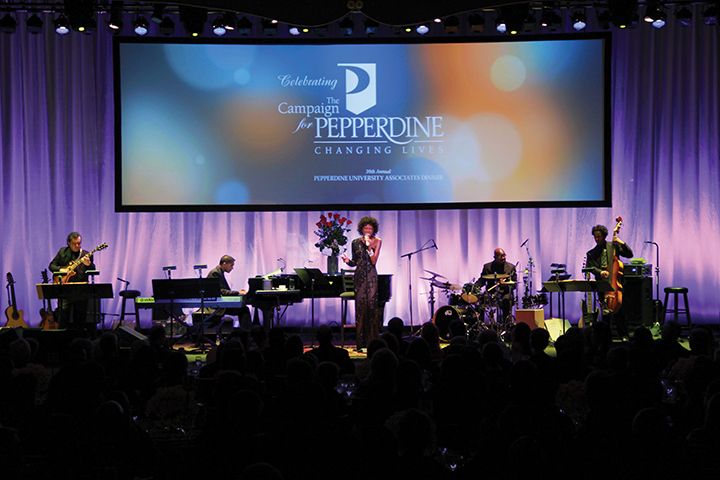 Photos by Jenna Aguilera
A crowd of men and women bedecked in suits, ties and dresses buzzed with conversation over the sound of live jazz music. They were gathered at the Beverly Wilshire Hotel to celebrate a record-breaking success in Pepperdine's fundraising history: the Campaign for Pepperdine, which surpassed the goal of $450 million to bring in a total of $470,849,319 in December.
The 39th annual Pepperdine University Associates Dinner took place Saturday — earlier than usual, to celebrate the success, according to Senior Vice President for Advancement and Public Affairs Keith Hinkle, who emceed the event. The dinner culminated with a live performance by singer Natalie Cole.
The Campaign for Pepperdine, a fundraising campaign that has been in motion for almost nine years, culminated on Dec. 31, 2014. Pepperdine took in donations over a period of three years of intense fundraising, according to President Andrew K. Benton.
A total of $141.6 million of the funds will go toward general student support. Seaver College will be allocated another $141.2 million. Other funds will go to the Pepperdine School of Law, the Graziadio School of Business, the School of Public Policy, athletics, the School of Education and Psychology, university libraries and university initiatives.
Glen A. Holden, one of the campaign's co-chairs, helped introduce the Campaign for Pepperdine in May of 2011. The former Pepperdine regent and ambassador to Jamaica said that when the goal was announced, many thought it to be potentially over-ambitious.
"At that time, the recession was at its peak, and many thought we were foolish to start with ambitious ideas at that time," he said. "But we got together and went to work and proved them all wrong."

This fundraising campaign is the third such campaign in Pepperdine's history, and though Pepperdine has a history of surpassing fundraising goals, this campaign set the bar high, according to Benton.
"I'll be frank with you, there were days that I rose early in the morning, much earlier than I had planned, to think exactly how we're going to keep our promises," he said in his address to the crowd.
Since its start in 2011, the Campaign for Pepperdine took on the slogan "Changing Lives," putting a spotlight on the ways that Pepperdine seeks to impact student lives.
Several former Pepperdine students attended the celebration, including alumni Camille and Jonathan Block (class of 1989 and class of 1988, respectively).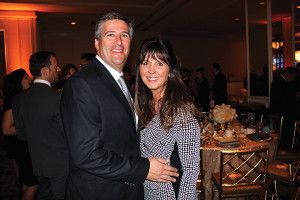 For the Blocks, the dinner was just as much about reminiscing and reconnecting with friends as celebrating the fundraising success.
The Blocks still have the first photograph taken of them together at a Pepperdine Associates Dinner 28 years ago, where both attended as members of the Student Government Association. Nearly 30 years later, the picture is still on display in their home.
According to Camille Block, they gave back a little to Pepperdine over the years and decided to come to support friends Eric and Jennifer Wolford, new inductees to the George Pepperdine Society's Sustaining Circle and members of the Blocks' wedding party.
The couple reminisced about their time spent in SGA, where they helped found the New Student Orientation (NSO) program that freshmen experience today alongside SGA President Brandon Williams and Spirit Chair Chris DiBatista.
Jonathan Block said he thought the fundraising achievement was fantastic.
"This is such a great school, and it's been so important to each of us. However many years later, we still have our most important friendships, and our most important relationship," he said, hugging his wife. "I think it's wonderful that the school can continue to raise money for this generation."
Senior Natalie Seward attended the dinner as a guest and was grateful to have the opportunity to experience Pepperdine in a different light.
"It gave me a new kind of inspiration from all the donors because they really believe in the students, and I knew that, but I hadn't heard anyone talk about it directly from people who have been donating for years, and it was really powerful and moving," she said.
She said that it was a good event to experience as a student, especially since she will soon be an alumna.
"I think their visions for the campaign and what they're going to do with the money is really going to improve Pepperdine, and I wish I was around to see all the improvements," she said.
The money collected in the fundraiser will go to a variety of projects, scholarships, improvements and initiatives.
The largest contribution to the campaign, made by Sharon and Terry Mullin, funded improvements to Seaver's Mullin Town Square (currently encompassing George Elkins Auditorium and Joslyn Plaza) and built a Mullin endowed scholarship for students pursuing education in math and sciences. Their donation will also help fund an underground parking structure to alleviate Malibu campus parking issues.
The Mullins were inducted into the Diamond Wave Society for their contributions.
Senior Connor Tien, also a guest at the dinner, thought the event was a great opportunity to see Pepperdine's supporters and how Pepperdine raises money to fund projects that affect students' daily lives.
"It was cool to see that side of Pepperdine," he said. "I see the day-to-day in the classroom, but I don't always know what's going on behind the scenes."
Tien said he is excited to see improvements to Pepperdine's Malibu campus, especially construction to alleviate parking issues to prepare the campus for future growth.
Benton summed up the campaign when he said that the basis of the fundraiser became expressing how Pepperdine impacts the lives of its students.
"We told their stories, and I guess we told them well because you funded our dreams for them," he said, closing his speech with one more promise: "We'll never be done trying to make this institution all that it can be."
For more details about how the campaign funds will go to improve the Malibu campus, check out the next issue of the Graphic.
__________

Follow the Graphic on Twitter: @PeppGraphic