Photos by Nicole Spafford
A man opened fire in a Texas church Nov. 5 and killed 26 people, just five weeks after the deadliest mass shooting in modern American history that killed 59 in Las Vegas. Six days earlier, a man drove a truck into a bike path in Manhattan, killing at least eight and injuring 11 others. These mass slayings came weeks after Hurricane Harvey killed 82 in Houston, Hurricane Maria killed at least 64 in Puerto Rico and both hurricanes left thousands without food or power.
In the weeks following these tragedies, the nation has come together to honor and memorialize those who died. Less considered are those who survived.
Failure to recover after experiencing or witnessing a traumatic event is characterized as post-traumatic stress disorder (PTSD). As the Pepperdine community continues to process the devastating effects of the recent tragedies, senior director of Student Administrative Services Andrea Harris says administrators are taking steps to care for students who may be suffering from trauma.
"We are striving so hard to show every single person that they are a person of imminent worth," Harris said. "Speaking for myself, but as a representative of the administration, we value every single person. Their lives, the lives of their families, the well-being of their families and their friend groups, so when it's a natural disaster or a shooting like we saw in Vegas, it all matters."
PTSD
Researchers at the University of Buffalo found that PTSD affects about 9 percent of college students.
Various symptoms come with PTSD, and there could be severe ramifications if the disorder goes untreated, said Jane Tsang a therapist with the Counseling Center.
"It might include avoidance of something or a representation of the trauma that might have occurred to a person," Tsang said. "Another is just general fear and anxiety that might manifest in something like nightmares or what not. Also flashbacks of the event that might have been triggering as well."
Individuals who suffer from PTSD following a traumatic event persistently re-experience the event, have negative thoughts that worsen in situations that remind them of the event and possess a heightened reactivity to stimuli, according to the National Center for PTSD.
Traumatic incidents can range from a natural disaster to a serious accident, a terrorist act, combat, rape or other assault, according to the The American Psychiatric Association.
Research indicates individuals who repress their trauma are more likely to suffer from PTSD related symptoms, said Connie Horton, vice president for Student Affairs. Pepperdine aims to foster an environment that encourages suffering students to speak out about, and seek help for their trauma.
Vegas
Photos courtesy of Nick Costello
Senior Public Relations major Nick Costello's cousin was attending the Route 91 concert in Las Vegas when the shooting broke out. Costello said his cousin heard noises that he initially believed were fireworks, and then noticed that there was flashing coming from Mandalay Bay.
"As soon as he found out that it was in fact real was when he was hit in the leg," Costello said.
He managed to drag himself to safety and is expected to make a full recovery.
Costello said the shooting unified his family, and that students have provided him with support.
Costello said the Pepperdine administration has not reached out to him personally, but he has been relatively quiet about the situation.
Another student nearly lost his uncle in the attack. The student asked to remain anonymous to protect the identity of his uncle.
"He got to the hospital and was still alive, and then as soon as he got on the operating table, he was clinically dead," the student said. "They thought that first day that he was either going to lose his leg or lose his life. It was just one of those two."
He miraculously survived and gained the feeling back in his leg after being hit in a major artery.
The student said he was shocked, especially because he and his friends likely would have attended the event if they went to college in Las Vegas. He said administrators and faculty reached out to him and have been very understanding and supportive.
Pepperdine 2010 alumna Ashley Allen left the concert 10 minutes before the shooting began because she was starting a new job in the morning.
"It's hard to wrap your head around," Allen said. "That kind of carnage. And the fact that we were there all weekend, and then to escape it by a matter of minutes."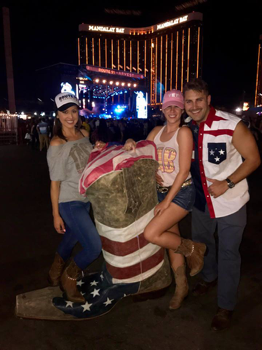 Photo courtesy of Ashley Allen
Alumna Morgan Matley (2017) has lived in Las Vegas for most of her life. She said the outpouring of support from first responders and regular civilians was unlike anything she has ever seen before.
"I drove down the Strip the next day and almost all of the front portion of the Strip was closed down and news crews lined the streets," Matley said. "Almost every casino had the numbers and locations for blood drives around the valley and #vegasstrong on their signs. The Vegas strong logo was everywhere and the Strip was almost empty. I've lived in Vegas since I was 7 years old and I've never seen it like this. Blood donation lines were miles long and the wait was over seven hours to just make an appointment."
Puerto Rico
Senior International Business major Alexandra Figueroa's entire family lives in Puerto Rico. They were unable to escape the island when Hurricane Maria hit.
"We didn't know about a lot of our family and friends until two weeks after the fact," Figueroa said. "For a time it was really stressful because we weren't sure what was going on, we weren't sure if everyone was OK."
Figueroa said while everyone in her family survived, it has been a big struggle.
Figueroa said she and the Latino Student Association were able to hold a drive on campus to raise money for disaster relief.
Houston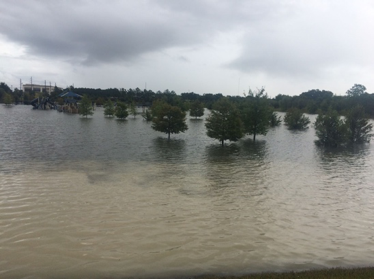 Photos courtesy of Rebecca Doublesin

Junior Sports Medicine major Grace Leister is from Beaumont, Texas, a tiny suburb Hurricane Harvey hit.
Leister said people lost power, were flooded out of their homes and many of her friends lost everything.
"It was hard to be away from home," Leister said. "When you lose power back home and you don't really know what's going on and you're not hearing from people as often as you could, you kind of start to think the worst."
Although she appreciated the candlelight vigils, Leister said she thinks it is important that the administration identify and reach out to affected students and encourage them to talk about how they are feeling.
Administration response
With these tragedies affecting students in the Pepperdine community, University administrators said they are taking steps to foster a supportive environment for students who may be suffering from trauma.
A group of administrators make up the Student Care Team and meet regularly to discuss student needs, Horton said. The team has been identifying students who have been directly affected by these tragedies and reaching out to them personally.
"Students are touched," Horton said. "Not just ones who have directly lost their home or are worried about a family member or who have lost a friend. Those, of course, but also just more collectively. The entire community, I think, when there's so much suffering and one tragedy after another, people including students are kind of reeling from that."
Harris said that with each instance, the Student Care Team has reached out to affected students, provided them with resources and notified faculty. Harris added that with so many students peripherally affected, it has not been easy.
"There's the first level: People who are there, people who live there, whose families are destroyed, or who live there and their neighbors are destroyed," Harris said. "Then there are people who know somebody. And then there are people who are just horrified because it happened."
Tsang, as a therapist, said there have been feelings of sadness, anger and a sense of urgency about what to do among students.
"Some comments from students as to how they can help or feeling impatient about their perception about there being a lack of a response," Tsang said. "Some flashbacks, some images that they might have seen in the news that they can't seem to shake off."
University Chaplain Sara Barton said the gathering that the Chaplain's Office held for Vegas seemed to fulfill an emotional need for many grieving students.
"A large number of students stayed for another 30 minutes just sort of resting, or stopping. Some were crying, some were talking with others," Barton said. "There's probably just so much activity in students lives that when there was just a moment to stop and just to sit and rest, that seemed to fill a need that people had."
"Do people want us to have a gathering for everything?" Barton said. "We were talking about having one for Houston and the next thing you know Florida happened, and the next thing, another hurricane happened, and then the earthquake in Mexico — we had students who knew people who died there."
The administration's most recent initiative was the creation of a Student Emergency Fund, which provides immediate support for students experiencing financial hardship due to an emergency or catastrophic event.
Student resources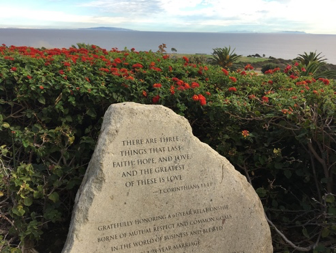 Photo by Nicole Spafford

Horton said the primary resources for students suffering from trauma are the Counseling Center and the Student Care Team.
The Counseling Center has free counseling sessions that are readily available for students, as well as group counseling opportunities, Harris said.
The Chaplain's Office is an additional resource for students seeking faith-related aid, Tsang said.
Many students just want someone to pray with, Barton said. The Chaplain's Office is ensuring the chapel stays open for quiet reflection.
"People expect this to be a place of healing and they know that we talk about prayer and things of God here and so we better show up when the time comes," Barton said. "But we have found it hard to know, with so many bad things happening, 'Are we meeting that need? Aren't we? How can we do it better?'"
Horton said the administration is focused on embracing the suffering and faith, but not allowing one to erase the other.
"If we say, 'Oh it's no big deal, we have God,' you know, and just wrap it up in a neat bow and kind of minimize it with religious language, that's really unhealthy," Horton said. "But on the other hand, if in times of trouble, we as a community forget some of the things that we stand for and who we think is with us in this, you know that's unfortunate too. So I hope we give this message collectively, like this is hard, and we care, and you get to say how horrible it is, but then also we want to respond by reminding people that God's in this."
________
Follow the Graphic on Twitter: @PeppGraphic