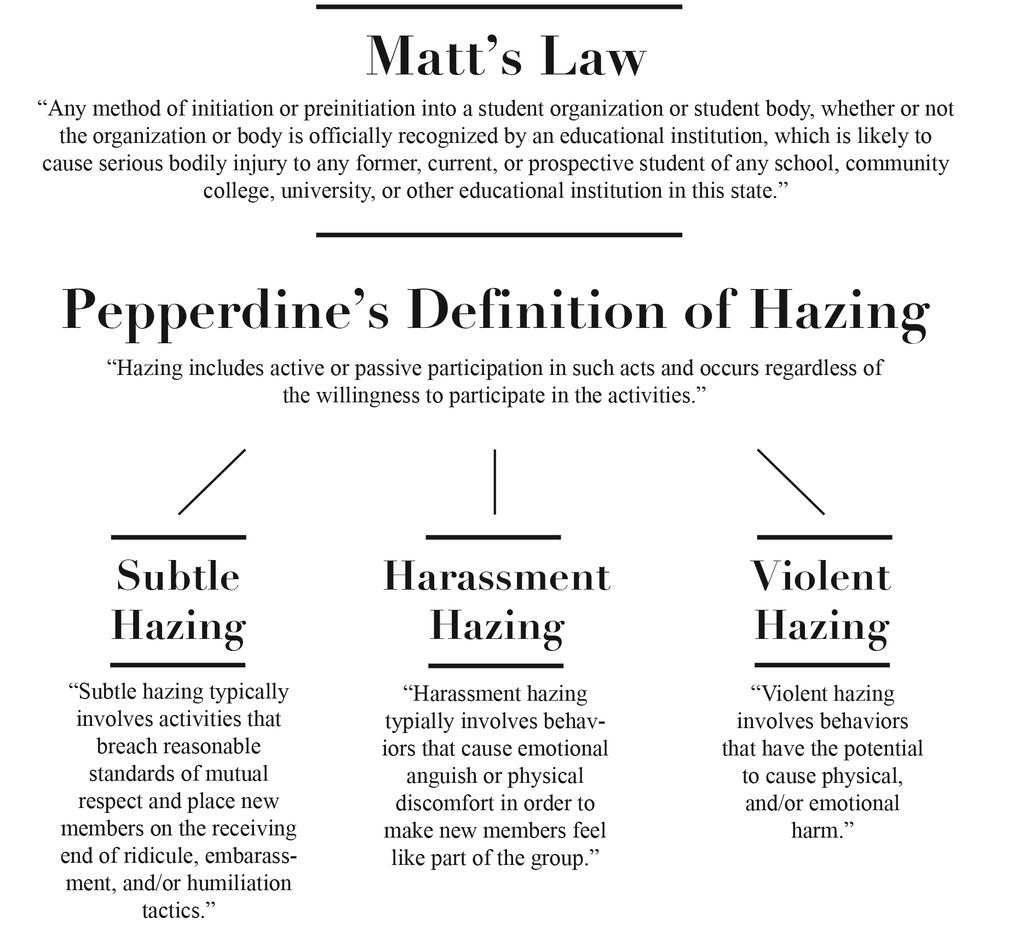 Graphic by Chad Jimenez
This year's Seaver College Student Handbook has an updated hazing policy, which includes a broader definition of hazing, an explanation of the responsibility of passive participants and clarification that consent cannot be used as a defense of hazing.
The policy changes are the result of a review of several hazing incidents reported over the past year in athletics, Greek organizations and other student organizations, Vice President for Student Life and Dean of Student Affairs Mark Davis said.
Pepperdine's definition of hazing was written to match the NCAA's definition of hazing, Davis said.
The 2016-2017 student handbook defines hazing as "an act which is humiliating, intimidating, or demeaning or potentially endangers or puts at risk the mental health or physical safety of a student for the purpose of or in connection with initiation, admission into, affiliation with, or as a condition for continued membership in a group or organization."
Davis said students involved with last year's hazing incidents provided feedback to the Hazing Policy and Prevention Task Force on how the hazing policy should be strengthened.
"We believe every student is created in the image of God and should be treated with the highest standards of dignity and respect," Davis said.
The new policy classifies hazing into three categories: subtle hazing, harassment hazing and violent hazing.
Individuals who stand by and watch the hazing activity and do not say or do anything are considered passive participants and are considered contributors who help perpetrate hazing culture, according to the new policy.
Also, a new section of the policy says that even if someone agrees to or is complicit in participating in a potentially dangerous activity, the perpetrators or passive participants can still be charged with hazing.
A new section of the hazing policy says immunity from University discipline may be granted to someone who reports a hazing incident before being contacted by a University official about the incident.
SGA President Edward Adutwum wrote in an email that he hopes that by granting immunity, students will be encouraged to report hazing activities and they are aware of the criteria under which immunity may be granted.
A section on positive, educationally appropriate new member activities was added to the new policy.
Professor of Religion Chris Doran served on the Hazing Policy and Prevention Task Force that worked on the new policy.
"It's easy to list a bunch of 'don't do this kind of thing' and there was this idea that it would be good to list some things that new member activities should think about doing, so instead of having an entirely negative list, we thought it would be important to have positives as well," Doran said.
The new policy requires all new member activities be approved in advance by the appropriate department responsible for the organization, group or team involved.
"Far too many organizations were not meeting with their faculty or staff advisor to get approval for ideas or suggestions for what might be beneficial activities, and the idea was to reinforce the idea that Pepperdine takes seriously the idea that the advisors we have and are volunteering their time should be used for these kinds of occasions," Doran said.
Junior Lauren Young, who is a photographer for Pepperdine Graphic Media and involved in Greek life, said she is glad Pepperdine is working to make it clear what is and is not acceptable.
"I think it's an important issue and I'm glad Pepperdine is addressing it," Young said. "I don't think hazing is acceptable in Greek life or any organization like clubs or sports teams."
Student organizations charged with hazing will be deactivated and the organization's members will be dismissed from the University, according to the Seaver College Student Handbook.
"Pepperdine aspires for all its students to treat each other with dignity and respect, so the policy is crafted to align with this Christian value, and hazing activities do not adhere to that value," Adutwum wrote in an email. "It is important for students and organizations to be aware and be informed about it before conducting any activities."
___________
Follow Bryce Hanamoto on Twitter: @bryce_moto