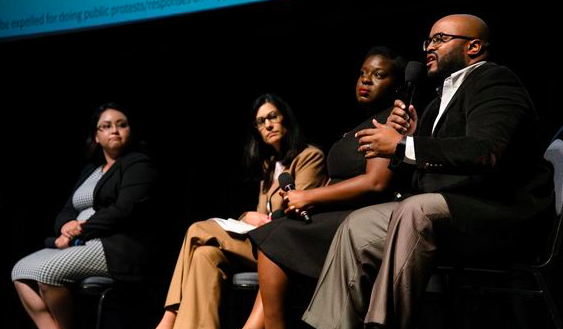 Photos by Chad Jimenez
In light of The Trump Administration's Sept. 5th announcement to formally end Deferred Action for Childhood Arrivals and in the midst of concern over the future of Dreamers at Pepperdine, Pepperdine Graphic Media hosted a panel discussion to provide students with an open space for discussion. The event happened Tuesday, Oct. 3.
The Trump Administration announced proposals to rescind DACA, a program that had protected close to 800,000 undocumented immigrants brought to the US as children from deportation and offered Congress a six-month delay to come up with a solution.
The Department of Homeland Security will stop processing any new applications for the program as of Oct. 5 and rescind the Obama administration policy.
Associate General Counsel Ki'Jhana Friday said the University doesn't collect information on who is a DACA recipient, so anyone who is a recipient can still apply.
"We are committed to being there and responding and providing support to Pepperdine DACA recipients," Friday said.
Graduate student Nate Barton led an introductory prayer and senior Cassie Stephenson, executive editor of PGM, introduced the event.
PGM also used a digital platform where audience members could text questions anonymously for the panel, and there was a microphone for those who wanted to ask questions in person. PGM also livestreamed and live-tweeted the event.
The six panel speakers were Friday, Associate Dean of Student Affairs for Diversity and Inclusion David Humphrey, Clinical Law Professor at the School of Law Tanya Cooper, Alumna Martha Zavala Perez, Religion and Hispanic Studies Professor Dan Rodriguez and University President Andrew K. Benton. Senior Kelly Rodriguez, multimedia producer at PGM, introduced the speakers and moderated the event.
Humphrey said he is first and foremost committed to the safety of students.
"Pepperdine is committed to providing resources to ensure that our students, especially DACA recipients, can seek out and receive the assistance that they need," Humphrey said. "I think that's the most important thing to know."
Benton said Pepperdine doesn't have the right to disclose any directory info about student's legal status without a court-authorized subpoena.
Zavala said she is a DACA recipient who was born in Mexicali, Mexico and brought to the US at the age of one. She said she didn't find out she was undocumented until she was 17 and wanted to apply to college.
"I am one of the lucky few," Zavala said. "We need to remember that we're dealing with people; a lot of times we forget that we are dealing with human lives."
Zavala said some of her undergraduate students are struggling with the news.
"Students are extremely distraught," Zavala said. "I have undergraduates who are brilliant and are now saying: 'Never mind, I'm not going to apply to graduate school because I don't even know if I'm going to get to be here."
Zavala said she has encouraged all her students to stay in school.
"We've encouraged our DACA students to keep going because it truly does make a huge difference," Zavala said.
Benton said he hopes Congress will act and find a permanent solution.
"The next provision needs to offer a short-footed pathway to citizenship," Benton said. "I think anything less than that would be hitting the can down the road."
Benton said he thinks the lack of a permanent solution is a failure of Congress and the President to work together.
"They've just got to get over themselves and do the right thing," Benton said. "Whether you're a Democrat or a Republican, this is a 'do the right thing for America' situation."
A student from the audience asked via the panel if it was possible to be a good patriot and a good Christian. Humphrey said he thinks we should be Christians first and Americans second.
"At the end of the day, I'm not an American Christian, I'm a Christian who happens to be an American," Humphrey said. "So the Gospel and the scripture should dictate how I respond to issues."
A true Christian extends a helping hand to the marginalized, Humphrey said.
"I believe that the Gospel comes from a place of helping those in the margins of society," Humphrey said. "So that's what a Christian should do, everything else must line up to the Gospel."
Humphrey said Christians should be brave enough to stand against those who oppress marginalized groups.
"Even if this country begins to operate in a way that contradicts the word of God, we must stand for the word of God–even if that means they kick us out of this country, Humphrey said. "Because we are Christians first and we are Americans second."
Rodriguez agreed.
"Jesus was incognito in the midst as the foreigner," Rodriguez said. "Is Jesus incognito in the dreamers in 2017?"
Rodriguez said he thought the University should speak up about these issues.
"As we engage in this conversation, we need to remember that silence is interpreted by many people as affirmation," Rodriguez said. "If we're going to embrace this as Christians, we need to embrace more nonpartisan Christian commitments."
Benton said he doesn't think the University should take a stance on bipartisan issues and that while he disagrees with some of the decisions the Trump administration has made, he respects the Office.
Cooper reminded students that the Pepperdine Immigration Clinic can help them submit their DACA renewal application, which is due in Oct. 5th, if their authorization is going to expire between now and March 2018.
Cooper said she thinks it is important for the Pepperdine community to get together to support dreamers.
"It's important to be active in sharing witness and testimony of dreamers to show how productive they are as members of our community," Cooper said. "That is one way to get involved."
Zavala agreed.
"It is important for those who are US citizens to take that step and say: 'Hey, that's not appropriate language' or to talk about what's going on," Zavala said. "To have those conversations."
Rodriguez also agreed and said Latino students should not be afraid to speak up and tell their stories.
"We need our Latino students to own their space to help reframe the story of who Latinos are in the United States by being more visible, being more outspoken, telling your story," Rodriguez said. "The more we tell them, the more we are going to break more stereotypes."
Benton said Pepperdine is an open space for any sort of discussion.
"[Pepperdine] is the ultimate safe space because you can talk about any of these issues in our college campuses," Benton said. "We will not shout down people at Pepperdine, we will listen to them, argue with them, debate them and have differences but we will not shout them down."
Benton said he thought the event was a great way to create a safe space for students.
Connie Horton, Vice-President of Student Affairs, agreed.
"I thought [the Town Hall] was exciting," Horton said. "I agree with Andy's statement that it's wonderful to have the students take the leadership [so] I appreciate the Graphic for initiating this."
Horton encouraged the students to go to the Counseling Center, which she said is a great resource.
"I came from the Counseling Center world before i became vice president (so) i really want people to know that if they just need to process it privately, the counseling center is a really good additional resource," Horton said. "Talk to Faculty, go to ICA, have informal conversations in the residence halls but also know that the Chaplain's Office and the Counseling Center really stand ready to have very private conversations for anyone, even people who are confused."
Horton said she is hopeful about the Pepperdine community.
"I loved the answers [and] I loved that students intervened," Horton said. "One of the things that was exciting about the questions was [that] about half of them was: What can we do? How can we make a difference? What's our role?"
Senior Andrew Lozano, VP of Finance for SGA, said the Town Hall was a very informative event.
"I thought that it was a really important event," Lozano said. "It's important to have conversations like these on campus, especially when there's so much confusion and so much uncertainty."
Lozano said he thought the event was really meaningful.
"I think that it's good to not only reassure students but (also) provide a space for them to be informed and to feel like the institution they attend [and] that calls them a part of their community is actually supporting them," Lozano said. "Overall I think the event was really meaningful."
_____
Follow the Pepperdine Graphic on Twitter: @PeppGraphic