Photos by Arthur Puu
Home court advantage is something the Pepperdine Women's Basketball team believes in.
"This is where we play our best games; on this court," junior guard Paige Fecske said. "This is where we practice everyday, we're really comfortable here [and] we have really good team chemistry on this court."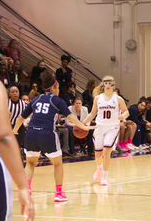 After a hard-fought battle for much of the game, the Waves held the Loyola Marymount Lions to only 17 points in the final quarter, while scoring 28 points en route to an 85-74 victory.
Fecske posted a career-high 37 points to lead the Waves while shooting 7-of-10 from three. Her offensive output is tied with Maureen Formico for seventh all-time in the Pepperdine record books for most points in a single game.
"We had a bad game last time when we played LMU," Fecske said of her career game. "I was really excited about this game and we haven't beat them since I've been here, so I've really been feeling it and I really wanted to win this game."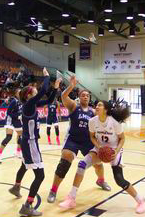 Prior to Saturday, the Waves played San Diego on Thursday, Feb. 8, but fell on the road, 79-53. The rebound victory against LMU — Pepperdine's third straight win at home — improved their home record to 7-4 on the season and 9-15 overall (5-9 in West Coast Conference play).
"Right now, the road has been unkind to us, so we have to make sure that we at least take care of home," Head Coach DeLisha Milton-Jones said. "We don't let anyone come in here and walk away with a win."
The first quarter began with both teams battling it out early, but Pepperdine took a 9-0 run to take a 14-9 lead with many an all-around offensive contribution. The Lions responded with a 7-2 run to even the score at 16. The second was a similar back-and-forth affair, with the lead changing six times before LMU drained a three-pointer with two seconds left to take a 36-34 lead into halftime.
Pepperdine came out of the break on fire, as Jacobs and Fecske knocked down three straight three-pointers to go up 45-38. LMU kept the Waves from running away with the game, tying the score at 57.
In the fourth, Fecske stayed hot, knocking down two in the early minutes to give Pepperdine a 66-61 lead. The Waves offense heated up late extending the lead to 10 before the Lions attempted to lengthen the game by sending the Waves to the free throw line. Pepperdine, however, went 11-of-14 from the charity stripe to secure the victory, 85-74.
Junior forward Yasmine Robinson-Bacote added 15 points and six rebounds, while senior guard Kim Jacobs scored 11 points with two three-pointers and three assists.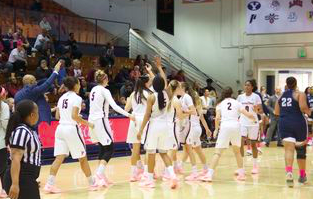 Quarter-by-Quarter Scoring (vs. LMU):
Quarter 1: 16-16 (TIED)

Quarter 2: 36-34 (LMU)
Quarter 3: 57-57 (TIED)
Quarter 4: 85-74 (PEPP)
Quotables:
On the mindset coming into the PCH rivalry game: "Our mindset today was to come out and compete," Milton-Jones said. "We came out today as a united front from start to finish with a competitive, aggressive mindset."
On the offensive performance: "Our offense looked great tonight," senior guard Peyton Langston said. "We made shots when we needed to, but Paige was the real gamer today with her performance. She made everything look easy."
On taking BYU on the road in the next game: "The mindset is still the same as today," Milton-Jones said. "We're seasoned now, we're deep into the season, heading into the conference tournament. We have to make sure we're taking care of us."
Up Next:
Pepperdine travels to BYU on Thursday, Feb. 15 at 5 p.m, then hosts Gonzaga on Saturday, Feb. 17 at 1 p.m.
___________________________________
Follow Arthur Puu on Twitter: @arthurpuu