Photos courtesy of Travis Hill-Weber
The culturally rich "Paris of South America" — Buenos Aires (BA) — will become home to not only Pepperdine students studying abroad but also to the new Director of the BA International Program, Travis Hill-Weber.
Alumnus Travis Hill-Weber (Seaver College 2005) said as the director of the Pepperdine BA international program (IP), he oversees all of the program operations, including student affairs, academic programs and educational field trips (EFTs). He also liaises with Pepperdine in Malibu.
Hill-Weber said he grew up in Oklahoma in the Churches of Christ. In high school, after learning about Pepperdine through a youth program and visiting the campus, he fell in love with the university and decided he wanted to attend. At Pepperdine, he studied abroad in Heidelberg and was an RA, a Campus Ministry intern and a Religion major.
"[Pepperdine] set me on a trajectory that I'm still on today, which is thinking really seriously about how to love God and love neighbor more fully," Hill-Weber said.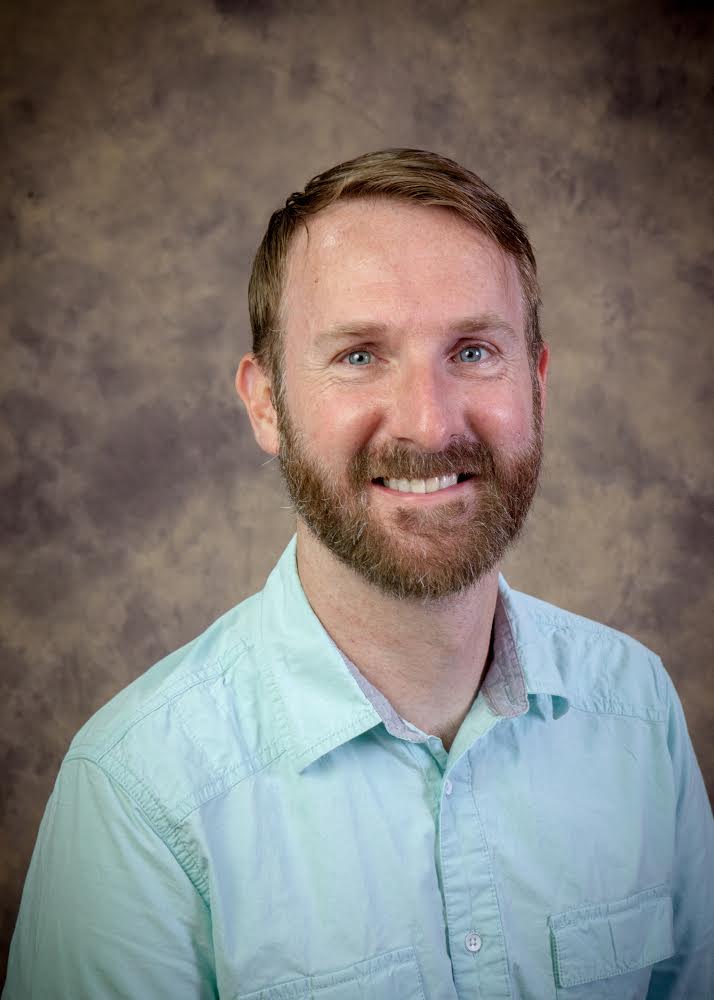 Photo of Travis Hill-Weber.
Post-graduation, Hill-Weber said he went on to Yale where he received his Master's in Divinity. After receiving his masters, he came back to Pepperdine and served as the Coordinator of the Spiritual Life Advisor Program from 2008 to 2011.
Before returning to Pepperdine as the director of the BA program, Hill-Weber said he most recently worked as a pediatric chaplain at Le Bonheur Children's Hospital in Memphis, Tennessee.
"Families who find themselves in a children's hospital are often facing some of the most difficult challenges of their lives," Hill-Weber wrote in an email. "While the spiritual needs of each family and patient are different, the common need is a calm presence in times of crisis."
As a pediatric chaplain, Hill-Weber served the emotional and spiritual needs of patients, families and staff.
"I love journeying alongside people who are asking big questions about their life, about meaning," Hill-Weber said.
Sophomore Kyle O'Neill, RA of the BA program, said he is particularly excited for the spiritual guidance Hill-Weber will bring to the students of the program.
"[Hill-Weber] has such a solid foundation in Christ that I think he's going to … be a great spiritual mentor … [for me] personally, which I'm really excited about, but mostly everyone in the program who seeks a relationship with the Lord," O'Neill said. "He's someone who I feel like is going to be very approachable with questions about faith, and he's going to be able to answer them very effectively with his background."
Executive Director of International Programs Beth Laux echoed O'Neill's excitement for the spiritual guidance Hill-Weber will bring to BA.
"Travis has a passion for students' spiritual development," Laux wrote in an email. "I think that his experience as an SLA and hospital chaplain will really take the spiritual dimension of the program to the next level."
Hill-Weber said he is excited to return to Pepperdine and be a part of the Pepperdine mission in the context of the BA program.
"I love … Pepperdine's mission of having … a dual commitment to faith and learning that centers the student experience, that brings a holistic perspective to the educational experience," Hill-Weber said. "I think that [the BA program] is really an exciting place … where questions of faith, questions of meaning and purpose and questions of justice intersect with the homestay model and the immersive cultural experience of Buenos Aires."
Hill-Weber and his wife Harmony, who is a Pepperdine alumna, said they had a deep cultural experience themselves when they volunteered in the Peace Corps together for two years in Guyana in South America.
Travis Hill-Weber and his wife, Harmony, smile at Hosororo Falls outside of Mabaruma, Guyana.
The Peace Corps is a volunteer service opportunity for people who want to immerse themselves in a community in another country and foster peace and friendship that extends across international boundaries, according to the Peace Corps website.
Hill-Weber said he was a community health education promoter focused on the education of basic healthcare, diet and sanitation within the community. Harmony taught second graders in the elementary school.
"The Peace Corps experience was … an opportunity to learn from [and] learn alongside the villagers that we lived with," Hill-Weber said. "It was an opportunity to do a lot of self-reflection and self-learning, checking assumptions that I brought, paying attention to power differences and power imbalances as a White US passport holder, as a male in this culture."
After a lot of self-reflection during his experience volunteering, Hill-Weber said he learned to have humility.
"I learned that God is just so much bigger than I thought God was … that God is the God of all people, including people very different from myself, so [this understanding] brings a humility to interactions with other people," Hill-Weber said.
Hill-Weber said his experience volunteering at the Peace Corps taught him to be flexible and let go of control.
"We learned to let go of the need for things to happen the way we expect them to, and learned to improvise … and ask our neighbors and our community for help [and] work together," Hill-Weber said.
When meeting the students in the BA program, O'Neill said Hill-Weber encouraged the students with one word: openness.
"Openness to trying new things and new experiences and immersing yourself into that culture rather than impose your culture on others," O'Neill said.
In addition to living in Guyana, Hill-Weber also lived and studied in Spain, Israel and even Buenos Aires. He said he loves diving into and learning about different cultures.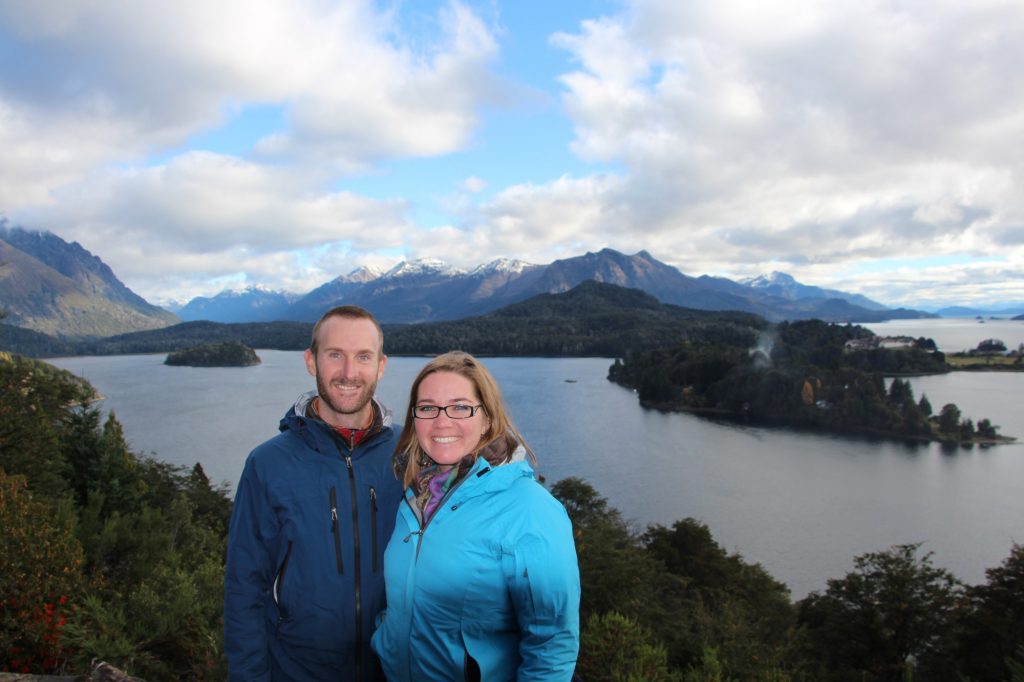 Travis Hill-Weber and his wife, Harmony, pose at Bariloche, Argentina.
"To me culture is so much more than just music, food, language," Hill-Weber said. "Culture is kind of a way of seeing and understanding oneself and seeing and understanding the world and who God is … When I enter into new places, I learn something about who I am and who God is and how all of this kind of fits together. I think I'm able to see more expansively the Christian call to love and justice."
Laux wrote that Hill-Weber's experience serving in the Peace Corps and passion for different cultures have prepared him for the position of program director of BA.
"BA is a unique environment, and we really wanted a director who excelled in a variety of ways," Laux wrote. "We looked for someone who could support students academically, spiritually and culturally throughout the experience … [and] had the leadership skills to support our BA team and faculty in the future."
Hill-Weber said he has not only previously lived in BA, but he also has a family connection to the vibrant city.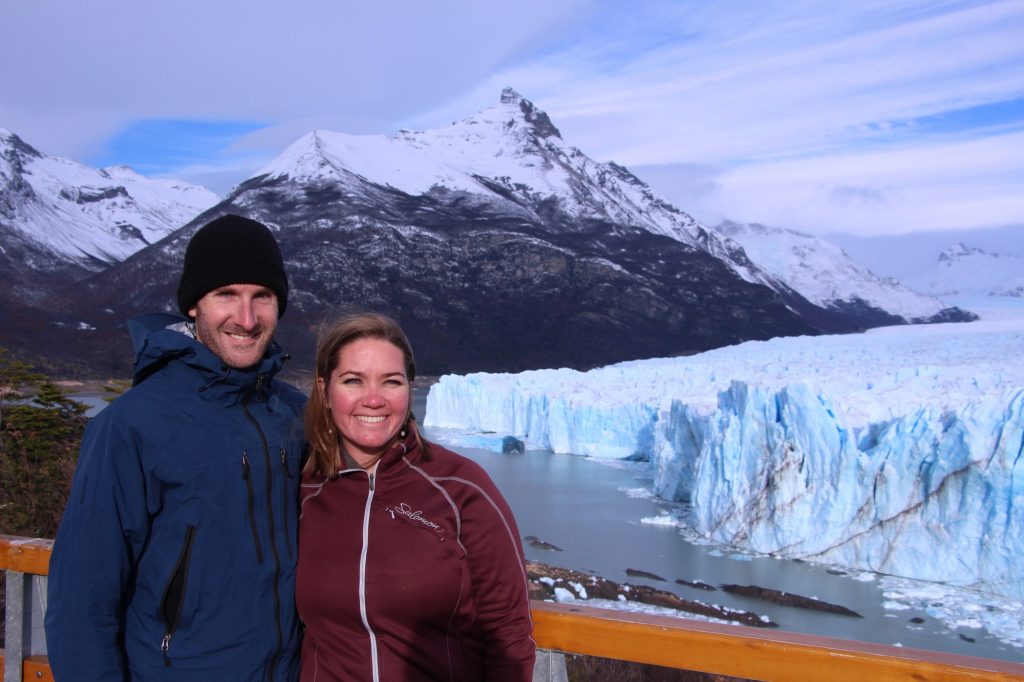 Travis Hill-Weber and his wife, Harmony, enjoy the Perito Moreno Glacier in Argentina.
"My mother-in-law is actually born in Buenos Aires," Hill-Weber said. "When we lived in Buenos Aires, we lived with some of her family, studying the language and just having a culturally immersive experience, so I absolutely love the city."
Hill-Weber said he likes that the BA program in particular is set up in a way that allows students to experience the city in depth.
"The Buenos Aires program … is unique because of the homestay model that allows this really rich culturally immersive experience … The program has a really rich history of service learning, and I love that aspect of the program as well," Hill-Weber said.
Hill-Weber said he is excited to support the BA program and help make it even stronger. Although Hill-Weber is working as director of the BA program, he is currently working from Memphis, Tennessee, waiting to secure his visa.
"The process of securing a visa can be complicated and can take time … so we're still in that process," Hill-Weber said. "I think we're very, very close to finalizing the visa."
Hill-Weber said he was able to video-in and talk to the students in BA during their orientation, and he is very excited to finally arrive there and get to know the students.
"I'm just excited to step into a program that is already very strong and that already provides such a rich, transformative experience for students," Hill-Weber said. "My goal is to support what's already so good and whatever we can do to enhance the program."
__________________
Email Emily Shaw: emily.c.shaw@pepperdine.edu