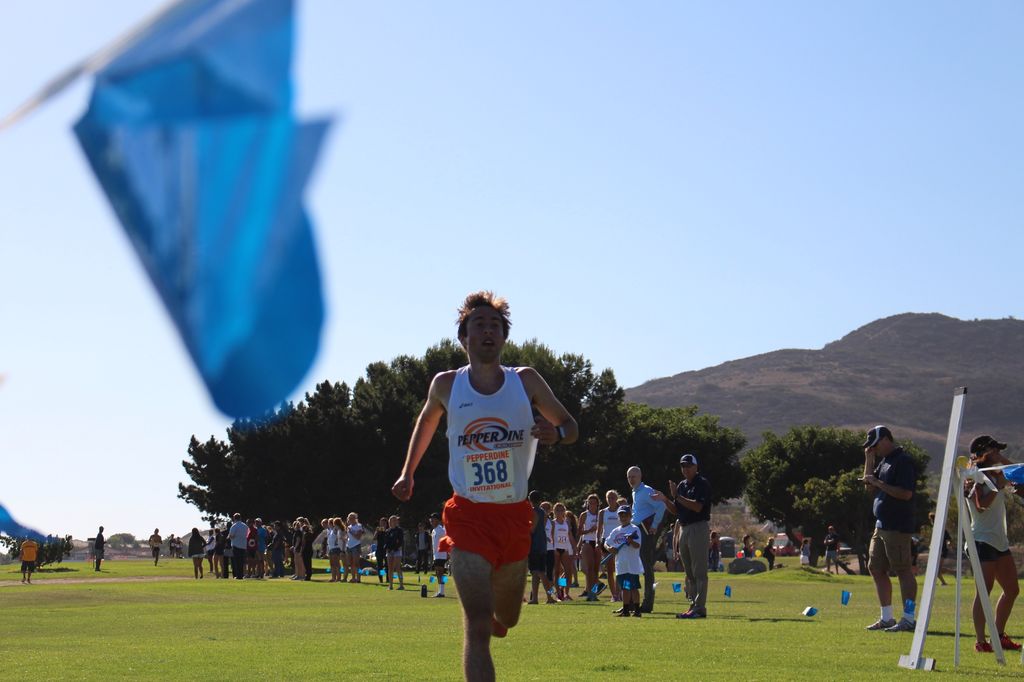 Photo by Lauren Young
Cross-Country standout sophomore Nick Heath continued his winning ways by winning the West Coast Conference preview meet in San Diego on Sept. 17. Heath, who was victorious in his season debut at the Pepperdine Invitational on Sept. 1, won the WCC Preview by finishing the 8K-course in a 25:18. He was 15 seconds ahead of the second-place finisher.
"I think I'm pretty satisfied." Heath said of not only his race, but also the team's performance, "A lot of individuals had a lot of improvement over last year and I think our team is looking a lot stronger than it has in the past."
The West Coast Conference Preview Meet featured six teams, however, LMU, USD and Pepperdine were the only WCC schools in attendance. Non conference opponents Cal State Fullerton, Valparaiso and SD Mesa were also in attendance. The Waves finished third out of six teams with a score of 70 points.
Redshirt junior Nick Blanchard, who finished in fourth place with a time of 25:55, was proud with the team's performance as well.
"Given that this was the first 8K of the year, a lot of people ran really fast times." Blanchard said. "So that shows we're in pretty good shape. That's a promising sign for the team. This was the first 8K for a lot of freshmen, the first 8K is tough — so we have a lot of guys who are going to improve by a lot this season. I think the team is showing a lot of promise early on."
However, the men's Cross-Country team is not firing on all cylinders. Three varsity runners from the 2015 season are either injured or running hurt. Sophomore Trevor Sytsma and junior Kevin Maeda were unable to run at the WCC Preview Meet. Junior Rodolfo Gonzalez competed, albeit hindered by a nagging back injury and finished as Pepperdine's fifth runner with a time of 26:59.
"We really need a four and five guy," Heath said, "The results really showed that gap we need to fill. As soon as we get a four and five, we'll be a force to be reckoned with."
Despite the Cross-Country team's tribulations, morale has remained high during practices and races.
"They're always very encouraging," senior Ben Fox said of the aforementioned injured runners. "They're always at practice, they're always there and they're always very encouraging during races. And I know they want to be back very badly. I feel bad for them, watching them injured [at practice and at races]."
In Blanchard's eyes, the WCC Preview was an opportunity for Pepperdine to prove itself in light of the team's setbacks.
"The fact we're competitive with LMU — especially considering we were missing a couple of our top guys — shows we're one of the more solid teams in our conference." said Blanchard, "We were able to put three guys ahead of LMU's third runner. We've never done that in cross-country before. That gives us confidence moving forward that we can do some really big things this year."
The Pepperdine Cross-Country team will race at the Capital Cross-Country Challenge on Saturday in Sacramento.
____________________________________
Follow Kyle Cajero on Twitter: @kylecajero