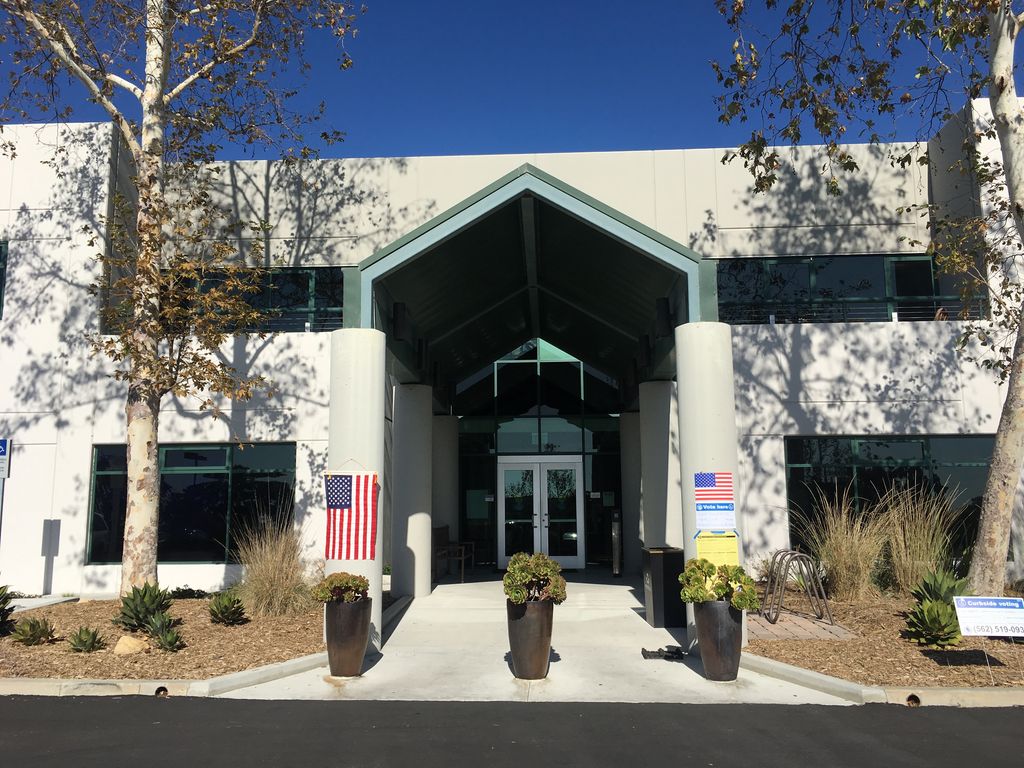 Photos by Shannon Hansen
Updated at 11:30 p.m. 
RESULTS
Rick Mullen: 24% and 1,390 votes
Jefferson Wagner: 23% and 1,310 votes
Skylar Peak: 20% and 1,148votes
Laureen Sills: 14% and 794 votes
Jennifer Blue Denicola: 10% and 589 votes
Carl Randall: 10% and 555 votes
Today voters trickled into the Malibu City Hall throughout the morning from 10 a.m. to 12 p.m. Between these two hours there were a total of 62 voters present.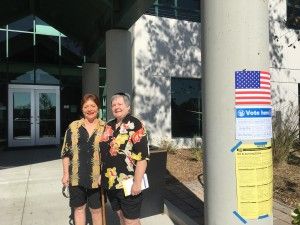 One woman left the building saying, "I voted for Hillary, if you're wondering." She didn't stop to give her name or any other information. As she was getting into her car, she passed by her trunk where there was an "I'm With Her" sticker and she patted the sticker with her hand.
An elderly woman came outside of City Hall after voting for Hillary and said "I did it! I did it! I did it!"
Jefferson "Zuma Jay" Wagner was at City Hall. "Well I am happy to see such a turn out," he said. "I am hopeful. I am happy to see everybody is energized this time. " He gave advice to voters, "Get out there, punch your digits, read your ballot, educate, and vote." 
Malibu City Council Candidates
Laureen Sills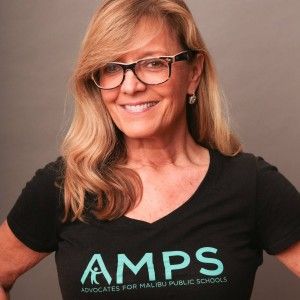 Laureen Sills has lived in Malibu for 30 years and has spearheaded many civic campaigns in that time, from fighting the LNG plant off the coast of Malibu, to helping Malibu achieve cityhood, to her future project, Local Lands and Local Hands, according to her website. Now, she's running for one of three Malibu city council spots to serve her city.
Skylar Peak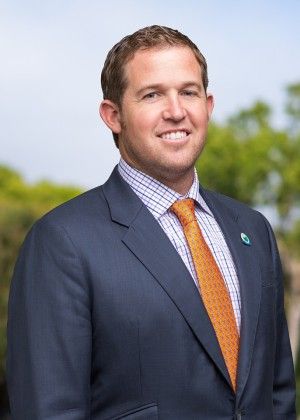 Peak, who was the youngest person ever elected to Malibu City Council at age 27 in 2012, is running for re-election to Malibu City Council. Peak was first introduced to the intricacies of local government through his father, who took him to the town's city council meetings as a teenager.
Jennifer deNicola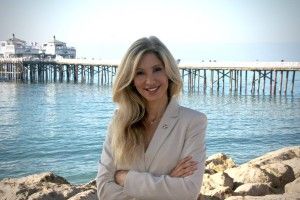 A businesswoman, president of an advocate organization, mother of two children and two dogs, deNicola has recently put most of her focus into her campaign for a seat on the council, where she is competing against five competitors, she said.
Jefferson "Zuma Jay" Wagner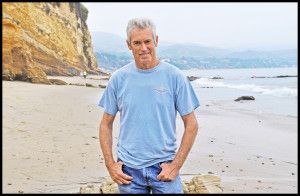 Jefferson "Zuma Jay" Wagner has worn many hats during his 46 years living in Malibu, including that of an LA County Deputy Sheriff, a Ralph Lauren model, a small business owner and a Malibu City Council Member, but perhaps the most interesting part of the man with a motto of "No Beachin' or Moanin'" is his relaxed way of approaching all aspects of his life — including his politics.
Rick Mullen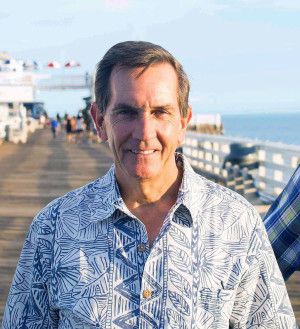 Rick Mullen, a 30-year veteran of the armed forces and a 26-year resident of Malibu, is running for Malibu City Council this year.
Carl Randall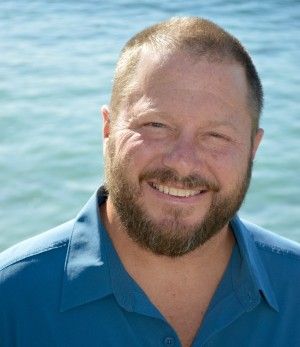 "Don't complain unless you're willing to work to makes things better. If there's a problem, fix it." This is the family motto that Carl Randall, a second-generation Malibu resident running for Malibu City Council. Instead of complaining, one should get involved and fix the problem, Randall said.
County Measures 
County Measure A (Y: 71.26 %  N: 28.74%) 
Safe, Clean Neighborhood Parks, Open Space, Beaches, Rivers Protection, and Water Conservation Measure. To replace expiring local funding for safe, clean neighborhood/city/county parks; increase safe playgrounds, reduce gang activity; keep neighborhood recreation/senior centers, drinking water safe; protect beaches, rivers, water resources, remaining natural areas/open space; shall 1.5 cents be levied annually per square foot of improved property in Los Angeles County, with bond authority, requiring citizen oversight, independent audits, and funds used locally?
County Measure M (Y: 68.4% N: 31.6%) 
Los Angeles County Traffic Improvement Plan. To improve freeway traffic flow/safety; repair potholes/sidewalks; reave local streets; earthquake retrofit bridges; synchronize signals; keep senior/disabled/student fares affordable; expand rail/subway/bus systems; improve job/school/airport connection; and create jobs; shall voters authorize a Los Angeles County Traffic Improvement Plan through a ½ cent sales tax and continue the existing ½ cent traffic relief tax until voters decide to end it, with independent audits/oversight and funds controlled locally? 
Santa Monica-Malibu Unified School District School Board candidates:
Maria Leon-Vazquez, Ralph Mechur and Jon Kean:
Three out of seven seats on the Santa Monica-Malibu Unified School District Board of Education were supposed to open for candidates during the 2016 general election. However, this specific election was canceled due to lack of opposition. Incumbents Maria Leon-Vazquez and Ralph Mechur, as well as a new candidate, Jon Sean, were the only three candidates to file for the three seats. So, they will be elected to the board by default, according to a ballotpedia.org article called "Santa Monica-Malibu Unified School District elections (2016)."
Voter Responses 
Most Malibu voters didn't want to answer questions, but here's a few who did:
Name: Alec
Party ID: Democratic
President: Hillary Clinton
US Senate: didn't vote
City Council: didn't vote
Prop 56 Yes
Prop 62 No
Prop 64 Yes
Prop 66 No
Prop 67 Yes
In regards to the election, he said: "I'm happy it's over."
Name: Anne 
Party ID: Democratic
President: Hillary Clinton
US Senate: Henry Stern
City Council: Laureen Sills
Prop 56, 62, 64, 66, 67 : Didn't remember
Name: Marti
Party ID: Democratic

President: Hillary Clinton
US Senate: Henry Stern
City Council: Peak, Mullen, Wagner
Prop 56 Yes
Prop 62 Yes
Prop 64 Yes
Prop 66 No
Prop 67 Yes
Said that Trump didn't share anything he was going to help with in the election. She also said that the election was negative.
Name: Anonymous
Party ID: Democratic

President: Hillary Clinton
US Senate: Laura Sanchez
City Council: Not registered in Malibu
Prop 56, 62, 64, 66, 67 – didn't give an answer for but did tell us that she voted Yes on 57
Said that there was "no line" inside of City Hall
Said that she "was taken care of within 10 seconds of walking inside" City Hall
Name: Norma
Party ID: Democratic

President: Hillary Clinton
US Senate: Kamala Harris
City Council: deNicola and Mullen
Prop 56 Yes
Prop 62 Yes
Prop 64 Yes
Prop 66 No
Prop 67 No
 Name: Lionel
Party ID: Democratic
President: Hillary Clinton
US Senate: Kamala Harris
City Council: deNicola and Mullen
Prop 56 Yes
Prop 62 Yes
Prop 64 Yes
Prop 66 No
Prop 67 No
Name: Debbie
Party ID: Democratic

President: Hillary Clinton
US Senate: Kamala Harris
City Council: Carl Randall and Laureen Sills
Prop 56 Yes
Prop 62 No
Prop 64 Yes
Prop 66 Yes
Prop 67 No
Said that the election costs way too much money and goes on for way too long.
She also said: "It's about time a woman was president."
Name: Marlys
Party ID: Democratic

President: Hillary Clinton
US Senate: Kamala Harris
City Council: Carl Randall and Laureen Sills
Prop 56 Yes
Prop 62 No
Prop 64 Yes
Prop 66 Yes
Prop 67 No
Name: Rachel 
Party ID: Republican 

President: Donald Trump
City Council: Peak, Mullen, Wagner
Prop 56 No
Prop 62 No
Prop 64 No
Prop 66 No
Prop 67 Yes
Prop 65 Yes
Name: Vivian 
Party ID: Democratic 

President: Hillary Clinton
City Council: Peak, Mullen, Wagner
Name: George 
Party ID: Republican

President: Donald Trump
City Council: Peak, Mullen, Wagner
Name: Jim 
Party ID: Republican
President: Donald Trump
US Senate: Kamala Harris
City Council: Wagner
Prop 56 Yes
Prop 62 Yes
Prop 64 Yes
Prop 65 No
Prop 67 No
Name: Nancy 
Party ID: Democratic
President: Hillary Clinton
Name: Allison
Party ID: Democratic
President: Hillary Clinton
US Senate: Kamala Harris
City Council: Mullen
Prop 56 Yes
Prop 62 Yes
Prop 64 Yes
Prop 65 Yes
Prop 66 No
Prop 67 Yes
Name: Ed 
Party ID: Democratic
President: Neither
US Senate: Kamala Harris
City Council: Wagner, Peak, Mullen
About the election: "Worst political choices in my lifetime"
Name: Josh
________________
Follow the Pepperdine Graphic on Twitter: @peppgraphic