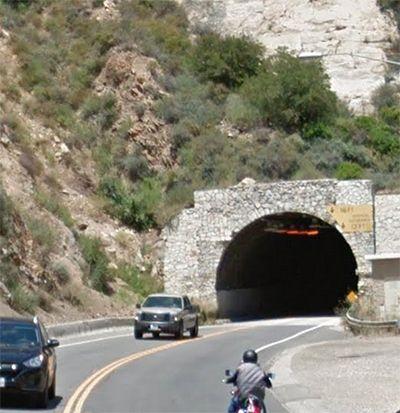 Photo Courtesy of Google Maps
Malibu Canyon Road will experience overnight closures beginning in January in a preventative effort to reinforce steel plates in the tunnel.
The road will close from 9 p.m. to 5 a.m. every day for approximately seven months, according to Mike Kaspar of LA County Department of Public Works.
Tunnel rehabilitation will include the repair of existing steel plating inside the tunnel designed to keep debris from falling down. "We're in the business of preventing potentially unsafe situations from ever occurring," Kaspar said.
Kaspar emphasized that LA County Public Works is trying to minimize its impact on people traveling through the canyon. "We understand the potential for inconvenience — we're trying to work as fast as possible," he said.
Furthermore, Kaspar said they are making concerted efforts to be responsive to those affected by the closures.
"We have been reaching out to the homeowner associations and businesses in the area," Kaspar said. "So far, the reaction has been positive, and we'll do what we can to address any questions they have regarding the work. We want to be as transparent as possible."
In Pepperdine, however, students have had mixed reactions. Richie Gregory, a second-year law student, believes construction will deeply affect students living off campus that take Malibu Canyon Road everyday.
"It will definitely affect me, since I live off campus," Gregory said. "I stay in the library after nine, sometimes even until midnight."
During closing times, there will be detour signs that direct drivers to Kanan Dume Road, as well as signs on both Agoura Road and PCH. There will also be a website going live closer to the construction date that will contain up-to-date information regarding the construction.
According to Google Maps, students taking the 101 exit from Agoura Hills to reach school travel approximately nine miles in one trip, with the estimated length being 15 minutes. When the closure is underway, students' trips will be extended by 12 miles, with the estimated length growing to 35 total minutes.
Even though the project will take a toll on students' schedules and travel times, Gregory believes it might not be that bad: "If the benefits outweigh the cost, then it is definitely worth it."
After workers finish repairing Malibu Canyon Road, they will proceed to conduct the same preventative work on Kanan Dume Road's T1 tunnel. The total cost of the joint project is estimated to reach $5 million.
_____________________________________________________________________________
Follow Ricardo Avila Alvarez on Twitter: @RAvila27
As published in the Sept. 26 issue of the Pepperdine Graphic.