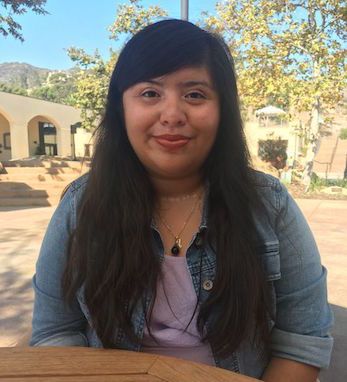 Photo by Alli Burnison
Pepperdine's Latino Student Association and Intercultural Affairs Office are hosting five events in celebration of National Hispanic Heritage Month, which goes from Sept. 15 through Oct. 15.
LSA has two upcoming events among the five during the month, according to Latino Student Association's official Facebook page. The "Baila Conmigo LSA Dance" will take place on Friday in the Sandbar from 6 to 9 p.m., and the "Latino Student Forum" will be on Oct. 13 in the Fireside Room from 7 to 8:30 p.m.
Pepperdine sophomore, Intercultural Affairs Programming Intern and Latino Student Association Vice President of External Affairs Isabella Ordaz said that LSA and ICA collaborated for the Hispanic Heritage Dinner and Baila Conmigo. The latter will include a dance lesson in which a member of LSA will teach the meringue and salsa dances.
"Being able to use this month as an opportunity to connect with other Hispanic-Latino students on campus is just an amazing opportunity," Ordaz said. "It's more of an opportunity to build community amongst us on campus and the non-Latino community."
Senior International Studies Major and LSA President Melissa Maximo said that she is looking forward to the picnic on alumni, where underclassmen members will be paired up with mentors, and Baila Conmigo, where an LSA member will teach the salsa and merengue to attendees. She said that because she moved from Culver City — a predominantly Hispanic neighborhood — to Malibu, the month is meaningful to her. She said it is important for the approximately 30-member organization to celebrate its unique culture.
"We're trying to create a community for those who aren't used to living in a place like Malibu," Maximo said. "For freshmen who are moving away from home for the first time, we just want to say, 'We are here, go to our events, come dance with us,' and everyone else is invited as well."
Pepperdine sophomore Maddi Hassel and senior Jonathan Kwok said they are excited for the upcoming events.
Hassel, a Business Administration major and Hispanic Studies minor, said that as learning and studying Spanish becomes increasingly valuable in California, so will campus programs that honor diversity.
Kwok, an International Studies major and Pepperdine Ambassador, said heritage events are instrumental in creating conversations.
"Cultural clubs on campus do a really great job of connecting students with communities that they can really feel at home in," Kwok said. "These heritage nights highlight the differences we have at Pepperdine and allow people to embrace those cultures and grow and learn from that."
Ordaz said there are no requirements to become a member in LSA, and although all of Pepperdine is invited to participate in the month, some of the events are centered around the established community of LSA, such as the Latino Student Forum, monitored by the organization's diversity and inclusion chair, Alex Figueroa.
"The voices of the Latino students will be centralized in the forum because that is one of the only places where our voices will be central," Ordaz said. "Any Latino students who want to come and speak their experiences are free to come."
She said the forum will be an opportunity for progress.
"I can already tell that people are going to leave the dialogue feeling frustrated after having to relive their experiences and I think that is part of the process, because out of discomfort is growth," Ordaz said. "We will be able to grow as an organization and make sure that Latino students on campus are included in the larger campus community."
Ordaz said that the month's events have a deeper goal for Pepperdine's campus.
"We are occupying space with this program and I think that is key," Ordaz said. "These events establish our presence on campus and that is important. Having a month where we can celebrate with one another and have an opportunity to build community is always helpful in our ultimate goal to achieve a campus climate that is celebratory of diversity."
National Hispanic Heritage Month began in 1988 when President Ronald Reagan approved a law that broadened President Lyndon Johnson's 1968 decision to create a Hispanic Heritage Week, according to National Hispanic Heritage Month's official website. This piece of legislation, Public Law 100-402, authorized the month between Sept. 15 and Oct. 16 to be National Hispanic Heritage Month, according to the Library of Congress' official website. The month celebrates the independence of five Central American countries, including Costa Rica, El Salvador, Guatemala, Honduras and Nicaragua.
__________
Follow the Graphic on Twitter: @PeppGraphic