Photos by Kristina Hsieh
Bands, burgers and paint brushes scattered Alumni Park Saturday night during the Board sponsored event Humaliwo, the annual Spring concert. Fitting with the theme, Humaliwo means 'the surf sounds loudly' and is also more than just a tongue twister, it is the original name for Malibu. This year the event hosted three bands, all of which had a personal connection to Pepperdine. Brandy, Local Natives and Lady On The Moon all consist of previous or current Pepperdine students.
Integrating R&B;, indie and rock, the performances at Humilawo catered to several different audiences. Concert Chair Madison Blinn said the Board was hoping to shift the event from being known as the Spring Concert to implementing the festival feel of Humaliwo.
Some students enjoyed the variety of genres Saturday and recognized the Board's intentions. "They balanced each other well," junior Kristin Brisbois said, making it more of a "festival feel" rather than "one specific concert."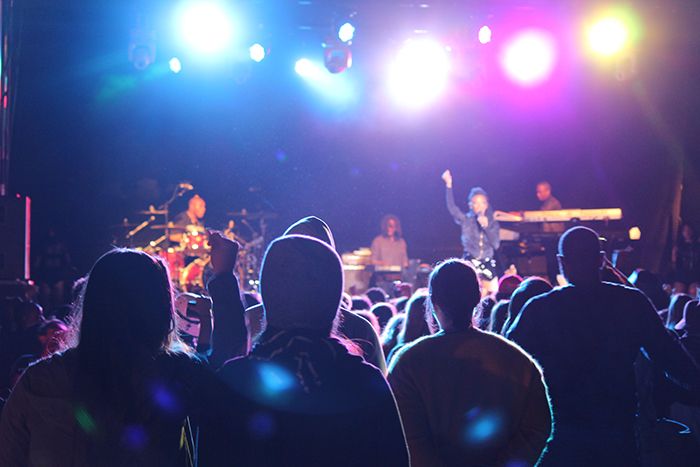 Others found the different target genres divided the audience.
"The split audiences made the event random because people were either there for one band or the other, but not both," sophomore Maddie Fitzpatrick said.
Much buzz surrounded the headlining act — some claimed that it was going to be Macklemore. Blinn said there were several limitations on both sides that prevented the artist from becoming more than an idea.
Further rumors said Brandy was a last minute resort. However, Blinn said the Board intentionally chose her because they wanted an artist who would cater to a wider Pepperdine audience.
Brandy, a former Pepperdine student who began in 1996 and is a family friend of Professor Joi Carr, was able to bring her talent back to our school in order to provide Humaliwo with an energetic performance to the student body.
"She was a performer," senior Chanshi Chibwe said, "her vocals were continuously on point and the freestyle dancing at the end was awesome."
Another alum, Ryan Hahn ('10) from the Local Natives, graced students with his return.
Currently touring with Kings of Leon, the band is extremely busy but were able to make a pit stop for their Malibu fans.
The Local Natives is an indie pop band from LA, three of whom grew up as childhood friends. Hahn said he and vocalist Taylor Rice have known each other since junior high and picked up guitars together almost immediately. Because they have known each other for most of their lives, the band is able to "sync ideas and passions into the same goal," Hahn said.
The connection these members have to each other and their audience was tangible Saturday. Having multiple vocalists throughout the show, students said they found something different in the Local Natives than most bands.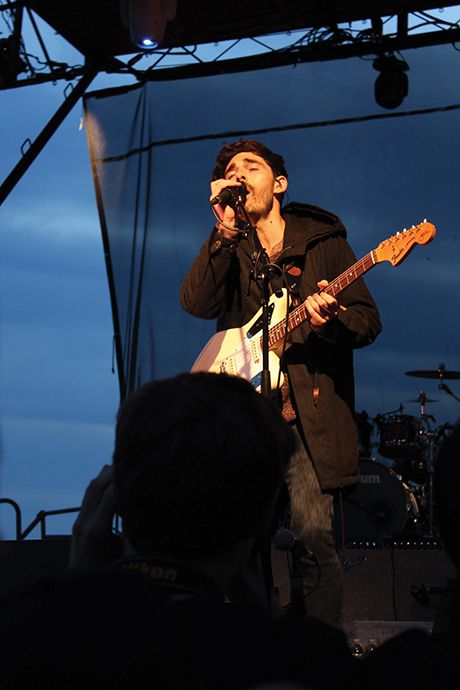 Humaliwo was a great opportunity for some fans like junior Kevin DeHuff to see the band for the first time. The "exaggerated harmonics" of their live performance and how the guitars "came to life" was what set the Local Natives above expectations, DeHuff said.
The band has played several times at Pepperdine. Hahn said their first opening performance at Pepperdine in 2005 was for Jimmy Eat World in none other than Firestone. Stepping up from the gym, the band was able to bring some of their original, as well as their newer, fans to Alumni Park.
Just like the Local Natives had early performances during Hahn's time at Pepperdine, Lady On The Moon is following in their footsteps. The two band members, Buchanan Westover and Alex Keating, are both juniors. It's possible you may have heard Keating playing if you went to this year's Songfest (he was the drummer).
Keating and Westover said they met freshman year and once they realized they shared a passion for music, they began collaborating with each other. It all took off with a YouTube video of Westover's song, "Together," which received positive recognition.
Lady On The Moon has a strong Malibu fan base. Keating said the fan base became more apparent when 400 people attended their performance at Malibu Inn in Sept. 2013. There may not have been 400 people Saturday, but many of Lady On The Moon's fans came to support the band.
"Their tight vocals and professional sound" made Chibwe view Lady On The Moon as the peak of the show.
The unique mixture of indie, alternative and rock combined with a professional sound give Lady On The Moon promise as musicians. However, it is not as easy to get noticed these days.
Westover said that Local Natives stressed to him and Keating that it's a different world now: Labels are less likely to invest in bands that aren't doing the leg work themselves.
"It takes more than a good song," Westover said.
The band hopes to continue its efforts after graduation. While Westover said he could easily go back home, to Mississippi, he would prefer to stay out here and continue the adventure with Keating.
_____________________________________________________________________________
Follow Ashlie Benson on Twitter: @ashlie_corina