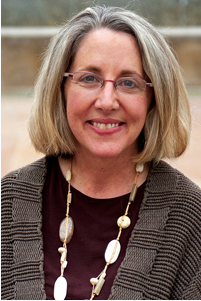 Connie Horton is stepping up and into a new role. The Office of Student Affairs has restructured its administration this academic year amidst expanding the roles and reach of the Student Affairs division across all schools. Mark Davis and the department have split his previous jobs as Dean of Students and the Vice President of Student Life for the whole university.
Davis said he will step away from many of his previous responsibilities. He said he will continue his role as the Dean of Students by focusing on revising student conduct policies and improving the response to non-academic grievances. Associate Dean of Students Sharon Beard will expand her role to lead the Department of Community Standards which creates university-wide policies for conduct, according to a letter Mark Davis wrote to the Student Affairs staff.
Horton said she will take over as vice president of Student Affairs, a position that involves providing leadership for non-academic experiences for Pepperdine students. Horton said she will directly oversee Student Departments such as HRL, the Counseling Center, Intercultural Affairs and Campus Recreation. She will also work with Davis, Beard, and the Student Affairs staff on Title IX Efforts, the Student Care Team and Transfer Student Support.
Davis said he has led the Student Affairs Division as Dean of Students since 2002. Since 2015, the division has started to centralize university policies across all five schools. Davis said that move has required him to take on bigger roles and to communicate across all of Pepperdine's campuses.
"Student conduct issues are becoming more complex," David said. "Student Affairs wants to make sure [issues] are being handled more professionally, more compassionately, and more fairly."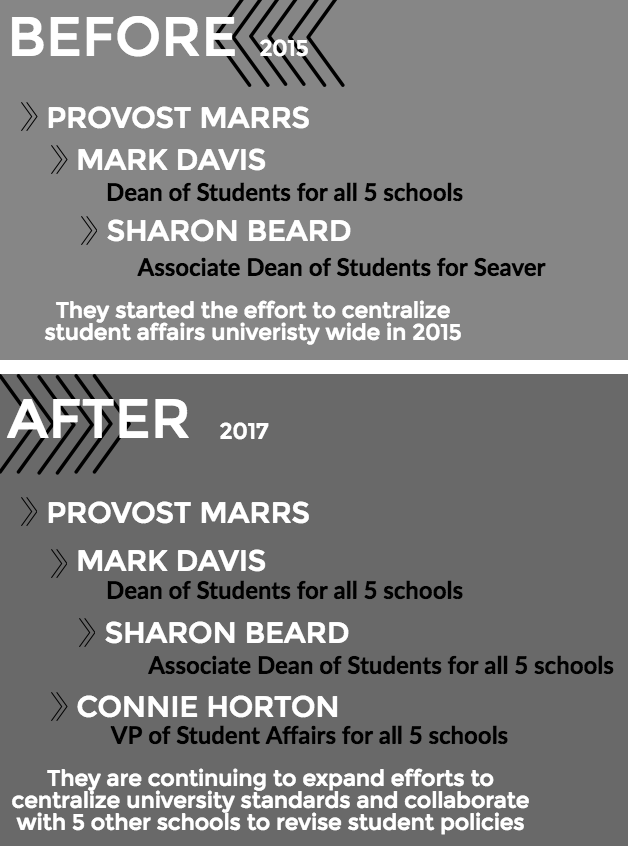 Davis said he wants to focus on engaging one-on-one with students through small groups and teaching Religion courses. But he said he is leaving his post as VP of Student Affairs position in good hands and thinks Horton is going to be "perfect" in her role.
"I've been working with Connie for 12 years," Davis said. "I know that she first and foremost loves God and loves students. Her faith informs her work and she genuinely cares about students."
Horton said she has worked as the associate vice president and senior director of Pepperdine's Counseling Center for the past 12 years and before that worked as a full-time faculty member at Illinois Wesleyan University for four years.
"I was ready for a new chapter and a new challenge," Horton said about taking on the new position.
She said her experiences have given her invaluable insights into the lives of Pepperdine students and an idea of the academic side of the student experience.
"I think I have a good sense of what some of the common stressors are for students [and] what resources and experiences help them be more resilient," Horton said.
While Horton will not be working with the Counseling Center as a clinician, she said she will continue to advocate for mental health concerns on campus. Horton also mentioned that Dr. Nivla Fitzpatrick will assume her previous role as Director of the Counseling Center.
"I think the psychology background really sits her in a place to look out for student development," Fitzpatrick said. "That wellness-minded perspective is something that's going to be super useful for her in her role which I think is a great advantage to students: to have somebody looking out for them in that way."
Horton said she looks forward to this year as a year of listening and discernment.
"As much as I feel like I have known my peer colleagues and have some familiarity with their departments, I recognize I have much to learn," Horton said. "I want to listen the directors and deans, their staff, and most importantly, students."
Correction: Horton has has been a counseling center director for a total of 16 years. She's been at Pepperdine for 12 of those years and at Illinois Wesleyan for four of those years. She was also a full-time faculty member at Illinois State University for 10 years before that.  
_____
Follow the Pepperdine Graphic on Twitter: @PeppGraphic