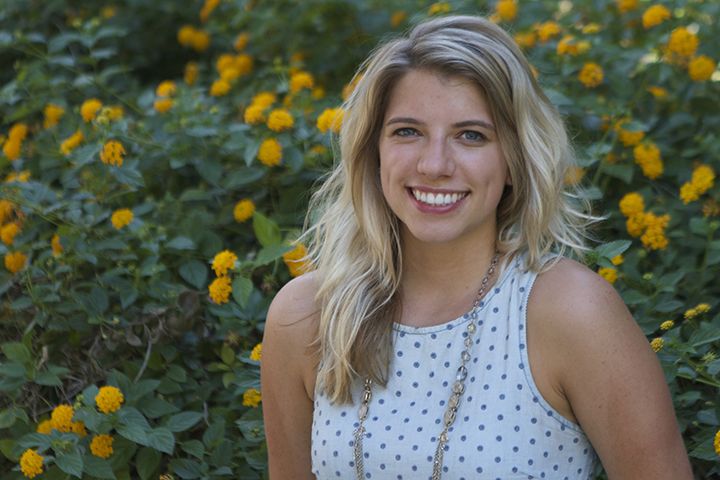 Maybe you've heard of it in passing, a wisp of charged conversation about this sorority or that one. It's possible a poster promoting Dessert Night or Yoga Night dominated a wall you sat near in the Plaza or the eye-catching symbols sewn onto various sweatshirts around campus caught your attention. No matter the medium, all declare the same message: Greek Life Recruitment season has arrived.
In my experience as a sorority member at Pepperdine, Recruitment can be translated differently depending on who you are. For chapter members, it means nightly discussions beyond 4 or 5 a.m. For potential members, it means a time of stress, intrigue, drama, thrills. For me, it's a lovely twisted combination of the two.
As the Panhellenic Head Recruitment Counselor, it is my job to know the ins and outs of the sorority Recruitment process. Many questions have been posed to me by peers and potential members alike. Some are innocent: What do I wear? Others invoke memories of my own Recruitment: How do I choose a chapter? Yet an inevitable few ignite chagrin: What does it take to get into a sorority? Is it based on looks?
Since only the women behind Recruitment fully know the mysteries surrounding it, I have decided to address the assumptions and stereotypes, which label the process as nothing more than a shallow means to make friends, in the most straightforward and honest way I know — a carefully crafted analogy.
Sorority Recruitment at Pepperdine, in the most graspable sense, is like speed dating. When you first walk into a Recruitment round, you are paired up with a face you barely know. The next five minutes are a whirlwind of words in which you cram your personality and quirks and accomplishments into brief answers. Suddenly, another person cuts into the story about your dog, so you start over at hello and where are you from. A resounding knock whisks you away to different sets of faces, now the night is over, and you must choose which lucky ones to give your number. Tomorrow may bring a second date, a deeper conversation; there are video montages and crafting. It's the final round and both parties make a decision whether or not to commit to an actual relationship. A letter is placed in your hand. You discover the chapter that felt a connection to you.
For those who believe Recruitment is a process filled with meaningless conversations, excessive make-up, high heels, hairspray and heartbreak, I applaud their omniscience. Make-up is typically worn, along with the occasional pair of high heels and mist of hairspray. Heartbreak can result.
However, the chemistry and anxiety felt by both the women in sororities and the potential members is as authentic as the connection you feel while on an amazing date.
In a sorority, it would be foolish to choose members without establishing relationships rooted in core values and honest connections.
As in all quality relationships, there will be times of joy, heartbreak, euphoria and frustration in a sorority.  When assessing the Recruitment process, look beyond preconceived judgements.
__________
Follow Katrina Kirsch on Twitter: @Katrina_Kirsch