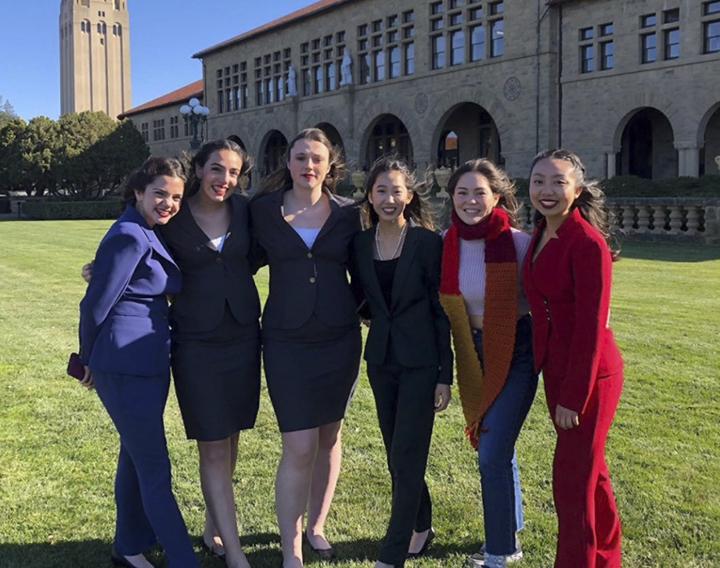 First-year Hana Kim (fourth from left) poses outside with her debate team at the 34th annual Stanford Invitational Speech and Debate tournament in early February. After giving an informational speech in high school, Kim said she was inspired to study international relations. Photo courtesy of Hana Kim
First-year Hana Kim is an International Studies major with an emphasis in political science from Orange County, California. Kim said she realized political science was something she wanted to pursue when researching for a speech competition her senior year of high school.
"There are so many international issues that nobody knows about or nobody cares to resolve," Kim said. "There's a lot of tension in many countries, but people overlook that."
Kim said she was president of her high school's Speech and Debate Club when an informational speech she gave inspired her to study international relations. Her topic was about the Japanese imperialism of Korea.
"I was learning about this international conflict that I had no idea about even though it was such a huge event in world history." Kim said. "This was also where my ancestors are from and where my family is from, and I had no idea."
Kim said her dream job would be to work as either a United Nations ambassador or an ambassador for the U.S., settling international issues similar to those between Korea and Japan.
"I decided there are so many of these conflicts that are unresolved in this world," Kim said. "If I can help resolve or be a part of the solution in any way I want to be able to do that."
As an International Studies major, Kim said her high school advisers strongly recommended that she study abroad. This recommendation led her to Pepperdine.
"I would love to study abroad in Korea, but IP doesn't have a study abroad in Korea, unfortunately," Kim said.
Kim said she chose the D.C. + London Program because it fit her academic plan the best. She is planning to graduate in three years and found that London's classes satisfied her requirements. In addition to International Programs, Kim said she is also applying for the Global Fellows Program.
"It's really good for those who want to go into positions of leadership, whether it be in politics or business," Kim said.
In addition to the Global Fellows program, Kim said she wants to take part in Pepperdine's Model United Nations and some cultural clubs at Pepperdine. She is also planning to join the business fraternity Alpha Kappa Psi when on campus.
"I'm ready to be on campus, and when I'm on campus, I just want to have fun," Kim said. "I haven't been to the beach for so long."
While this first semester was not what she was expecting, Kim said she has enjoyed being home with her family.
"Being home has given me a lot of time to self-reflect and to spiritually grow," Kim said.
Kim said her main goal for her time at Pepperdine is to enjoy college to the fullest extent.
"I don't want to have any regrets," Kim said. "I want to take the classes that I want and still graduate in three years and be as involved on campus as I can. I don't want to miss any more of my college experience."
___________________
Follow the Graphic on Twitter: @PeppGraphic
Email Samantha Torre: sam.torre@pepperdine.edu