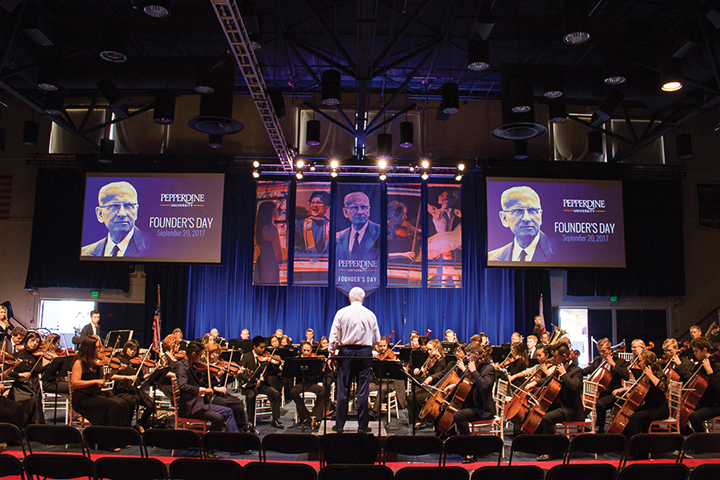 Photos by Brandon Grinovich
Pepperdine's 80th annual Founder's Day celebration called on students, past and present, to remember the foundation on which our university is built.
"Age 80 is surely a good time for reflection," President Andrew K. Benton said in his address. "In their lives of goodness, rightness and even oughtness our students touch the face of God. In every good deed. In every achievement and accomplishment that makes this world better, and more reflective of being guided by the hand of God."
Students, faculty and alumni gathered in Firestone Fieldhouse on Wednesday for the annual event, which included an academic processional march, a performance of the national anthem by Pepperdine Symphony Orchestra and University Concert Choir and a "Year in Review" video presentation that highlighted notable moments consistent with George Pepperdine's honorable mission.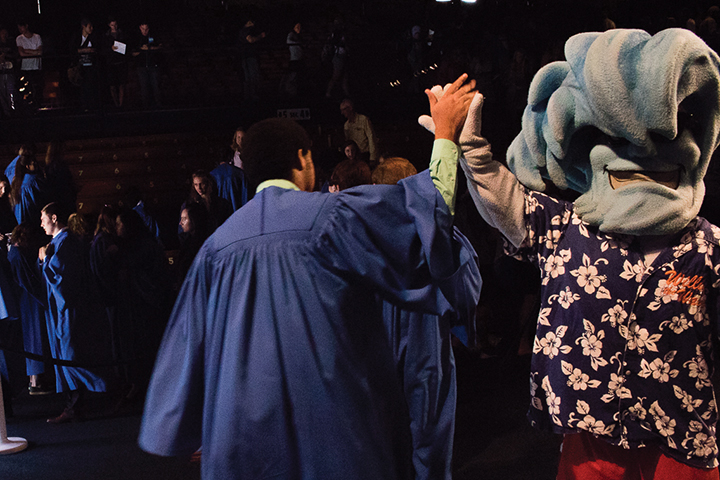 Provost Rick Marrs delivered the welcome address and honored George Pepperdine's enduring legacy by echoing his call for students to lead lives that are of service to the common good.
"One way to think about education is what you're going to get out of it personally," Marrs said. "I would say the George Pepperdine vision, which I buy into completely, is to think not so much in terms of 'What am I going to get out of my education?' but 'How am I going to use that as a blessing from God to benefit other people?'"
Daniel A. Rodriguez, dean of the Religion and Philosophy Division, delivered the invocation and asked for continued guidance in preparing Pepperdine students to become peacemakers and visionaries.
"[George Pepperdine's] vision for the school reminds me that we're not just giving students skills or knowledge, we're actually participating with God in the formation of people," Rodriguez said. "So I tell my students, there's an important question that I know you're asking, and that is, you know, "What am I gonna do 10 years from now?' and that's an important question, but a more important question is, 'Well, what kind of person do you want to be ten years from now?'"
Following a a reading of George Pepperdine's 1937 dedicatory address by Helen Easterling Williams, dean of the Graduate School of Education and Psychology, Benton delivered a speech encouraging reflection and continued spiritual growth.
Freshman IMC major April Coffie left the auditorium in high spirits. She said the ceremony left her with a sense of unity amongst the Pepperdine community.
"I think its really important because it kinda like unites you — I guess you really feel like oh, OK, this is my school," Coffie said.
The ceremony concluded with the deliverance of the benediction and the fight song.
"Typically around here when we refer to 'the mission' we mean being a Christian university, being faith-based. The way some people put that is 'holistic,' that you're not only educating the mind but you're also educating the heart. And so really Founder's Day is an opportunity to come together and celebrate the essence or the genius of Pepperdine," Marrs said.
_____
Follow the Pepperdine Graphic on Twitter: @PeppGraphic