Photo Courtesy of Dylan Sacenti
Junior Dylan Sacenti filled the Junior Class President vacancy by swearing into office at the SGA meeting Jan. 18.
Sacenti served as a senator sophomore year and will be rejoining SGA this spring semester. Junior Class Senator Andrew Lozano said two of the three junior class senators have worked with Sacenti on SGA in the past.
Sacenti said former Junior Class President Scott Hutchins reached out to him during the fall semester to tell him he would be taking the spring semester off and would like him to fill his vacancy in the Senate.
As stated in the SGA constitution, nominations are brought to the floor and voted by the SGA senate after a brief introduction by the nominee to the senate, Lozano said.
"Dylan served as a senator for the sophomore class last year and was an incredibly active member of the senate," Lozano said. "He pushed for initiatives such as extending Waves Café hours and introducing graduation stoles."
Sacenti was nominated to fill the position by Junior Class Senator Nathanael Robinson on Jan. 11. Sacenti came in to introduce himself and was voted into office by the SGA committee on Jan. 18.
"I would love to work again for SGA because I'm so passionate about Pepperdine," Sacenti said. "I really do love it and I have this respect to work with administration on areas of campus where students are lacking in or not so happy."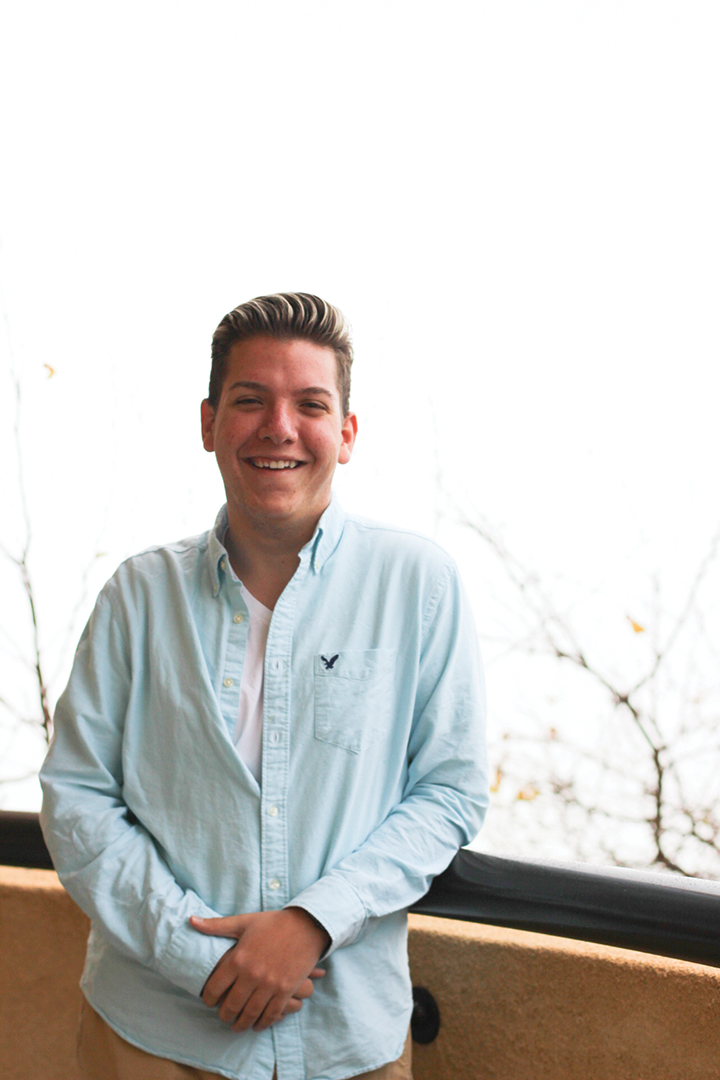 Photo by Terra Atwood
Sacenti said Hutchins filled him in on what's been happening in SGA this year and the rest has been a smooth transition.
"Beginning in the fall, the junior senate adopted the Vision, Unity, Action initiative to promote cultural diversity on campus and encourage students to come together as one student body," Lozano said. "Each of us intends to push for existing SGA initiatives and seek out new opportunities for student advocacy."
Sacenti said the junior senate passed a resolution to promote unity on campus in the fall and plans on working with the diversity and inclusion aspect this semester.
"Our campus culture is full of divisions and it's so important that we, at Seaver College, come together in times of stride and times of emotional stress," Sacenti said. "We have large groups of students feeling as if their voices are not being heard and it is our mission to reaffirm that they belong and that we are listening."
As part of the LGBTQ+ community, Sacenti said the mission of belonging and unity resounds deeply with him.
"It really pains me when people say they don't enjoy their time here as much when we can do things about it to make it better," Sacenti said.
In addition to his involvement with the LGBTQ+ community, Sacenti said he has been a TA for a General Chemistry and Organic Chemistry lab, a New Student Orientation leader, on the staff for Relay for Life, a director for the group Eta Theta Tau, Vice President of Chemistry Club, and a part of Songfest Leadership.
"Dylan is very passionate and cares about the campus," Senior Austin Welch, vice president of administration, said. "He's looking for a change on the campus."
Last year, Sacenti worked on combining printer points and meal points because he didn't see the necessity of having them separate. Sacenti said he has this respect to work with administration on areas of campus where students are lacking in or not so happy.
"Dylan brings not only the passion and dedication that are vital to any SGA member, but a contagious enthusiasm about the work we have the privilege of doing on SGA," Lozano said.
__________
Follow the Graphic on Twitter: @peppgraphic