Derina Harvey Band performs at Pepperdine's Smothers Theatre. Left to right: Scott Greene as lead guitarist, Steve Pinset as drummer, Derina Harvey as front-woman, Jess Blenis on fiddle and Edward Smith on bass. | Photo by Caitlin Roark
Canadian Celtic rock group Derina Harvey Band brought a vibrant performance to Smothers Theatre on Jan 17.
"I'd say at first I really loved the main girl, Derina Harvey — I really liked her personality," freshman Caroline Conder said. "When she first came on stage, I don't even remember what she said, but she was very outgoing and bubbly and very fun, so she really caught my attention."
Currently on its United States tour, Derina Harvey Band became wildly popular when it released its first album in 2013. Following the debut of its 2016 album, "Rove and Go," the band gained recognition and brought more fans to the Celtic rock scene. With powerhouse voices and strong instrumental soloists, Derina Harvey Band kicked off the spring season for the Lisa Smith Wengler Center for the Arts 2020 lineup.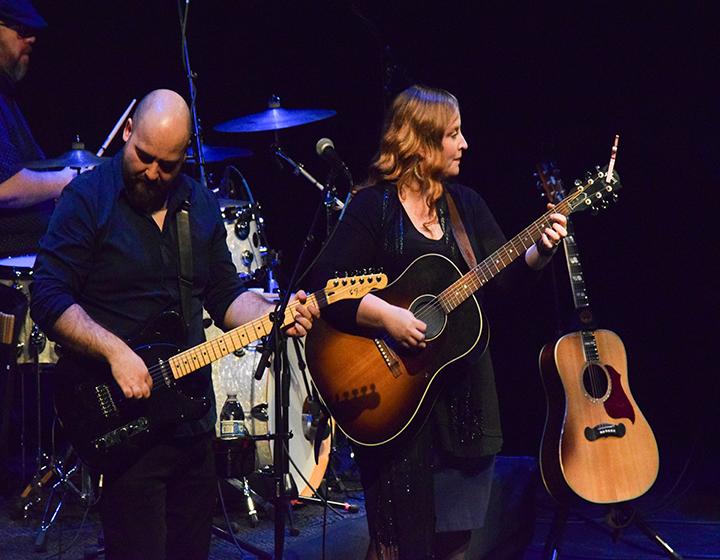 Front woman, Derina Harvey, and lead guitarist, Scott Greene perform in Smothers Theatre. | Photo by Caitlin Roark
Conder, a photographer for the Center for the Arts, said she has attended one previous show hosted in Smothers Theatre but was surprised by how much she enjoyed this performance.
"I think it'd be really cool if they added some younger alternative artists; that's the sort of music I listen to," Conder said. "I think if they added more younger, up-and-coming bands that are geared toward college-aged people, I think a lot of Pepperdine students would go."
Derina Harvey Band is just one of many artists that the Lisa Smith Wengler Center for the Arts has in store for the spring season. With performances ranging from bluegrass to jazz, dance to screen work, the Center for the Arts annually announces an extensive list of artists to share their craft with the Pepperdine community.
Rebecca Carson, managing director of the Lisa Smith Wengler Center for the Arts, gave insight into the selection of artists that appear in the Center for the Arts season.
"We present about 30 shows a year," Carson said, "I try to book a mix of different types of disciplines and performances so dance, music, theater, have shows for kids and adults … and just generally try to expose people to different types of art and bring them right here to campus."
Carson spoke about the importance of seeking different types of performances.
"We are always looking for … performances good for people to bring their young children and their families to," Carson said. "Sometimes things don't fit a typical box, but I look at that and say, 'Oh, that looks really interesting and we could try that out and see how that goes.'"
In addition to bringing performances to Pepperdine students specifically, the Center for the Arts serves about 50,000 people per year, expanding from the university to the local community, Carson said.
Carson said the role of the Center for the Arts is to strengthen the relationship between the internal Pepperdine community and the greater Malibu community.
"We like to see ourselves as helping build a connection between the campus community and the outside community," Carson said. "So, if we can get people with families to come here to Pepperdine, that's a great way for us to build a bridge and build relationships with people from outside the university community and help connect them with what we do here at Pepperdine."
Freshman Drew Barker said he attended the fall musical "Ragtime" and looks forward to seeing the Center for the Arts' future shows.
"It'd be great for students to spend weekends at the Center for the Arts, and I think it's definitely an under-appreciated thing for students to go to," Barker said. "It's definitely good to explore."
FLIP Fabrique will be coming to Smothers Theatre on Feb. 6. Additional upcoming performances include improvisational comedians Colin Mochrie and Brad Sherwood, who will be making a stop on their Scared Scriptless Tour in late March.
Check out the Lisa Smith Wengler Center for the Arts website for a full list of artists coming to campus this upcoming season.
_______________________
Email Lauren Chivers: lauren.chivers@pepperdine.edu