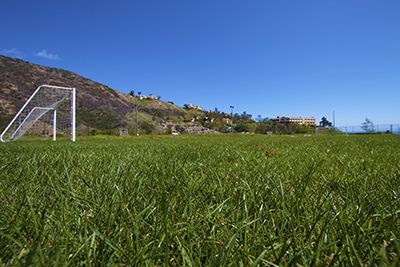 Photo by Marisa Padilla
Landscaping Services workers Juan Cueto Hernandez and Ignacio Alamillo were talking together on May 10, 2011, like they did every day. When the two became work partners, they developed a close friendship. Cueto teased Alamillo about the day's midday soccer pickup match at the lacrosse field, a tradition between landscape workers. Alamillo wasn't intending to play because he was injured and had hip pain when walking. After Cueto insisted and begged, Alamillo caved, and he agreed to kick the ball around for a few minutes — the lunch soccer games last for about an hour.
After discussing what would take place after the match — Cueto told Alamillo he was going to go pick up some plants for landscaping — the soccer game was underway.
A few minutes in, Cueto yelled out for Alamillo to pass him the ball, but then he suddenly collapsed and fell backward. Alamillo and the other players ran to his side, thinking he had a misstep and hurt his ankle.
He didn't. Cueto died a few moments later. The fire department and DPS arrived to try to resuscitate him, but they were unsuccessful in their efforts. Cueto was gone.
The Student Government Association passed a resolution March 26 to build a bench in the lacrosse field honoring Cueto.
The homage should be finished by the end of the semester, according to Manager of Landscape and Irrigation Larry Pickell.
The seven-point SGA resolution outlined the impact placing a bench would have: It would increase the awareness and appreciation of the Facilities Management and Planning staff, and it would have a positive effect on current landscapers in SGA's expression of support and appreciation toward the bench honoring Cueto.
"The resolution is about getting recognition and awareness and appreciation toward a group on campus that sometimes isn't recognized as much as it should be because it keeps the campus beautiful," senior SGA Senator and author of the resolution Juan Larios said.
After reading a news article in which Pepperdine was ranked as one of America's most beautiful college campuses, Larios thought about Cueto's situation and how a bench would be a good idea to show appreciation through SGA, which according to him is the voice of the student population.
"I really think it's more about remembering Mr. Hernandez who passed away, but also letting landscapers who are currently here know that we appreciate them for everything they do," Larios said.
After discussing with one of his friends what resolutions might impact the student body as a whole, Larios was notified of Cueto's situation. Larios than conducted some research, finding a Graphic article dated May 11, 2011, that reported on Cueto's death. He then talked to the landscapers about a possible way of honoring Cueto and took the resolution to SGA where it was agreed to unanimously.
Pickell said the areas in which the concrete will be poured have already been dug, and that the idea of honoring Cueto has been in the works for a while.
"When I got here, Ignacio and the guys told me about it," Pickell said. "It's been sitting for a while and we're trying to get it revised and get it going again."
The benches will be placed on the sidelines with the intention of serving as a resting spot for anyone who uses the field as well as to keep the landscape workers' equipment and personal belongings clean, according to Pickell.
"Thank God they're trying to honor him with the bench. That's what I would want — a memory of his life and what kind of a person he was: hard working, humble and responsible," Alamillo said.
Alamillo said the bench is a good idea since several landscape workers were hoping for some sort of way to honor Cueto and that they would be willing to help with the placing of the bench even if it meant coming to Pepperdine during the weekend.
According to Pickell, the only thing missing to proceed with the placing of the bench is a concrete quote and approval on the plaques. The process of digging a hole, pouring concrete and setting the bench will take approximately one week. Students expressed varying opinions.
"I think sometimes we just pass by benches," freshman Morgan Blayney said. "It's not like we're going to notice it or read the plaque too often; I probably would never notice a bench."
But sophomore Alexis Duncan disagreed.
"It's a very traditional way to honor someone … We appreciate everything that they do; it's not taken for granted. In order to keep this campus gorgeous and pristine and the way it is now, their work is valued," Duncan said.
A space six inches deep and 12 to 14 feet long into which concrete for the bench will be poured needs to be dug. The bench has already been donated by the university and is ready and in storage. Cueto's name will be placed on the front part of the bench.
"He was like a brother to me"
The game that provides joy to millions gave Alamillo a scarring experience that day, he said.
"I kept yelling at him, telling him to come back. But he didn't. He just stayed there," Alamillo said. "He and I were best of friends, he was like a brother to me … what happened was very hard, very difficult for me. I think back to it, and it hurts. I try not to think about it because every time I do, I realize that I saw him die. I saw him go away."
Cueto's brother, Ernesto Cueto, also works in Landscaping Services. It was Alamillo's job to notify him of his brother's passing. "It was really harsh, really difficult. Sometimes I don't understand why that happened to him if he was a good person," Alamillo said.
Ernesto Cueto declined to comment.
Alamillo, who has been working at Pepperdine for 27 years, said this would have been Cueto's 20th year on the job. "Every time I go to the field I make the sign of the cross and remember him," he said. "Sometimes I laugh, sometimes it's sad for me."
After Cueto passed away, Alamillo and the other workers who witnessed his death were given psychological counseling, paid for by the university. Alamillo said talking to a psychologist really helped him cope with Cueto's death and that the event even took a physical toll on him.
"I had to go to the hospital right after his death because I needed therapy," he said. "At first I didn't want to accept it but then I realized that life is like that. You have to move on. I learned that you need to thank God for your health and your family."
A Memorial of Recognition
Larios said he believes landscape workers at Pepperdine don't receive the credit they deserve. The bench for Cueto could be a step in the right direction by providing a spot that reminds students, faculty and staff of the hours that the Pepperdine landscapers clock in, often behind-the-scenes.
Blayney said some landscape workers are hidden from the view of the students. "I think we have a beautiful campus and in order to have that beautiful campus we need these workers. And I personally haven't seen them too often, so I can't really thank them," Blayney said.
Larios said the Pepperdine community does not show enough gratitude to those who help the university but aren't usually recognized.
"We should be more appreciative of what we have and not further marginalize a group on campus because you refuse to acknowledge them as a part of the Pepperdine community … [they need] more awareness, more appreciation, more recognition."
Editor's Note: The quotes said by Ignacio Alamillo have been translated from Spanish into English by the reporter of the story.
_____________________________________________________________________________

Follow Ricardo Avila Alvarez on Twitter: @RAvila27