Graphic by Ali Levens
Following the NCAA's March 12 cancellation of the winter and spring sports seasons to prevent the spread of COVID-19, prospective Pepperdine athletes for its 17 teams are among some of those in concern.
On March 18, the NCAA Division 1 council leadership instituted mandates that bar recruits from meeting coaches in-person until April 15 at the earliest. Coaches and athletes are allowed to communicate via phone and writing.
"[Transfers are] looking … and recruits [are] asking questions," Men's Volleyball Head Coach David Hunt said. "The tough part is we don't have enough answers right now."
Recruitment communication has not suffered a large blow for the Women's Tennis and Men's Volleyball teams, as they are already in contact or have signed their prospects. Women's Volleyball Head Coach Scott Wong said he is thankful for the extra time he has to talk with his junior and senior recruits.
The mostly unaffected process precedes the Collegiate Commissioners' Association suspension of National Letter of Intent signings and prospect financial aid agreements until April 15.
While Wong recruits and plans ahead, he said it is challenging to communicate and show interest in the sophomores, his "biggest priority class." Coaches are not allowed to reach out to recruits at this age, so the only way to network is to host a camp — which may happen in the summer — or watch them at a tournament, which is not possible at this time.
On the other hand, Men's Tennis Head Coach Adam Schaechterle has enjoyed the break in recruitment since the "whirlwind of … bringing in 10 guys over 18 months." This season was only his second, so he built his team from scratch in less than two years.
"We feel really confident in the core pieces that we have assembled now," Schaechterle said. "We've been able to be a lot pickier about how we recruit. Our recruiting cycle hasn't been greatly disrupted by [COVID-19] because that was sort of the mode that we had already entered."
Although the uncertainty may be challenging, the goal of the coaching staff is to keep the recruits informed of the culture of the Malibu campus.
"We're just trying to be letting them know how Pepperdine has helped our athletes," Women's Tennis Head Coach Per Nilsson said, "and what's going on here, and we're trying to. I'm trying to give them the info that they might need."
Most prospective athletes do not need to visit Pepperdine since they are already aware of the landscape and beauty, Hunt said. Instead, he focuses on harboring a connection of trust between the faculty and the students.
To keep the communication flowing, Wong and his nine-year-old daughter plan to make "virtual camps on the different skills" as a recruitment tool and for community service.
Hunt added that Athletics had a "trial run" during the Woolsey Fire era in November 2018, making this transition into remote work "seamless" with the implementation of Zoom and cloud-based storage.
A common thread of concern between coaches is not recruitment but what will happen regarding the seniors and remainder of the seasons.
"We're a little bit in a holding pattern, I guess," Nilsson said. "They want to know what the whole game is going to be like. There's a bunch of different scenarios."
The NCAA Division 1 Council voted March 30 to extend eligibility to spring sport athletes by granting them an additional season. Financial aid rules were adjusted to accommodate more scholarship athletes.
These rulings may have major consequences on the programs and have created a longing to be with their teams.
"Those guys have become sort of an extension of my family," Schaechterle said, "so it's odd not being on the court with them."
Among many withstanding questions, Nilsson looks to positivity for his athletes who had their season canceled.
"Tennis players almost never, ever take real time off from the sport," Nilsson said. "I think this break is healthy for them. They can heal up both mentally and physically, and also if someone has played for a long time, they might get that desire back to really work hard."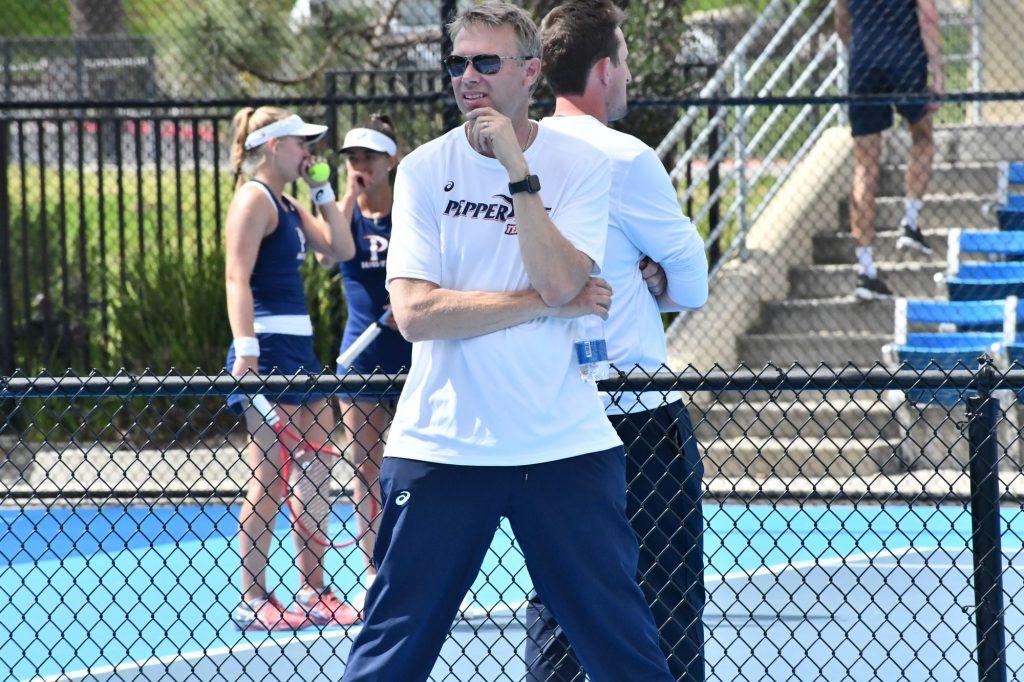 Schaechterle said he misses the one-on-one development with his players but is thankful to have a "huge bright spot" of spending time with his wife and kids.
Wong keeps an optimistic look on the situation by comparing the non-controllable factors of not having practice with the controllable factors of attitude and time investments. He said he also looks forward to spending more time with his two daughters at home.
"The one thing that we're really trying hard to do with our team is to stay connected," Wong said. "It's hard to stay connected if you're physically not connected, but I think we're trying hard to be socially, emotionally connected to each other."
_____________________________
Follow the Graphic on Twitter: @PeppGraphic
Contact Ali Levens: ali.levens@pepperdine.edu