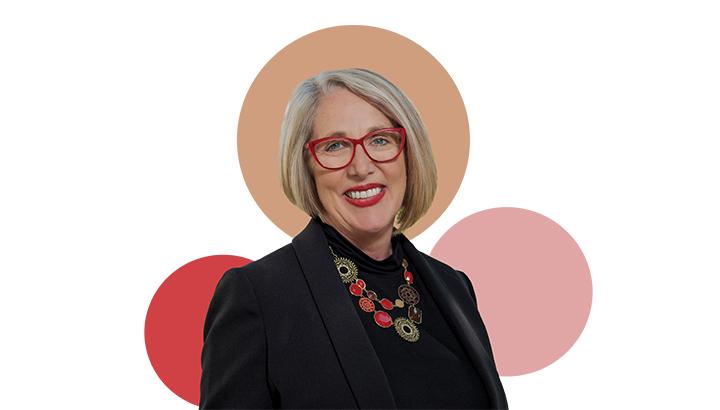 Photo by Milan Loiacono | Design by Logan Wood 
When Pepperdine administrators face important decisions, Connie Horton is often one of the only female leaders in the room.
As vice president for Student Affairs since 2017, Horton oversees a variety of departments such as Housing and Residence Life, Student Activities and Campus Recreation. She is a key decision maker, and being one of the few female voices in upper administration has brought subtle challenges.
"It's hard to explain them," Horton said. "There are things, like, I'll go into a meeting where I'm the only woman. Although I've been treated quite well, it is interesting, and I remember being struck by that pretty early on."
Having been connected to the Pepperdine community since she was an undergraduate four decades ago, Horton has seen progress, but she would like to see more women in leadership roles.
"I appreciate my male colleagues," Horton wrote in a follow-up email. "… I do long for the day when it is more like 50/50 in gender split in leadership."
Horton believes that women must overcome not only external sexism but also internal sexism. Men can be 50% qualified for a job and still feel confident, but women can be 99% qualified for a job and still doubt themselves, she said.
"Women [need to] recognize when they are doubting themselves more than they need to and [not] … doubt that they are qualified," Horton said.
Horton, who was born in New Mexico and raised in Sacramento, said her mother was and continues to be her role model. Growing up, they both embraced the women's movement of the '60s and '70s.
"There was this idea that women can do anything," Horton said. "My mom was very big on this."
Inspired by this, Horton earned her bachelor's degree in psychology from Seaver College in 1982. She returned to the university in 2005 as director of the Counseling Center.
Throughout her time at Pepperdine, she has had many female mentors, including Nancy Magnusson Durham, the former vice president of planning, information and technology.
Horton respected Durham's guidance and admired her for being one of the few women leaders on campus. But she has seen female leaders at all levels.
"Just like we have some female leaders at the university level, we have some amazing [female] students who are doing great leadership," Horton said. "But I wonder [what] … we, as an administration, faculty and student body, could do to encourage everyone to feel like they can live into their abilities and gifts."
_______________________
Follow Currents Magazine on Twitter: @PeppCurrents
Email Gianni Cocchella: gianni.cocchella@pepperdine.edu