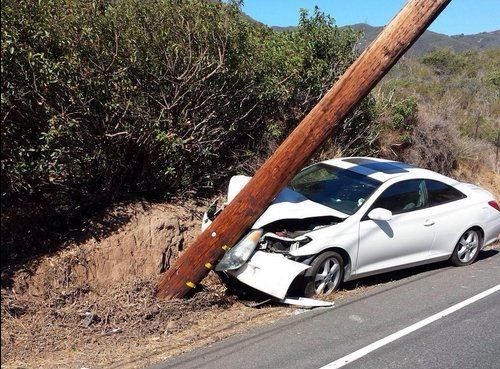 Photo Courtesy of Malibu Search and Rescue
A car struck a power pole on Malibu Canyon Road around 7:30 a.m., causing power outages and road closures. Malibu Canyon Road is expected to be closed until at least 10 p.m. tonight., according to an LASD news release.
Several traffic signals were out along PCH including Crosscreek, Webb Way, Malibu Pier and the 22600 block as a result of the accident. They have since been repaired. Major traffic delays are expected and drivers are being instructed to avoid the area. 
Malibu Canyon Road is closed in both directions from Piuma Canyon Road to PCH until repairs are completed, according to the Los Angeles County Department of Public Works. The Los Angeles Sheriff's Department is on scene assisting with traffic congestion.
Power was restored to Pepperdine's Malibu campus around 11 a.m., according to Pepperdine's public relations office.
The driver is believed to have minor injuries and there were no fatalities, according to the Malibu/Lost Hills Sheriff's station.
Edison and Caltrans are working on restoring power and replacing the downed power line. Southern California Edison's first response team has completed initial repairs, however repairs may be delayed due to additional SCE personnel being needed.
__________
Follow Whitney Irick on Twitter: @Whit_Ashton