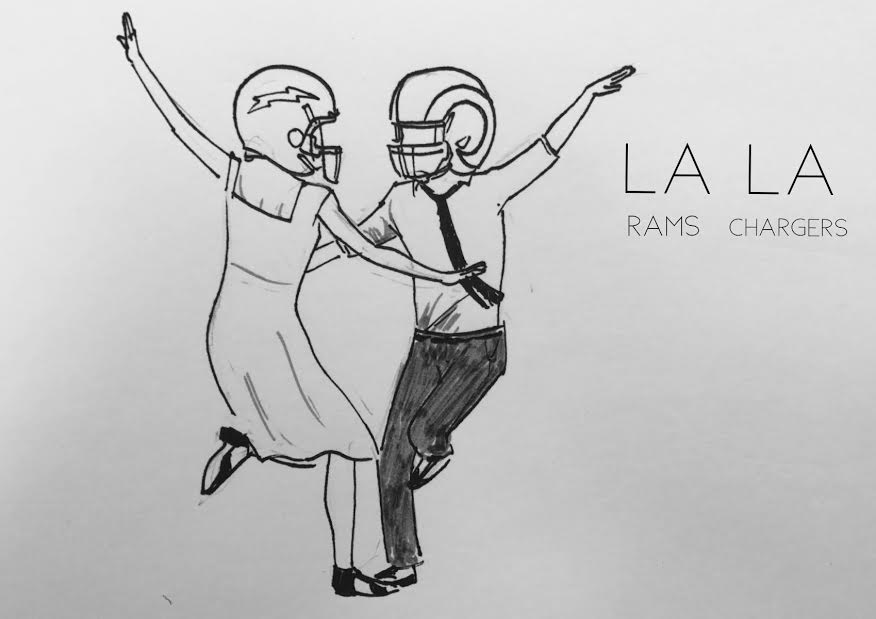 Art by Peau Porotesano
In a move that probably didn't shock most people who've been paying attention to the NFL, the San Diego Chargers have recently began packing their bags for Los Angeles. The move has been roundly criticized by NFL owners, the media and of course, San Diego's fanbase. People have even attacked their new (and quickly abandoned) logo.
Pepperdine's community was not immune to the hard feelings shown toward the zombie Chargers. Matt Sugar, a Pepperdine alumnus ('15) and a die-hard Charger fan from San Diego, said he hasn't decided whether to support his old team after the relocation, partially due to his dislike of team owner Dean Spanos.
"I was initially going to try to support the Chargers, but a lot of things came out about the owner of the team, and how he actually was getting support from the NFL and the city to get a new stadium in San Diego, and he was just greedy and tried to move his team to LA to try to get the market, and make more money," Sugar said. "So instead of keeping the Chargers with their home in San Diego, he decided to make more money in LA. So I don't really want to support or buy tickets for his team, when all he cared about is money, but on the other hand, that is the NFL."
Shane Bryant, a senior who spent most of his childhood in San Diego, isn't a Chargers fan (he roots for the Jaguars), but said he still has strongly negative feelings toward the move, since he believes Los Angeles won't even pay attention to their new franchise.
"I think it's a terrible decision. The way I see it is, they're moving into a city with two existing fanbases, because the Rams obviously just moved back, but they were in LA before, and a lot of people, like my dad, were LA Rams fans before they moved to St. Louis," Bryant said. "There's also still a lot of Raiders fans in LA; If you ever fly between LA and Oakland on a Sunday, you'll see a lot of Raider fans. So I really struggle to see how the Chargers are going to gain a strong fanbase, when there's already two existing fanbases in the area."
One of the reasons the Chargers left San Diego was due to the city not passing a measure that would've publicly funded a new arena. San Diego native and Pepperdine alumnus Chris Hostetler ('16) said that the city was smart for not passing the bill, since the Chargers didn't give citizens many reasons to give Spanos their tax dollars.
"When a person who's worth $1.2 billion (Editor's Note: according to Forbes, the family is actually worth double that) is asking the city to front hundreds of millions of dollars instead of just paying the lion's share himself, it's very difficult for us as a people to be like, 'this is definitely going to help us out,'" Hostetler said. "Especially after move after move that they did as an organization backfired. From draft picks, to trades, to signing of free agents, a lot of the things they did failed to improve the team. So over time, it became much more, 'I don't want to be paying for something if you're not going be able to invest back into the city, or even invest back in the team.'"
Many of the people interviewed agreed that the Chargers would have a rough time finding new fans in Los Angeles. Rudy Gonzalez, a junior at Pepperdine who's lived in the LA area his entire life, said he believes there are not many neutral football fans left in the city to court.
"Everyone that I know in LA is either a Raiders, Rams, or Cowboys fan," Gonzalez said. "If the [Chargers] do well in the first year, they might switch. If not, they might end up like the Rams, where a whole bunch of people jump on the bandwagon and then fall off as the year progresses."
Sugar said he thinks the Chargers have signed up to play second fiddle to Los Angeles' other new NFL franchise.
"The fact that the Rams have already been here and set up a base, and that L.A. has still quite a few Oakland Raider fans, I think the Chargers are not going to succeed as well as they think they are," Sugar said. "They're going to the Jets of L.A. They're going to be the Clippers to the Lakers."
Unfortunately for Spanos, even if the Los Angeles move becomes a complete disaster, Hostetler said he firmly believes there's no returning to their previous home.
"I don't think he'll ever be able to bring them back. [Spanos has] finally burned the city so hard, that they don't want them back," Hostetler said.
______________________
Follow Jackson Hogan on Twitter: @JacksonHogan