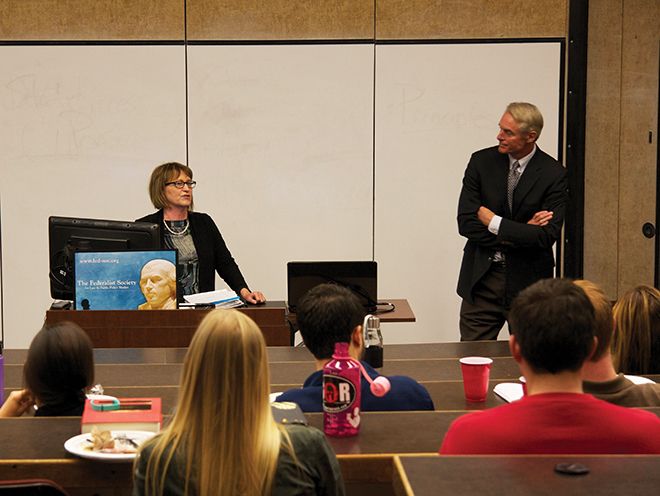 Photos by Sylvia Hartley
Pepperdine's School of Law Federalist Society hosted a discussion on Tuesday concerning the topic of concealing and carrying a weapon on campus with featured speaker Sandra Froman, former president of the National Rifle Association (NRA).
Law professor Barry McDonald also spoke. Students who attended the event were able to engage in a discussion about the topic.
Froman is a board member of the NRA, an attorney practicing private civil law, full-time law professor, Harvard Law graduate, gun collector, hunter and Second Amendment activist.
The Federalist Society is a policy and law organization. There are three different chapters: student, lawyer and faculty chapters. The Federalist Society brings in speakers from around the United States and there are typically 9 to 10 speakers a year. They also provide an alternative stance to issues by bringing in faculty members to come in and comment, according to President of the Fedearlist Society Courtney Devney.
There are 25 to 30 universities that allow students with a permit to conceal and carry a gun on campus, with the exception of carrying in residence halls, according to From an.
Schools are legally allowed to ban handguns on campus, Froman said. "If someone comes in shooting how long would it take for police to come in?" Froman said. "Not enough time to save everyone."
Froman explained that a great deal can happen in the time span that it would take for law enforcement to arrive on the scene.
"You are not first responders but instant responders," Froman said. "We are to deal with the threat until police come by."
Devney said seconds matter while the police are on their way. She also said minutes can be the difference between life and death.
Froman said it doesn't matter whether someone is mentally ill or an evil person, if one sees a sign that depicts that guns are not permitted on certain premises, people who have the intention to kill will not be deterred by such a sign or law.
"[Schools] are not treated like airports with metal detectors," Froman said. "Those who ignore the signs are those who want to deal death and destruction."
Froman also discussed the movie theater shooting in Aurora, Colorado.
The shooter chose the specific movie theater because it was the only movie theater around that did not allow guns on the premises, Froman said.
Most of the time the Federalist Society chooses professors who have a view that is opposed to the guest speakers, according to Devney. But McDonald was in agreement with Froman's conclusion that this issue is an issue that is best left to the policymakers.
First-year law student Phillip Denny weighed in on the discussion. "I thought it was interesting in the end that they both kind of agreed that it's up to the policymakers to make the decisions, as opposed to a true constitutional analysis, which I was kind of disappointed about," Denny said.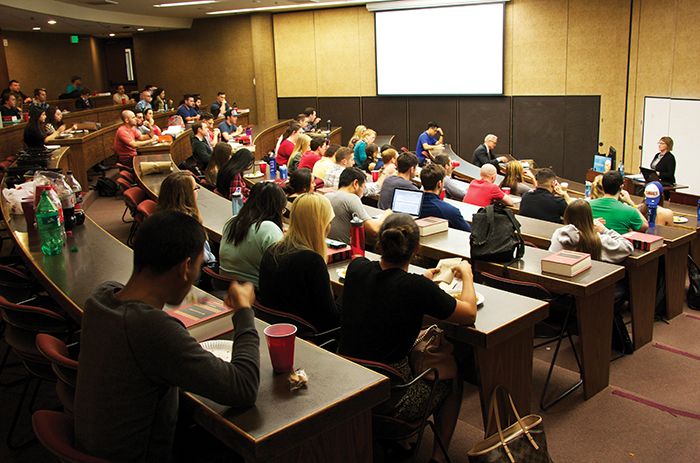 McDonald said it is probably a good thing for students or staff to be armed, but it will depend on the training. Additionally, he asked if the benefits exceeded the cost for faculty and staff to carry on campus.
Froman said she believed everyone should receive training.
"If you buy a $350 gun, then you should get $350 worth of training," Froman said.
Second-year law student and Army Infantry veteran Andrew Goldsmith, had his concerns for the training and thoughts on the benefits and costs of concealing and carrying a gun on campus.
"As a veteran, I would be hesitant at the training involved with the people with firearms because in armed services where there is heavy amounts of training, accidents still happen and people get shot that should not have been shot," Goldsmith said. "I would be a little hesitant about how stringent these trainings are."
Goldsmith said his concern is knowing that a student is armed may discourage intellectual conversation from other students.
"It might not be a direct thing but it might be subtle, knowing that someone who is already in a position contrary to yours and is armed might make you more hesitant to raise those issues," Goldsmith said.
Goldsmith said there shouldn't be any fear because this is an intellectual environment where people should not be afraid to make mistakes. He said they should be perfectly willing to argue their positions no matter where they lie.
"Personally, I see that there is some value in students being armed in the event of a mass shooting, but I don't think the costs outweigh the benefits overall, because it is going to stifle intellectual conversation," Goldsmith said.
Another subject that arose was the issue of whether or not students can trust one another using a firearm properly and safely.
"Why should I be deprived of the right to protect myself if one person has a bad temper?" Froman said.
Froman said the issue with the mentally ill is also separate from the gun issue. She said people with training are responsible.
Froman said those who would abuse a conceal-and-carry permit to channel one's anger and intentionally harm someone would not even bother going through the process to attain a permit.
Another issue that arose is the possibility of accidents. McDonald said there is also partying, drinking and drugs on college campuses and that such factors would lead to accidental harm through the use of a firearm.
"Professor McDonald's point about accidents is relevant," Denny said. "[This is something] that she kind of glossed over in her presentation."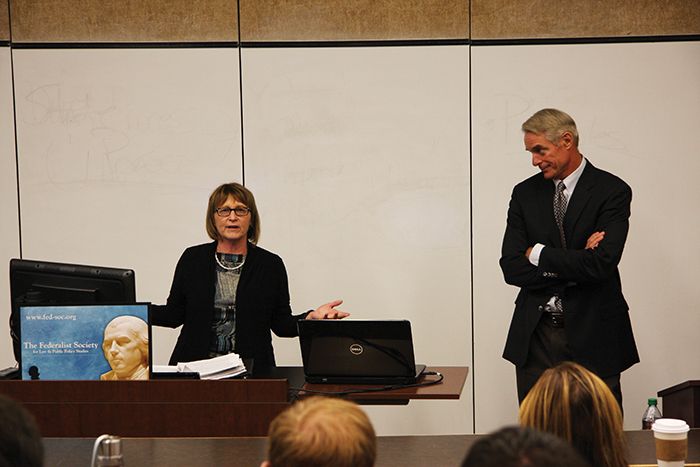 "If you look at the happenstance of gun-related violence on campuses or in public places versus just sheer accidents, I don't know the statistics off the top of my head, but I think accidents are way more prevalent than intentional shootings," Denny said.
In the 1 out of 1,000 times somebody tries to bring a gun on campus to intentionally harm someone, allowing concealing and carrying a gun on campus would be useful, Denny said. He also said for every life we save in such a situation, there may be another life lost due to an accident.
"I try to never underestimate people's capacity for sheer stupidity," Denny said. "If you give somebody a right to carry something that can take away a life with the pull of a trigger, it can definitely be abused.
"I think in an institution that is supposed to be for learning and for peaceful discussion for the benefit of everybody it wouldn't be in our interest [to allow concealing and carrying on campus]."
Denny said he would not want guns on campus, but whether it is constitutional or not is a completely different conversation.
"[This] is a debate that needs to be had," Devney said. "It centers around whether or not you want to feel like you are safer or if you actually want to be safer."
Froman did not pick up a gun until she was about 30 years old. Froman had taken up arms because of an incident she had around that time when a man had tried to enter her home, according to Devney.
"She is all about 'no one is going to protect you but you'," Devney said. "She is a huge advocate of women not placing their personal safety in the hands of someone else."
"People do not expect to walk into a conversation about the second amendment to see a woman who is outgoing and charming, and not belligerent and angry," Devney said. "That kind of disarms a lot of people when they are expecting a mad bulldog who is going to rip into the issue."
__________
Follow the Graphic on Twitter: @peppgraphic