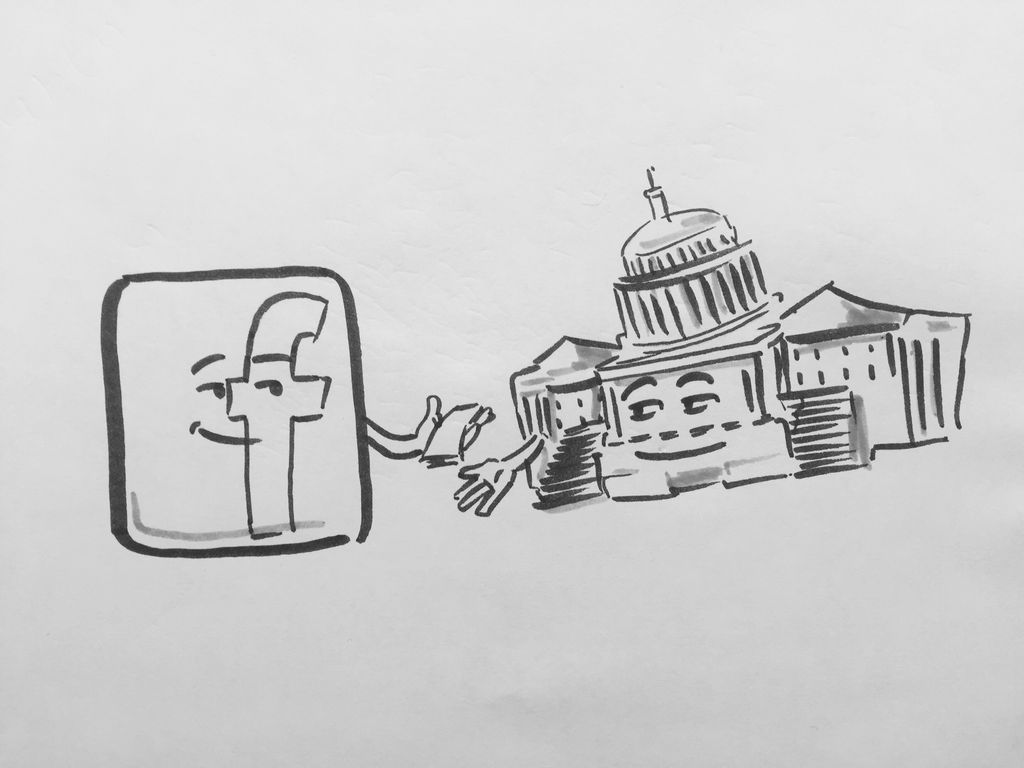 Art by Peau Porotesano
Six years have passed since the Supreme Court ruled in favor of corporations' right to contribute to political campaigns in Citizens United v. FEC, and the influence of Big Business on politics has remained a point of controversy ever since.
In the course of the 2016 presidential election, Democratic presidential nominee Hillary Clinton has pledged to institute "a constitutional amendment to overturn the Citizens United decision within her first 30 days of office," according to Benjamin Oreskes' article "Clinton Pledges Constitutional Amendment" published July 16 by Politico.
But the statement seems strange when considering the changing reality of campaign funding. This election has signaled a profound shift, where many special interest groups and newer corporations are developing stronger ties with the Democratic Party, while the Republican nominee is relying less on corporate sponsors and more on small contributions and self-financing.
Billionaires and special interests have always influenced American politics, leading to situations where politicians more closely represent the interests of their donors than of the citizens they allegedly represent.
Many on the political Left have long decried this phenomenon, citing the GOP's past ties to Wall Street and Big Business. But under the leadership of Republican presidential nominee Donald Trump, the GOP has become the more grassroots party with direct ties to its constituents, and the Democratic Party has become more dependent on wealthy donors.
The enormous influence of money on American politics is deeply concerning, no matter which end of the spectrum it is coming from. The source of major funding is shifting, but the essential problem remains the same.
Much of this new money is coming from large individual contributions from young professionals in the tech industry. This past September, Facebook co-founder Dustin Moskovitz and his wife, Cari Tuna, announced they would be making a $20 million contribution to "a half-dozen Democratic groups, including those backing Hillary Clinton," according to Theodore Schleifer's piece, "Dustin Moskovitz Commits $20 Million to Help Beat Trump" published Sept. 9 by CNN Politics. He would later increase that total to $35 million, according to Daniel J. Solomon's article "Facebook Co-founder Donates $35 million" published Oct. 24 by Forward.
Other young entrepreneurs in Silicon Valley have pledged large sums of money to the Clinton campaign. David McCabe's article "Meet Silicon Valley's mega-donors" published by The Hill on Sept. 17. cites a few major examples. Meg Whitman, CEO of Hewlitt-Packard Enterprise, pledged $100,000 to a Super PAC "aimed at stopping Trump's rise," and another $50,000 to the Clinton campaign.
Salesforce founder and his wife Lynne are members of Hillblazers, "who have raised or donated at least $100,000 for the Democratic nominee." Clinton also "received more than $300,000 from individual employees of Silicon Valley's top 10 behemoths" like eBay and Intel, according to Leah McGrath Goodman's article "Who's Silicon Valley Backing for President?" published Oct. 26 by Newsweek.
Crowdpac.com, a website dedicated to analyzing campaign finance reports, compares the financial support for Clinton and Trump from other industries as well. The report reveals that the Clinton campaign receives far more financial backing than Trump in all major industries except Agriculture and Energy, where Trump holds only a narrow lead. The most pronounced lead Clinton holds is in contributions from the Finance and Insurance industry, where she has received $92 million, against Trump's $9.9 million.
Another site which analyzes campaign funding, OpenSecrets.org, provides an interesting comparison of the source of funds. "Small individual contributions" make up 18.39 percent of funds for the Clinton campaign, compared with 27.32 percent of the Trump campaign. Large individual contributions make up 53.59 percent of the Clinton campaign and only 15.41 percent of Trump's. The Trump campaign is 22.67 percent self-financed, while the Clinton campaign is only 0.27 percent.
This marked difference reveals a shift in direction for both major parties. In the 2012 presidential election, Republican presidential nominee Mitt Romney received 80.8 percent funding from large individual contributions, and contributed a negligible $52,500 of self-funding to his campaign, while Democratic presidential nominee Barack Obama received 33.6 percent of funding from small individual contributions, according to OpenSecrets.
This year, the Republican nominee is leading in small contributions and self-financing, while the Democratic nominee receives a majority of funding from wealthy donors. If this trend continues, we can expect the Democratic Party to continue to alienate itself from common citizens, and the Republican Party to develop more direct ties with its working-class voter base.
Those who expect a more representative government ought to be skeptical of the influence of big money regardless of its origin. Both parties would benefit the American people by drawing support from common people, rather than those with the most wealth and power.
_________________________
Follow the Graphic on Twitter @PeppGraphic