Photos by Esther Kang
Occupy The Bookstore, a Google Chrome plug-in that allows students to compare prices for textbooks while on bookstore websites, is gaining support and downloads after receiving legal threats from Follett Corporation in September 2014.
The plug-in was originally launched as "Bookstore Enhancer" by co-founders Ben Halpern and Peter Frank, who is also the company's CEO. A representative from Follett, which stocks Pepperdine's bookstore and provides services for about 1,500 schools in the United States, sent an email requesting that the plug-in be removed from their website or legal action would be taken, according to Frank.
Frank said Follett's Director of eCommerce sent an email stating that Follett would involve their legal team if the plug-in was not removed, as it changes the way information is displayed on their website.
Frank and Halpern did not respond to Follett's email and have not heard from the company since the initial threat. A Follett representative did not respond to requests for comment.
Occupy The Bookstore works on Follett, BN College and Neebo software. Frank said that both Nebraska Book Company and an affiliate of Barnes & Noble contacted them to help them integrate the companies' affiliate feeds and price comparison options into the plug-in. Follett was the only company to object.

The plug-in is an offshoot of Texts.com, a website that allows students to exchange textbooks and compare prices, which Frank and Halpern founded in April 2013 after meeting just two months before on a social networking and entertainment website known as Reddit.
They used the price comparison engine that they designed for Texts.com to create the plug-in last fall, but only decided to prioritize it after Follett's objections. Now, their goal is to raise as much awareness as possible.
The threat of legal action prompted Frank and Halpern to rebrand their product with the name "Occupy The Bookstore."
"We were sort of emboldened. . . made stronger and more resilient . . . as a result of receiving legal pressure, or this legal threat from Follett," Frank said. "And we thought we should re-brand with a name to match that sort of mentality."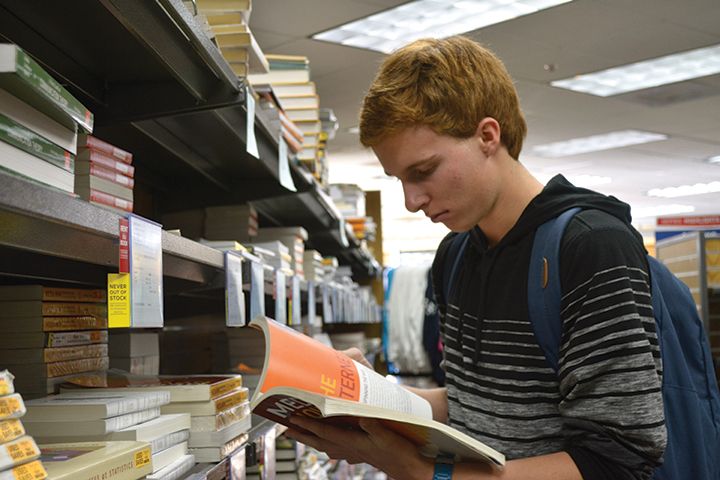 Additionally, Frank explained that the new name is a play on words, as the plug-in effectively "occupies" the bookstore website.
Also in response to the legal pressure, Halpern and Frank decided to open up the threats to public discussion using Reddit as a platform to answer questions and explain their situation. Since then, the plug-in has nearly 30,000 downloads.
Frank said they thought students should know about how bookstores benefit from controlling information about which textbooks are required.
"There's no reason that students shouldn't be able to compare prices on the open market," he said. "And we thought that the best way to stand up to them and the best way to raise awareness would be to highlight the fact that this massive company was evidently threatened by a few guys in an office in New York who are fighting the good fight for students."
Bookstore suppliers have the advantage of controlling required textbook information, asking the professors what books will be required for the class in the upcoming semester.
"They effectively have a monopoly on where you can go to identify the books that you're going to need to buy," Frank said. "It's precisely because of that monopoly on that information that they enjoy an incredible amount of business by virtue of people just landing on the bookstore website and figuring that they'll just buy the books right then and there."
Junior Melissa Collier does not purchase books from the bookstore often, preferring to search for better deals on other sites like Chegg and Amazon. However, as a freshman, she said she usually bought the books from the bookstore due to convenience and lack of knowledge of other options.
"I'm a first generation college student, so I just kind of came into it a little blindly," she said. "But by the second semester of freshman year, I was already starting to look elsewhere, especially with financial situations."
She had not heard about Occupy The Bookstore but said that it sounds like a great way for students to save money, though she understands Follett's perspective.
"I feel like I can understand why, because the bookstore won't be making as much if students are able to see comparison prices while they're on the same page as opposed to having to go out of their way to look for it," she said, adding that competition might be beneficial for all: "It could open the campus bookstore's eyes to see how their prices compare to other retailers and why students are more willing to look elsewhere than going straight to the bookstore."
Freshman Katie Greeley usually goes to the campus bookstore or Amazon to purchase her books. She had not heard of the plug-in but said she was interested in it.
"It sounds good," she said. "I mean generally, I like to compare prices for books and so just having a convenient space from one place is really useful."
While Greeley said she can see why Follett might be upset if the plug-in interferes with their business, she also said she believes it is generally a good idea to encourage competition.
"As an economy … competition is what helps us thrive, and if it's just a monopoly industry then … it just doesn't work in my opinion," she said.
In the future, Frank said they hope to broaden the reach of the plug-in by increasing the number of bookstores the plug-in is compatible with and making it functional on other browsers. They also hope to provide students with more platforms to discuss affordability issues in general.
"We're both 2012 grads," Frank said. "We very much are embracing the opportunity to fight for students on textbook affordability … we have a lot of big ideas around exposing custom editions, helping students understand the best times in the calendar year to buy and sell their books and integrating free alternatives. We're really interested in looking out for no one but the student."
__________
Follow the Graphic on Twitter: @PeppGraphic