Men's basketball freshman forward Maxwell Lewis throws down a dunk during the Blue and Orange Madness. Freshman guard Houston Mallette said this was his favorite part of the night. Photos by Denver Patterson
Blue and Orange Madness tradition returned to Firestone Fieldhouse on Oct. 8. The night's festivities included introductions for both men's and women's basketball teams, a three-point challenge and a dunk contest.
After a yearlong hiatus, Firestone Fieldhouse came roaring back to life as fans flooded the arena, hoping to get a glimpse of both teams.
"It was a good showing today — everyone showed out, students and parents included," men's basketball freshman guard Houston Mallette said. "It was good energy, and I'm just happy that the pandemic's dying down and people are starting to get vaccinated and safer, and we can all enjoy our time here for the games."
Fresh Faces Bring Excitement for the Men's Squad
The Pepperdine Men's Basketball roster includes a number of changes from last season.
Since spring 2021, with the likes of Colbey Ross and Kessler Edwards going professional, graduate transfer Kene Chukwuka leaving Pepperdine and Andre Ball and Sedrick Altman transferring elsewhere, the Waves lost some of their arsenal but recovered with one of the most decorated recruiting classes in recent memory.
The team includes six freshmen — forward Maxwell Lewis, guard Mike Mitchell Jr., Mallette, forward Paul Jordan, center Carson Basham and forward Aladji Gassama — and two graduate transfers, guard Braun Hartfield and forward Keith Fisher III.
Lewis, a former four-star recruit, said he committed to Pepperdine after leaving high school in his senior year to train for the NBA Draft.
Mallette was a 2021 McDonald's All-American Nominee who previously committed to Penn State. After Penn State fired its head coach, Mallette said he decommitted and moved to Malibu.
"I just wanna do whatever [to] contribute to the team," Mallette said. "Whether that be just making hustle plays, taking charges, making open shots, controlling, leading, getting used to my role this year."
Despite the new roster, Head Coach Lorenzo Romar said he doesn't feel the need to change up the system in the offseason.
"No principles changed," Romar said. "We just had to take a little longer introducing certain things. It just takes a little longer. It's not going as quickly — we just gotta be a little more patient."
Although the team is full of youngsters, the freshmen said they found it easier to build chemistry off the court. The camaraderie for the freshmen started way before the first practice.
"We spend a lot of time together with class, basketball, being all together," Mallette said. "It's been really easy to gel, and our upperclassmen are great. They've been really respectful, help guiding us, leading the way."
To help balance the youth on the team, Romar said he hopes some of the upperclassmen will step up and show the freshmen the ropes.
The men's squad ended their season strong, reaching the semifinals in the WCC tournament and winning the CBI Tournament. But Romar said they are aiming higher this year.
"We made progress last year, but it wasn't enough," Romar said. "So we gotta raise the standard even higher but use that as a springboard to go off."
Women's Squad Calls in the Cavalry
On the women's team, the squad received some much-needed reinforcements, with the return of six redshirts and the addition of three freshmen.
The team came into the spring 2021 season with high expectations, but due to a plethora of injuries, were unable to perform to their highest potential.
"It's super important just to have the people we have now," senior guard and Graphic staff writer Malia Bambrick said. "Just to have a deep bench. We can all play, we all play really well together, having those options. It's definitely going to help us this year."
The freshman class includes guard Ally Stedman, guard Helena Friend and forward Meaali'i Amosa.
Stedman ranked seventh in the state of Arizona among women's prospects, according to MaxPreps, and received offers from Santa Clara, Georgetown and Pacific, among others. Friend was a 2021 All-American McDonald's nominee and Amosa was ranked third in the state of California, according to MaxPreps.
"We're really deep, we have a lot of guards, a lot of posts, a lot of returners, a lot of new people, so we'll get a lot of action," Friend said. "We'll get a lot of different faces in there, and we're really deep, so we're set up for a good season."
With the team looking to bounce back from a tough year, expectations and goals are still set at the highest standard.
"Win a championship, top three in the WCC," Friend said. "I think coming top in the conference would be a big goal for our team collectively."
Lights, Camera, Action — The Main Event of the Evening
The night started with a half-court competition for free tuition. First-year Tiffany Alvare and a Pepperdine father participated, but both missed their shots. President Jim Gash had two attempts to make the shot, both of which came agonizingly close, with one hitting the backboard and barely missing the rim.
After the introductions came the three-point contest and the dunk contest, which had the fans at the edge of their seats.
The three-point contest featured redshirt junior forward Eve Braslis, Stedman, Bambrick and sophomore guard Kendyl Carson. Each participant had 30 seconds to make as many shots as they could. Bambrick and Carson tied after the initial round and competed in a head-to-head matchup.
Bambrick started off strong, cashing in a total of six shots, but ultimately, Carson found the edge by netting seven shots, draining the first four and coming out victorious.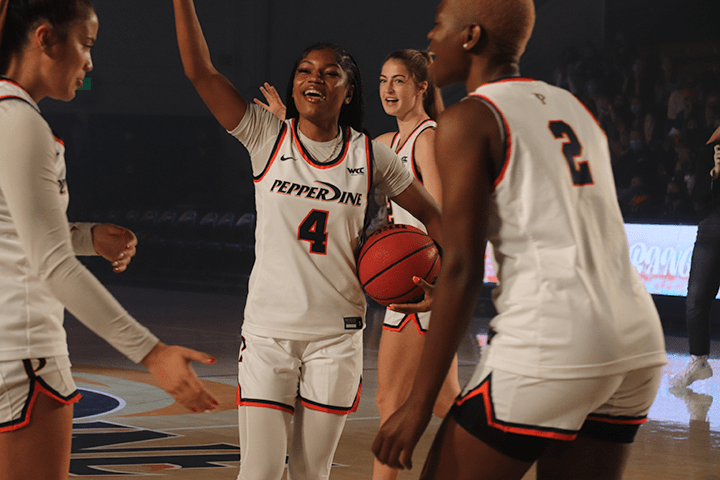 The evening concluded with the dunk contest, judged by Willie the Wave, senior Teagan Schuman and Tim Perrin, senior vice president for strategic implementation. The competition starred Jordan, Lewis, Deng and Gassama.
Lewis excited the crowd with his first dunk. Sophomore forward Kendall Munson delivered a creative pass off the backboard, and Lewis capped it off with a windmill.
Lewis and Deng faced off in the final round. For the last dunk, Deng tossed it to himself and spiked it emphatically. After missing his original dunk attempt, Lewis backed all the way up to get a running start for what would be the dunk of the evening — the iconic free-throw line dunk.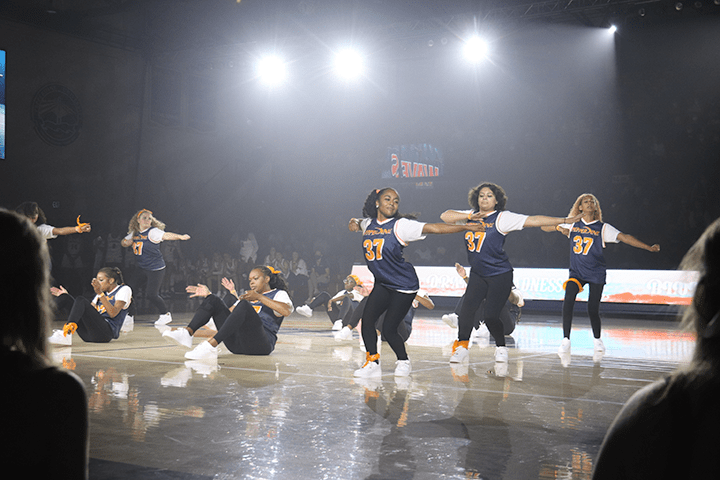 The men's basketball team starts their season on the road versus Rice University on Nov. 9. The home opener is slated for Nov. 12, versus Idaho State.
"The opener on the road against Rice is everything," Romar said. "It's the first time we played in front of someone in the regular season game, and that's the one we're focusing on."
The women's basketball team gets thrown into the deep end right off the bat, facing UCLA at the Pauley Pavilion on Nov. 10. The team heads back to Malibu on Nov. 14., to face Eastern Washington.
"We have an opener at UCLA on the 10th, and that's going to be a really good game for us," Friend said. "We start off the season with a really great team, so we're going to get after it right from the get-go, so I'm really excited for that one."
As for the return of fans this season, Mallette has a message.
"Please, come show out. We love you; we appreciate the attendance," Mallette said. "We're a smaller school, so the more people who come, we can show greater attendance. It's just a great culture — great energy — so I'd love it if everybody came out."
________________
Follow the Graphic on Twitter: @PeppGraphic
Contact Jerry Jiang by email: jerry.jiang@pepperdine.edu