Photos by Arthur Puu
Pepperdine Baseball secured a big home-away series win over Cal State Northridge with a 6-1 victory Friday, March 9, and a 3-2 victory Sunday, in the first game of a doubleheader. The Waves were denied the sweep, as the Matadors took the second game of the doubleheader, 8-4.
The Waves are now 7-9 overall after this series, including a 4-5 record at home and 2-3 on the road.
"Every time we go out there to compete, whether home or away, we tell ourselves to take it batter by batter," sophomore infielder Quincy McAfee said. "It's important for us to take the first game to set the momentum, especially since it was a home game."
In the first game of the series on Friday in Malibu, the Waves offense exploded for four first-inning runs to take a 6-1 victory.
Sophomore pitcher Wil Jensen had a solid start, giving up one run on nine hits with six strikeouts and no walks in 7 and 2/3 innings.
"It was all about coming out and controlling the game from the start," Jensen said.
The Waves came out out of the gate swinging. The first five Pepperdine batters reached, including back-to-back singles from junior outfielders Jordan Qsar and Matthew Kanfer to go up 2-0. Freshman infielder Billy Cook drew a bases-loaded walk, then freshman outfielder drove in a run off a fielder's choice to add two more to the lead, 4-0.
Jensen pitched out of a jam with runners on the corner in the second, then the Waves added two more runs in the bottom of the second to stretch the lead to 6-0. The Matadors didn't get on the board until the eighth inning, but Pepperdine secured the win, 6-1.
Junior infielder Chase Lambert singled in his first three plate appearances and finished 3-for-4 with a run.
"I think we're really coming together well as a team," Lambert said. "We've been putting up a lot of hits consistently and we'll have to keep it rolling."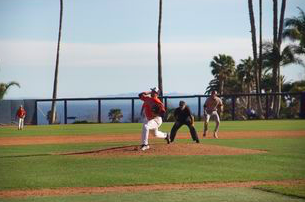 The second game, originally set for Saturday, was postponed due to rain. With the final game set to take place in Northridge, the Waves and Matadors played a doubleheader on Sunday, Mar. 11.
POSTPONED: Today's 1 p.m. game against CSUN has been postponed due to rain. We will travel to play CSUN for a doubleheader starting at 11 a.m. Sunday. The game scheduled at CSUN for April 3 will now be played in Malibu. #WavesUp pic.twitter.com/C27V8uQCdi

— Pepperdine Baseball (@PeppBaseball) March 10, 2018

In the early game of the doubleheader on Sunday, a well-rounded effort on both ends gave the Waves a 3-2 victory. Qsar and Lambert both went 2-for-4 and sophomore Aharon Modlin had two of the Waves' three RBIs.
The Matadors scored first on a two-out, two-run single in the first inning, but the Waves responded with a run in the second. Qsar singled to get on base and made his way to third on an error and scored off an RBI single from Aharon Modlin to cut the deficit to 2-1.
Pepperdine came up with a pair of walks in the sixth inning, and Qsar's RBI single evened the game at 2-2. Then with the bases loaded, Modlin gave the Waves a 3-2 lead on a fielder's choice. The Waves pitching shut the Matadors' offense to give Pepperdine the early win.
Junior pitcher Christian Stoutland picked up the victory, giving up two runs on four hits in five innings of work.
In the second game, CSUN's offense erupted late in the game with two two-run home runs to prevent Pepperdine from getting the sweep, 8-4. Junior outfielder Cory Wills went 3-for-4 with one run and Lambert added a 2-for-5 outing with one RBI.
CSUN jumped out to another early lead with a two-run home run in the bottom of the second, but Lambert's second home run of the season cut it to 2-1 in the third. The Matadors added another run in the third to go up 3-1 before Wills and Cook picked up an RBI each to tie the score, 3-3.
However, CSUN pulled away late, with back-to-back two-run home runs in the fourth and fifth inning to re-take the lead, 7-3. Both teams scored a run each in the seventh and eighth with the final score, 8-4.
At the Plate:
Lambert finished the three-game series on fire, going 7-for-13 (.538) with a home run.
On the Mound:
With Friday's performance, Jensen is now 3-0 on the season with a 0.62 ERA. He also has 23 strikeouts and no walks in 29 total innings of work.
Junior pitcher Jonathan Pendergast threw 3.1 innings of scoreless relief during game one Sunday, striking out two and surrendering only two hits.
Following Sunday's game one, Stoutland is now also 3-0 on the season with a 1.61 ERA. He has 18 strikeouts in 22 1/3 innings.
Quotables:
On the team's preparation for conference: "I think we've been looking solid for the first half of the season," McAfee said. "We just have to stay hungry and get on board first to give ourselves an advantage to hold on to."
On the rain: "It's weird to have a rain-out, especially out here in Southern California," Jensen laughed. "But no matter the weather, or rain delays, we just have to stay prepared."
Up Next:
Pepperdine will travel to Spokane to kick off a three-game weekend series against Gonzaga to start conference play on Friday, with first pitch for game one set at 6 p.m.

______________________
Follow Arthur Puu on Twitter: @arthurpuu