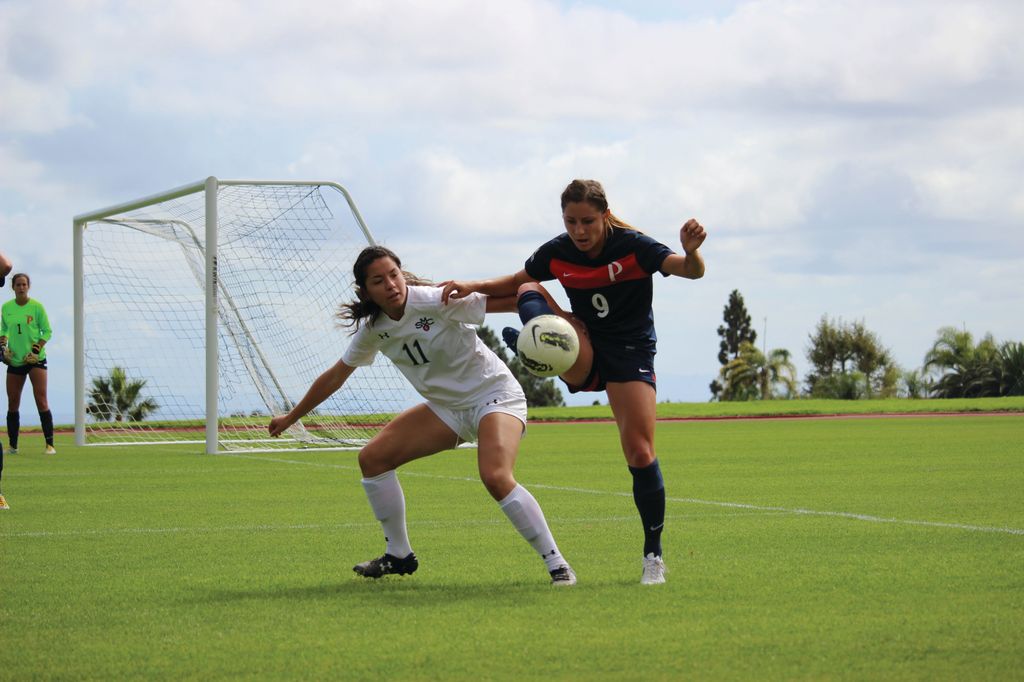 Graphic File Photos
Pepperdine women's soccer has begun its 2016 campaign in fine fashion. Despite drawing their Sunday matchup with Cal State Northridge, the Waves are 4-2-1 and ranked No. 21 in the nation. Pepperdine has already knocked off marquee programs such as Arizona, Kentucky and Maryland in the young season. Despite having a daunting non-conference gauntlet, ranked 11th toughest according to Chris Henderson of HeroSport.com, the Waves have performed admirably. Much of the early success could be attributed to senior leader Rylee Baisden.
In her senior season, Baisden has established her status as the Waves' marquee striker. After six games Baisden leads the team in both goals (4) and assists (2). The forward's early performance has already been recognized by the conference as she was awarded the West Coast Conference's player of the week. Baisden's potent scoring ability would lead one to believe that she's been on the offensive attack her whole college career, but that is not the case.
"Last year I played defense because that position needed to be filled due to some graduating seniors leaving so I jumped on the opportunity and learned a new position," Baisden said. "I loved learning and playing that position but I'm happy to be back up top scoring goals this year."
Baisden made the All-WCC honorable mention team as a defender, but perhaps her greatest value lies at the forefront of the Waves attack. In their Sept. 2 matchup with Maryland, the Waves found themselves in a scoreless affair at the end of regulation. The game remained notched in overtime until Baisden drew a yellow-card, giving her a free-kick from 23 yards out. Baisden solidified her role as the Waves' offensive catalyst by nailing the shot, delivering the win and her third game winning shot of the year.
"I think games like [the Maryland game] fuel us to keep playing our game and know that each opponent is going to be good but we are going to be better," Baisden said.
If their early non-conference success is any indicator, the Waves figure to be a major threat in the WCC. While foes like BYU and Santa Clara loom in conference play, Baisden said their best is yet to come.
"I think our team's success thus far is encouraging and motivating to all of us and it just makes us want to keep working hard and getting better one day at a time with growth in mind."
Early matchups against stiff competition should payoff come postseason, as the Waves will try to improve an already solid team. But beyond the goal of winning each match, Baisden and the Waves are in pursuit of success that transcends the X's and O's of the game.
"Our goal for the season is to compete for a higher purpose than just winning and really just representing our university and program well," Baisden said of the team's expectations of the season. "We love to compete with the best but also competing with purpose. So many women have come before us to get the program where it is today and we just want to work hard for them and make them proud."
________________
Follow Steven Baer on Twitter: @StevenBaerJr